Relec back in the race for fundraising
8th June 2022
A very special update from Relec.
Relec Electronics are hugely excited to be supporting and taking part in the TW Soapbox Stars Race 2022!
You may remember back in 2020 before covid pretty much stopped all events, Relec was signed up to the Charity soapbox race in Dunorlan Park, Tunbridge Wells Kent.

Following on from our previous successful fundraising where our Sales Director cycled the length of the country, followed by our Managing Director walking 100K in the Sahara, we are now back building our soapbox and preparing to take on other teams and the Soapbox challenge.
Our team name is Staff Wars and of course, our theme is Star Wars with a twist. Hoping it might raise a smile or two you can find our story here,
Soapbox Stars 2022 – Kart Race

Gary who back in 2020 was our stores manager, since retired, is still in charge of building the soapbox and will compete on the day, much to the consternation of his wife! We are supporting a charity close to Gary's heart, CRY (Cardiac risk in the Young) as Gary lost his cousin to sudden death syndrome when he was just 15. NHS screening for heart conditions in the young is not available which is where CRY is helping enormously, you can find more details of their great work here.

We are of course also supporting the charities sponsored by the soapbox event, in particular the Hospice in the Weald, a local charity to Kent and Sussex providing care for patients with a terminal illness and those important to them.
Details of the event are here, if you would like to attend you can buy tickets online, tickets are not available on the day, we would love to see you there!!

Justgiving
Obviously, the world is a different place from 2 years ago, but people still need our help and Relec is as committed as ever to doing what we can.
Gary and Relec have set up a JustGiving page which you can find here. We are keeping our target realistic, and you can see we've just achieved it, but of course would like to raise as much as possible to help these worthy causes. If you can help by attending the event, making a donation, however modest or just cheering us on we would very much appreciate it, you can find our justgiving page here.
Thank you so very much for reading and for any contributions, it means the world to us and of course all those who will benefit, especially those who lives you may be helping to save, or at the very least make more comfortable.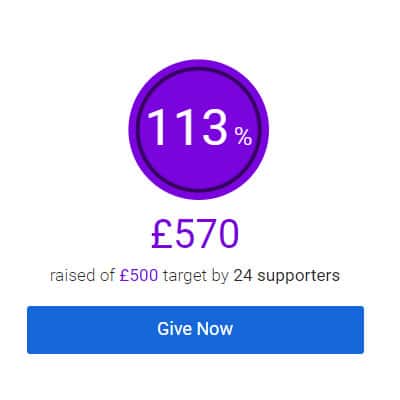 Follow us on Facebook, LinkedIn & Twitter for updates on all of the latest Power Conversion products.
Relec Electronics holds the highest standards towards finding you the ideal solution for your application. We truly believe "Standard is Just the Beginning". Get in touch with our technical team today.
sign up for our newsletter
Enter your email address below
why choose relec?
Faster

Our aim is to get back to you with an initial response within the hour.

Attention to detail

We pride ourselves on getting you the right product, at the right price and on time.

New ideas

We are constantly looking for latest technology and products for your applications.

Beyond standard

It's not just about the product.  Our service goes way beyond the norm.

Easy

We want to make your life as simple as it can be. Call us to find out what we can offer.