The Big Relec Desert Walk 2019
In February 2019, our managing director, Peter Lappin is going to push his endurance skills to the limit with a 5 day 100km trek across the Sahara desert.

Peter's aim is to raise £6000 for the brain tumour charity.  For every pound raised through Peter's just giving page, Relec will match this amount.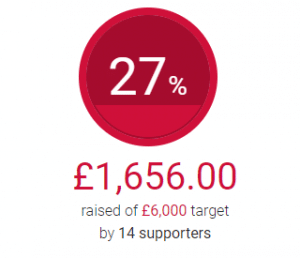 Training Diary – Walk one – Sunday 7th October – Corfe Castle
So training has begun..I had previously done a couple of walks to see how I got on before signing up, ( I have never walked for enjoyment..!) They were on flat ground. I did manage 10 miles but my knees were seriously complaining by the end of it. I am working on the basis that as I get fitter my knees will be supported by the extra muscle. Yep I am not a doctor, no one has suggested this, so fingers crossed.
So yesterday I decided I should try a few hills. We live in a beautiful part of the country (other beautiful parts of the country are available!) so decided a 6 mile walk out of Corfe would fit the bill. It was a beautiful day so perfect to start to break in my new boots. I left Corfe and started up the steep incline to Knowle Hill. As you walk along the ridge the views are just amazing, who would have thought! The Purbeck coast to the left and Wareham forest to the right together with the amazing Poole harbour. I saw two guys braving the cold to fly their gliders, thought it made a great pic.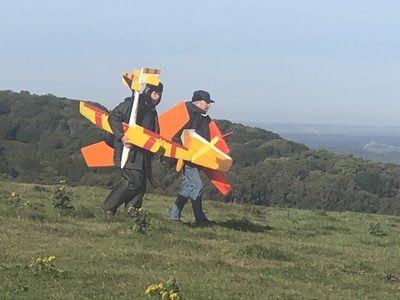 I then turned down towards the hamlet of East Creech, again with fabulous views over Poole harbour. Through the village and past the typically and very pretty Dorset duck pond and resisted the tea rooms! Then after a short amount of road walking I turned into Norden wood which apparently was once a clay mining area and there are lots of small pools formed from the clay pits. Amazing through here. I saw two deer, the second I am certain reacted to a birds warning call, it was just instant. They were far too quick to grab a photo though.
Then it was a short climb back towards the ridge. More woods before emerging with another fabulous view of Corfe Castle. I could have cheated and gone back to the car as it was only a few yards away but decided to finish properly in Corfe village, after all isn't that the point??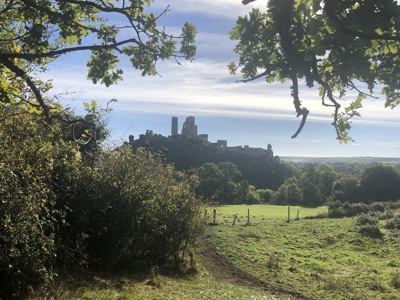 What was on my mind was that this walk was 6 miles, the longest day in the Sahara will be 17 miles. So another two circuits worth, but in the desert heat….blimey….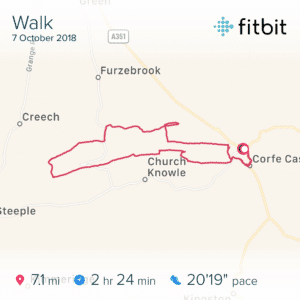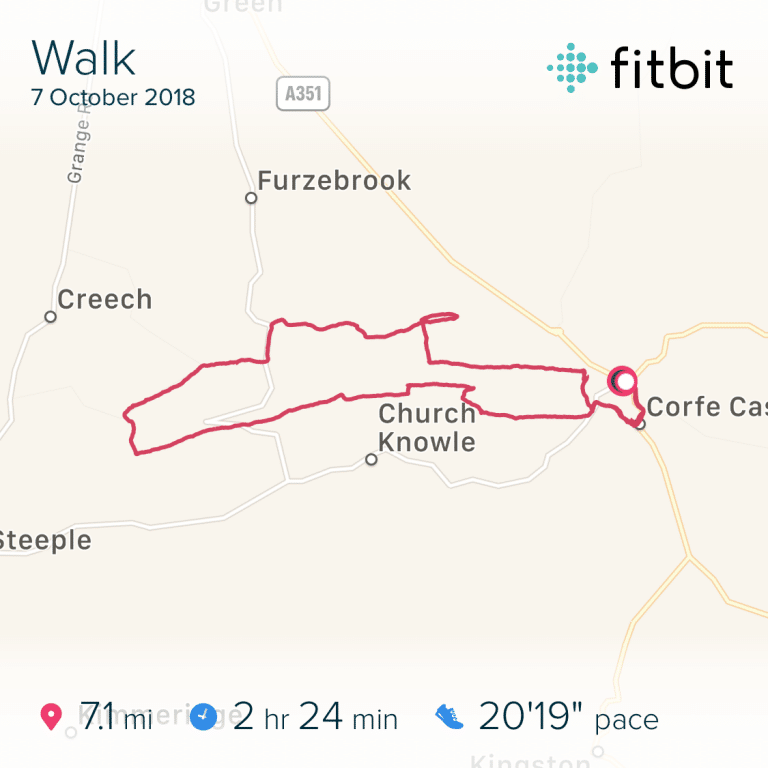 Walk two- Sunday 14th October – Badbury Rings
Sunday 16th was a day of pretty horrible weather. However as its beginning to dawn on me what's involved, and with only 10 Sundays until Christmas I really need to improve my fitness. So a walk out of Badbury rings seemed to fit the bill. Advertised as a 7 mile walk it didn't offer the same challenges as last week, but I need to build up slowly as last Monday my hips were really painful..
Badbury Rings dates back to the iron age, and latterly the romans used it as a complex junction which incorporated 5 roman roads. Some of which are still used today.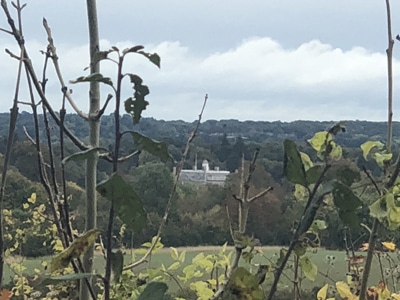 This was a walk for view across the very open Dorset countryside skirting the grounds of Kingston Lacy house although for the whole walk there was literally a glimpse of the house as advertised in the walk book. As the walk passed the Pamphill shop there was an old Forge which looked fairly derelict. Looking through the window though was like looking back 100 years, with not a sign of any modern equipment, and as dark as you imagine the turn of the last century would have been in such workshops. Not possible to get any pictures inside unfortunately.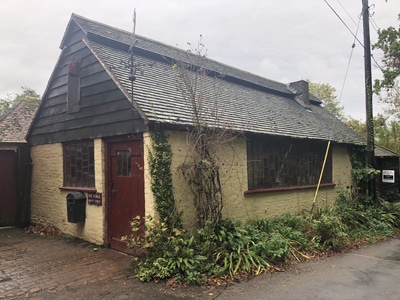 A brief stop for amazing cake and a coffee at Pamphill, before setting off for the second half of the walk. Finding the trails can be a bit of challenge, and some debate as to which was the right path back up to Badbury Rings was had. A bit of a climb back up to the old fort with amazing views to the North, or was it South, or South West, I got rather confused! A brief walk around one of the outer rings back to the car park , where an ice cream van was waiting. Well it would be rude not to indulge wouldn't it, and I have to say was very welcome.
So feeling quite good after this walk, although with the longest day of the challenge being 17 miles in the Sahara in 30+ degrees, I still have a long way to go, so next week I will make it a little tougher.
Walk three- Sunday 21st October – Bulbarrow Hill & Milton Abbas
A planned 8 mile walk with some hills. Starting to introduce some more difficult terrain as I need to get stronger and improve my stamina..
I have been breaking in my boots which have been rubbing a little around the ankles, but this week I am using my new high tech day sack for the first time, which I was fortunate to receive for my birthday. I didn't know such kit existed, but includes 'cooling chimneys' which are designed to stop your back sweating, so lets see how well it works!
Bulbarrow Hill is the second highest point in Dorset (274M). The walk takes you through some fabulous woodland and through a village called Milton Abbas which is an archetypically Dorset chocolate box view. Built by Joseph Damer around 1773 after he demolished the original village because it spoilt his view from his new pile!
The walk provides some great open views, woodland, and gives an insight into the lives of people living in the backwaters of Dorset that you would never otherwise see. I used to live very close to this area, but never knew these places existed.
The walk starts at Bulbarrow takes you through Ochill wood through to Winterborne Houghton. Some wild ponies encountered on the way. Here is a very steep climb from Whiteways Farm, I have to say I struggled, towards Milton Abbas through Milton Park wood. A great refreshment stop at the Hambro Arms, just as well as I left the water bottle at home, before setting off to Milton Abbey  which is now a school. Rather bitter sweet memories of getting thrashed at Rugby when I was a school kid here!
The walk then climbs steeply again onto another ridge which is mostly woodland. There was a lovely memorial to a young guy that had been built by his family, taken at 32 years old, he obviously used to enjoy his motorbike through the various trails and paths. This walk has some gloriously Dorset names including Crincombe Bottom and Sqibbs Knoll, perfect inspiration for anyone writing a child's book I feel.
The walk finished back at Bulbarrow. I walked in a T shirt all the way around, it was so warm. And yep the day sack was amazing, no soreness and kept me cool, fingers crossed it works as well in the heat of the desert….
Walk Four– Saturday 27th October – The Heart of Hardy Country
Here is my latest  instalment of my training walks trying my best to prep for my 100K walk in the Sahara Desert to raise money for the brain tumour charity. This week was a 9 mile walk in Thomas Hardy country passing Hardys Cottage. A busy place for obvious reasons, Hardys cottage is a big tourist attraction. Then a lovely walk through Puddletown Forest, before climbing to the Ridge way and Waterston Ridge, with fab views back over Puddletown Forest.
This is the second walk where we have come across a memorial to young people in the middle of nowhere. This time the young mans name was Richard Spicer just 21 years old. Surely a sad story but a beautiful memorial.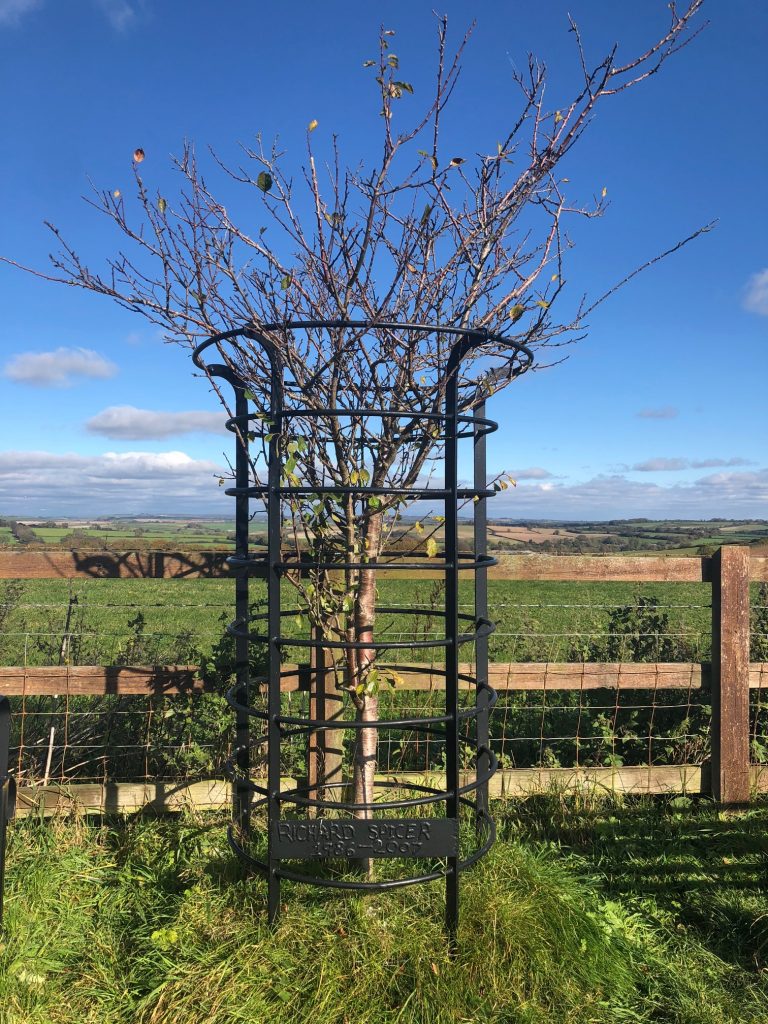 Then back down the hill to Stinsford Church where Hardys Heart is reputedly buried together with his two wives, and the poet Cecil Day Lewis. yes ok not all in the same grave…!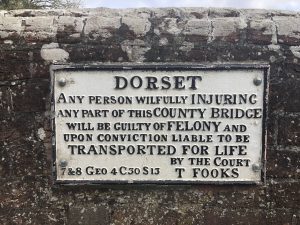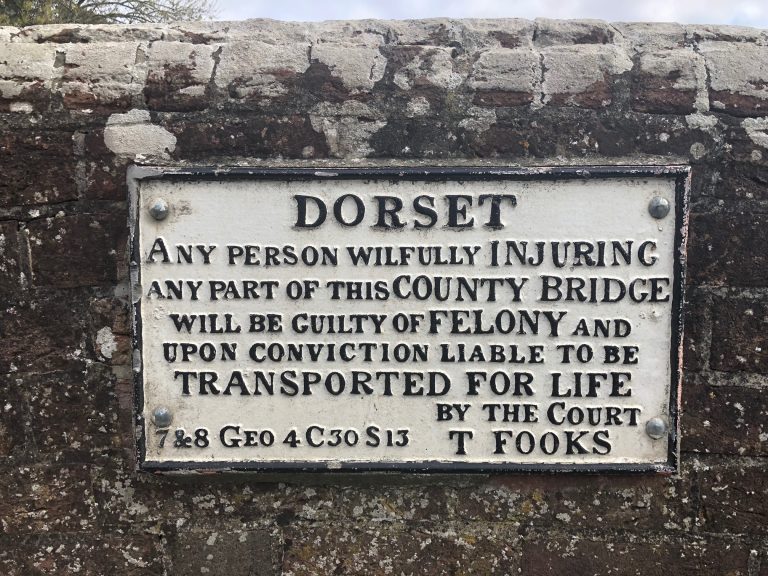 Then through Thorncombe wood and back to the car park. Pretty tired arriving back to the car, so the thought of doing the same again in 30+ degrees is still very daunting!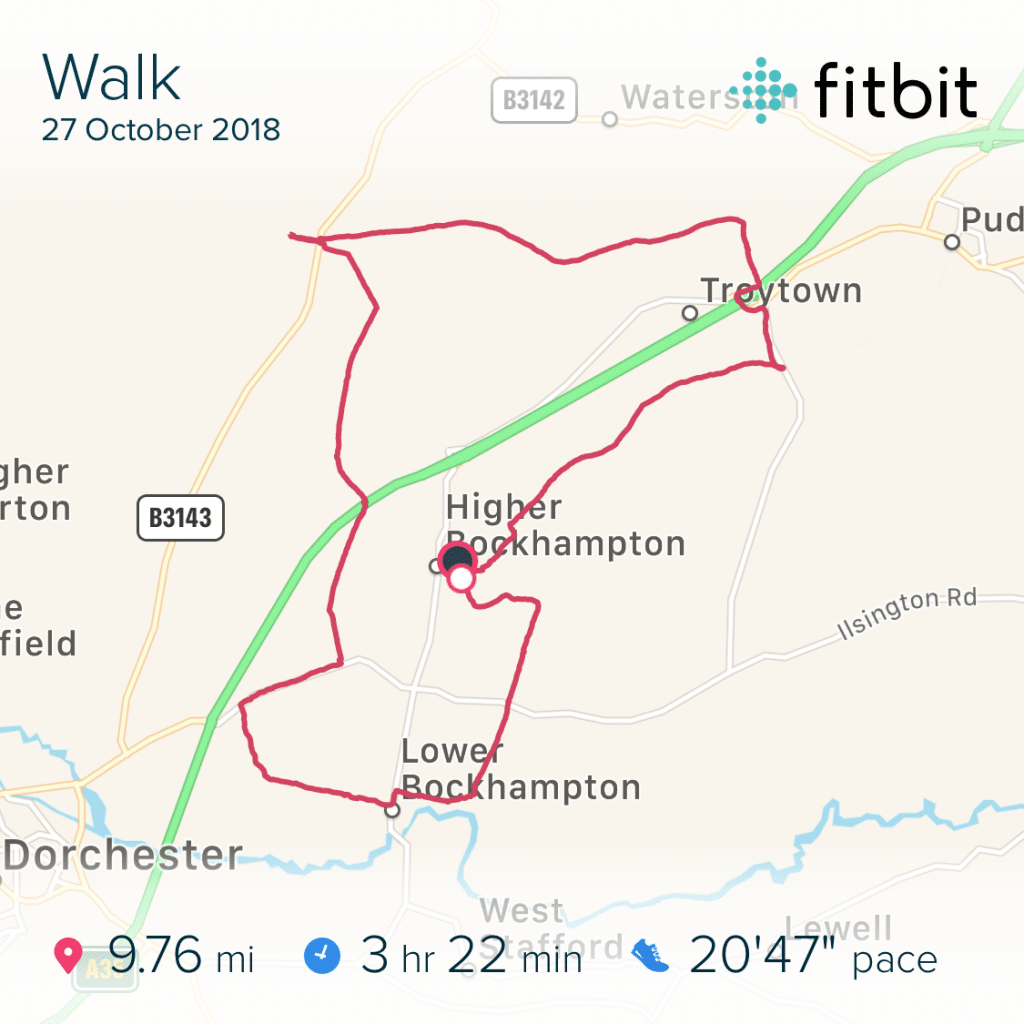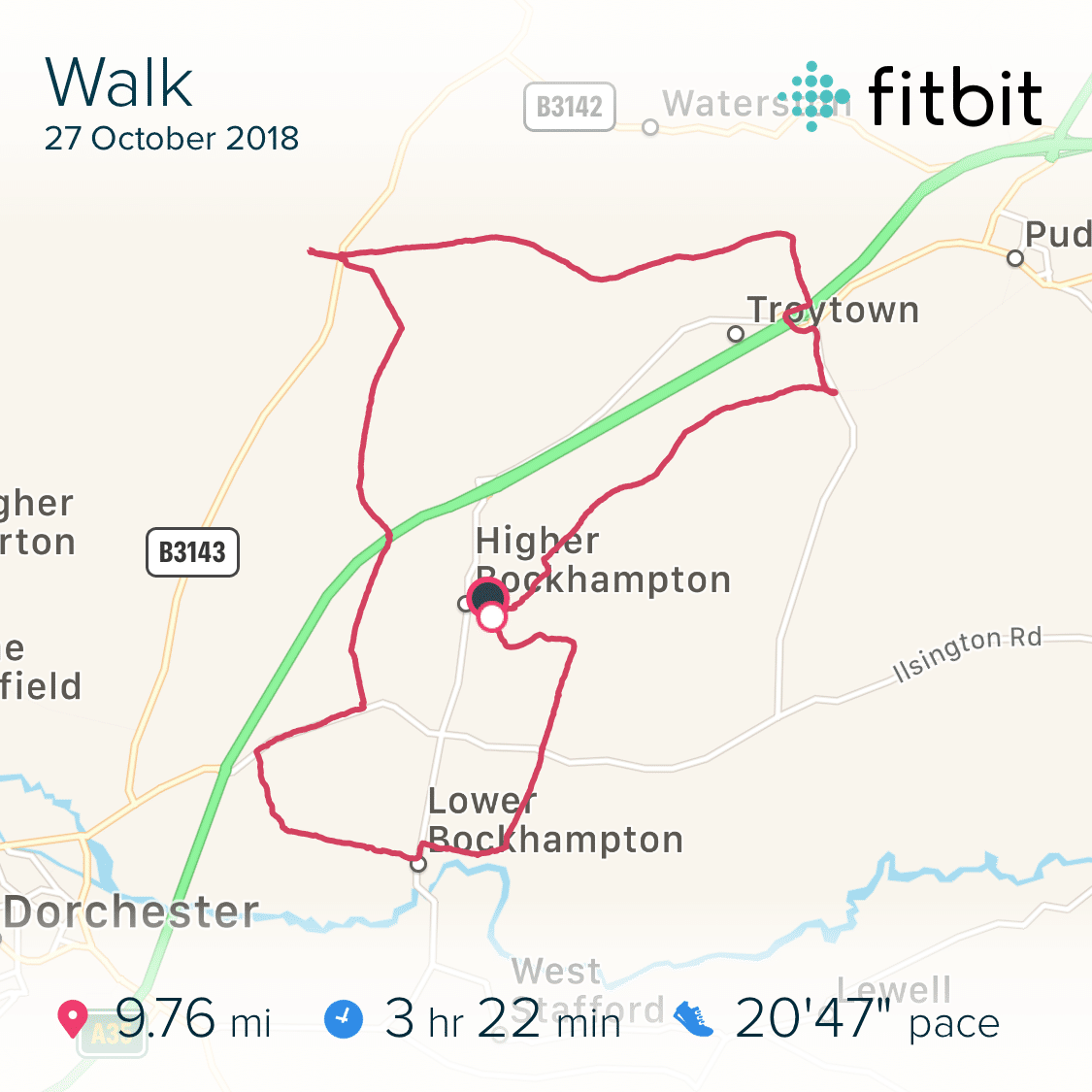 Walk Five– Sunday 4th November – Kimmeridge Bay and Swyre Head
Mirages in the rain.  This Sunday was the first time to the Purbeck coast with its very steep climbs. I picked this one as I am no where near fit or strong enough to tackle any distance along this coast, this walk has one or two harder climbs but that's it. This was also the first time walking in the rain, a very grey and wet morning.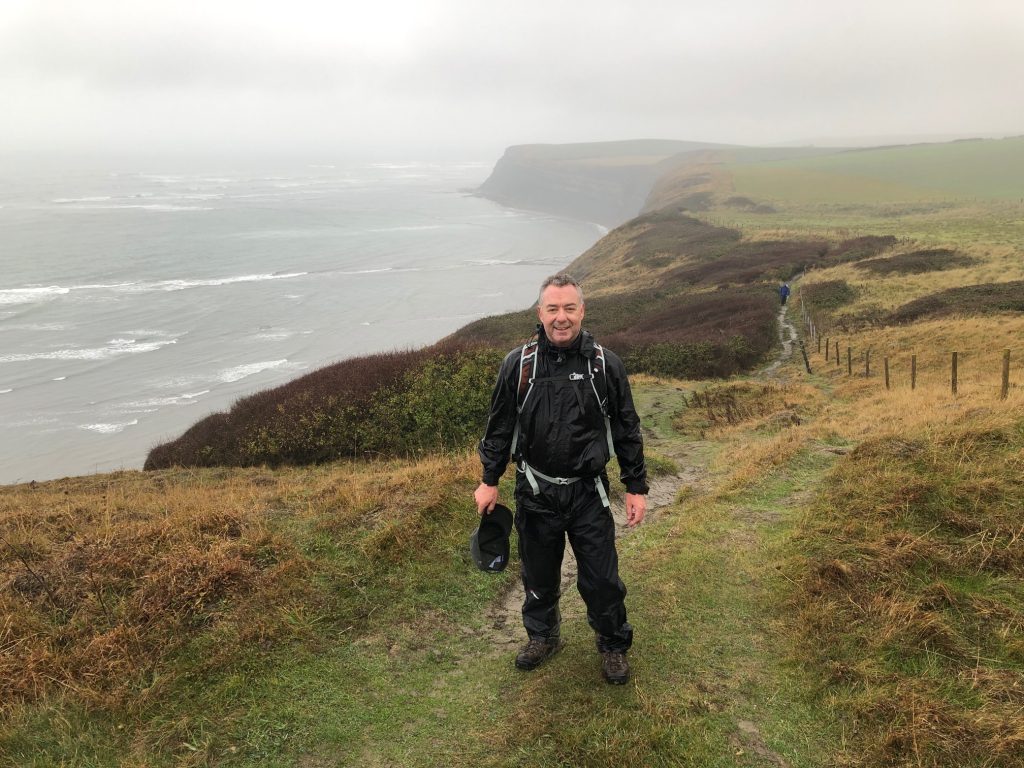 The walk starts just above Kimmeridge and makes its way to the bay. I decided to carry a donation 'tin' on my day sack, I did manage a couple of small donations and to chat about the charity which was great!
The route then winds up Hen cliff past Clavell tower, which was once a folly but now a private property that can be rented, except its booked until 2020 apparently!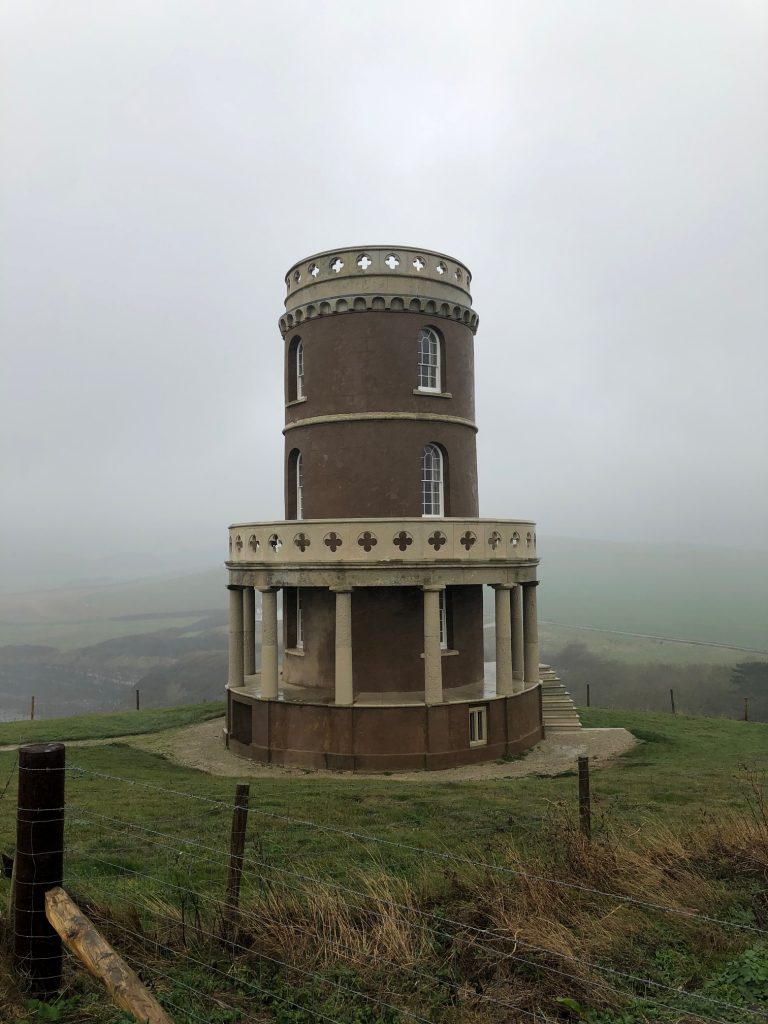 The route continues along the cliff edge, which in places seem to be falling into the sea with large shrinkage cracks along the footpath. The farmer appears to have moved his fence back in places leaving walkers to take their chances!
There is then a very long steep climb up to Houns-tout. Very muddy here and a really testing climb, but on a good day views as far as Bournemouth and the isle of Wight. Today it was very grey, so will need to do this walk again in better weather, to be able to enjoy the views and get some decent pictures.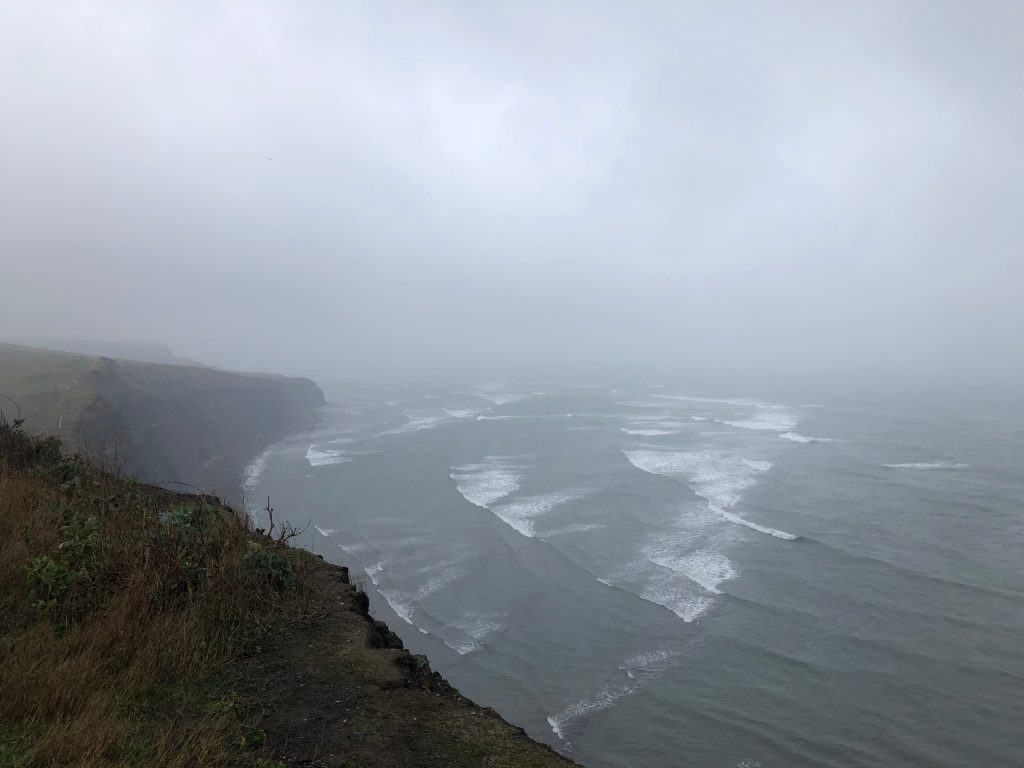 It was this part of the walk where we were looking for a bench mentioned in the walking notes, to have a cup of tea and a bite to eat. Not wearing glasses because of the rain, and struggling to see in the gloom, we were a little tired and had marked the bench as a good rest stop. I was convinced we had reached it but it turned out to be an old fence …very annoying when it came into focus, the second I was very sure about, totally convinced….until I had to concede it was a small line of bushes…I didn't know you experience mirages in the rain! (OK I know not technically mirages, more a case of Mr Magoo syndrome but call it poetic licence..)
Will probably be seeing Starbucks in the Sahara…
Then turned North towards Kingston, with a view over the Encombe estate nestled in the valley. Once reaching Kingston its time to loop round over a ridge to a high point, giving even greater views over the coast in both directions, again on a bright day this would be even more amazing..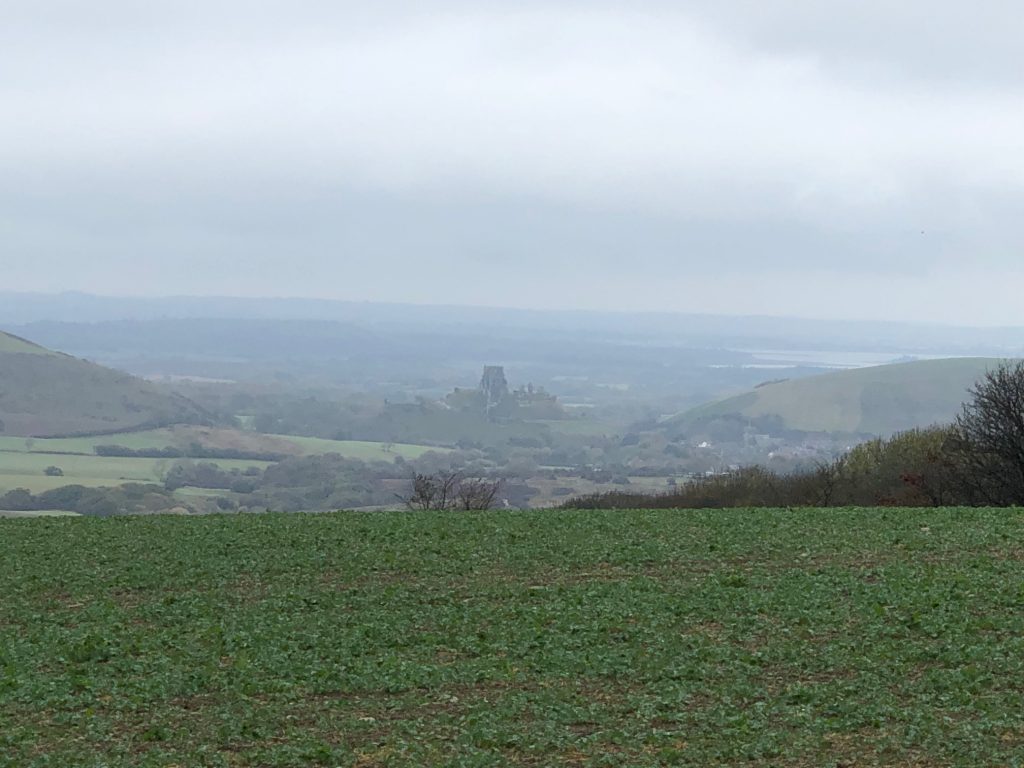 Then the last mile or two back to the car park. The hardest walk by far yet around 9 miles, so two circuits of that will be my longest day in the desert, in 30+ degrees. Its only 16 weeks away apparently, yes very nervous!
Walk Six- Sunday 11th – Broad Chalke and the Ox Grove
For my latest training walk in prep for my desert charity trek I decided to head north to do a 9 mile walk in Wiltshire.
Starting in Broadchalke we headed through the country lanes and tracks towards Bowerchalke. Broad Chalke is also the home of the Gurston down hill climb that I hope to compete in next year, if I ever get my car finished!
We passed through a farm which had a beautiful barn type building still sitting on staddle stones which is a reasonably rare sight these days. Staddle stones lifted the buildings above ground to protect the contents from water and vermin. They tend to be used as garden ornaments these days!
We continued through a hamlet called Misselfore climbing gently into the valley of Cross Bottom (I decided against a purile joke..!) continuing to climb until we reached the Ox Drove. This is a byway, so is used by walkers, horse riders, 4×4 owners and motorbikes for recreation. The byways provide endless miles of fun!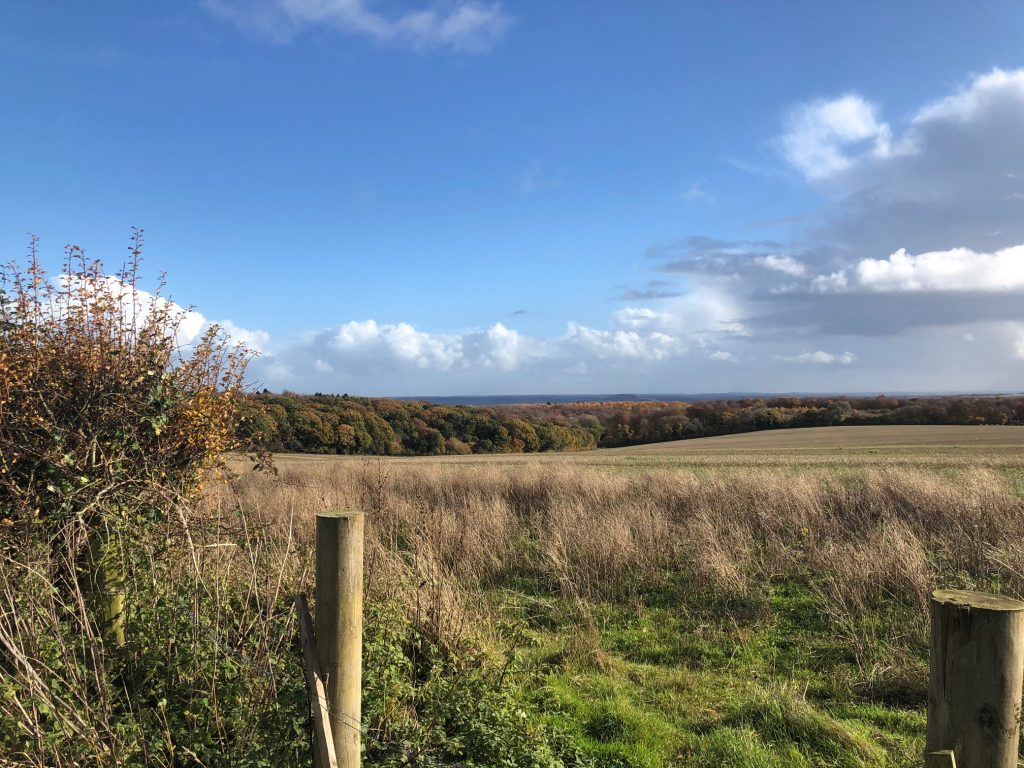 Stopping for a short break the walk continued for around 5km along the ridge and through some woodland giving some fabulous autumn views.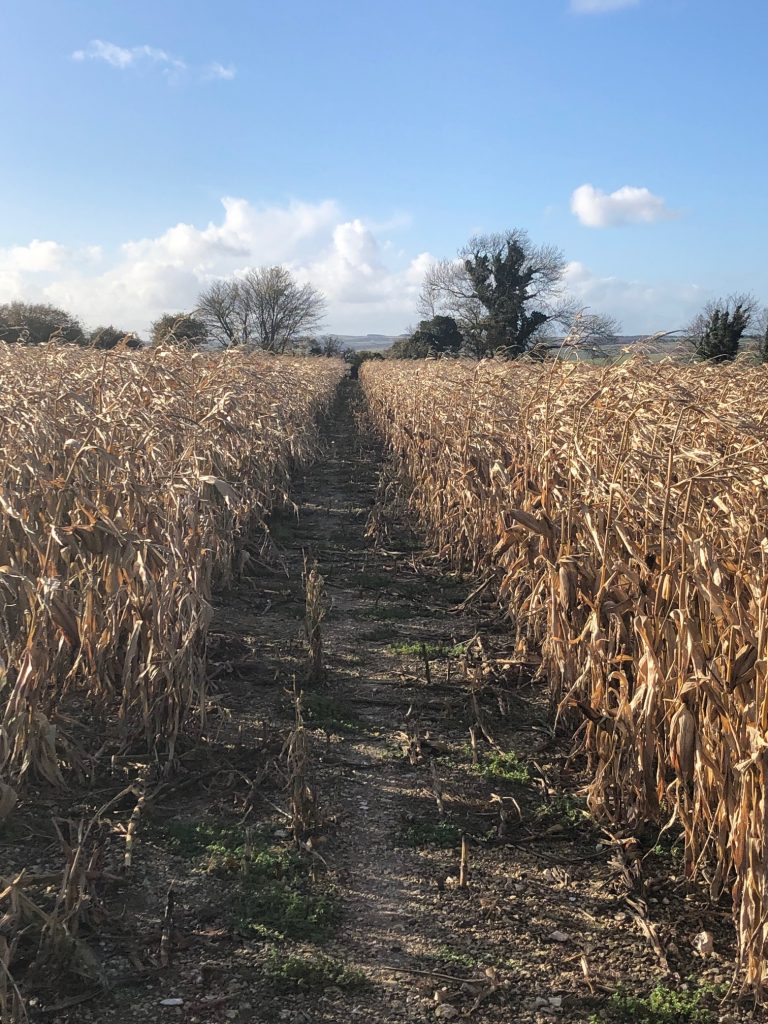 Then it was back down the hill towards Broad Chalke, through the slightly eerie sweetcorn field. A good 9 mile walk that took 3 hours.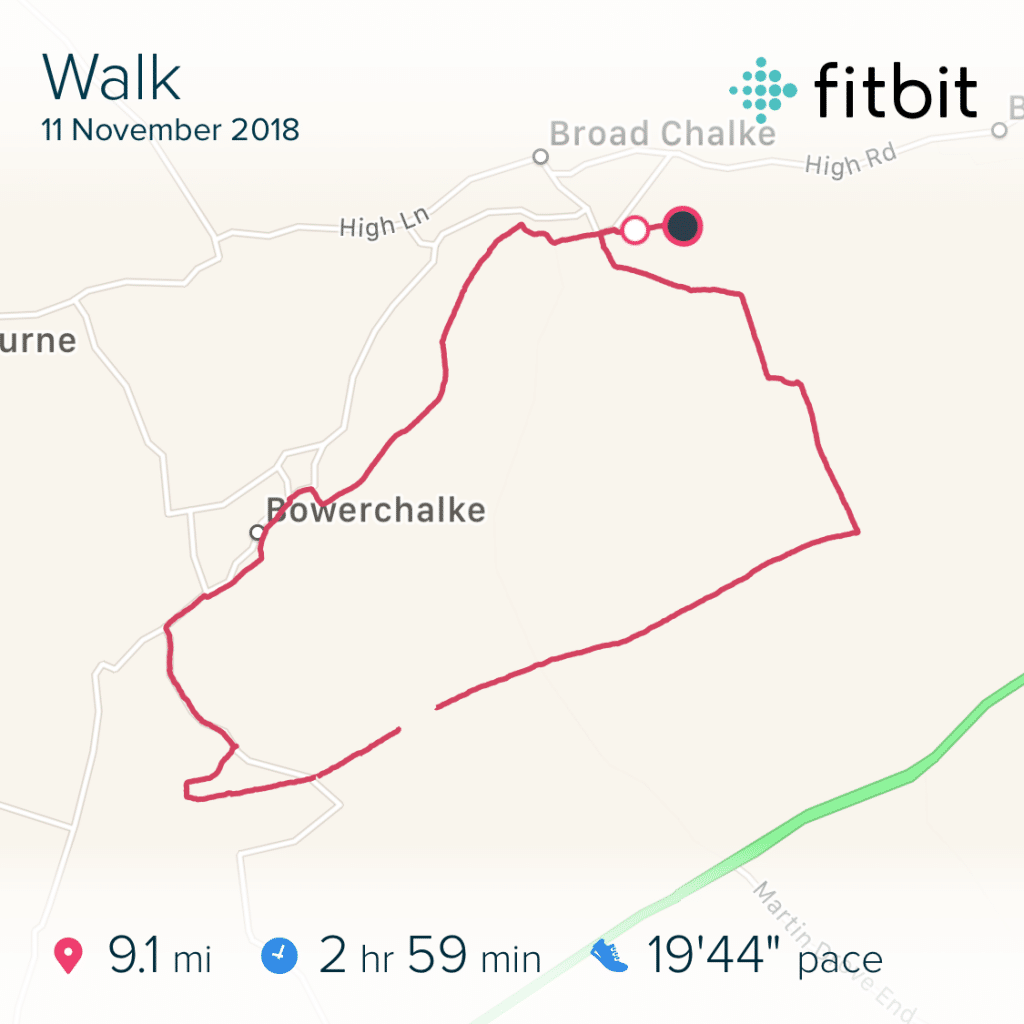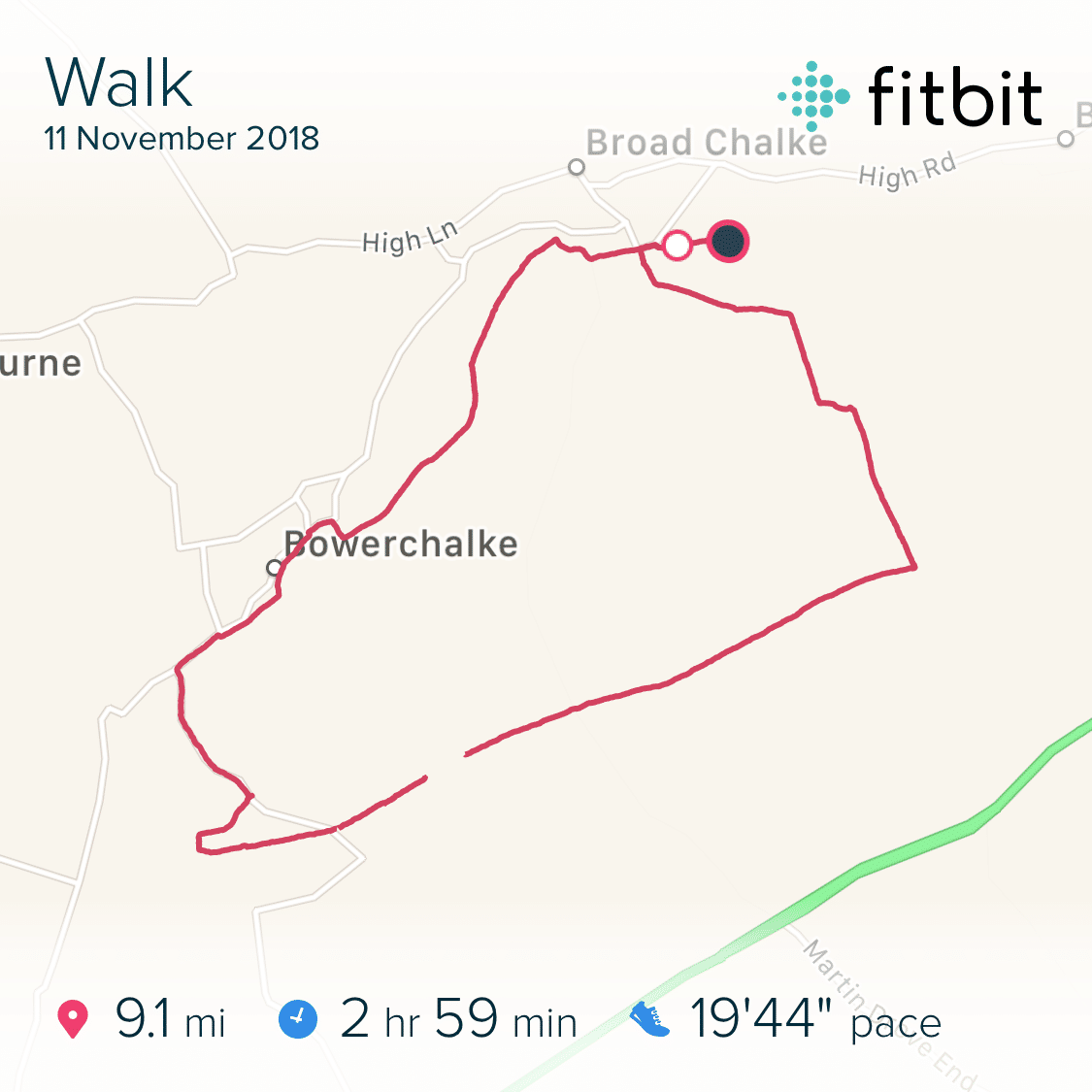 Walk Seven- Sunday 18th – Purbeck coast from Durlston Head
Sundays walk took me south to the Jurassic coast again starting at Durlston Country Park. Training here is good as there are some climbs, not to mention the scenery. The desert walk will involve 2 x 17 mile days apparently, in 30+ degrees, which is going to be very tough for me I think, so want to be in the best shape possible.
Here is the great Globe weighing 40 Tons which is a testament to the mason's art.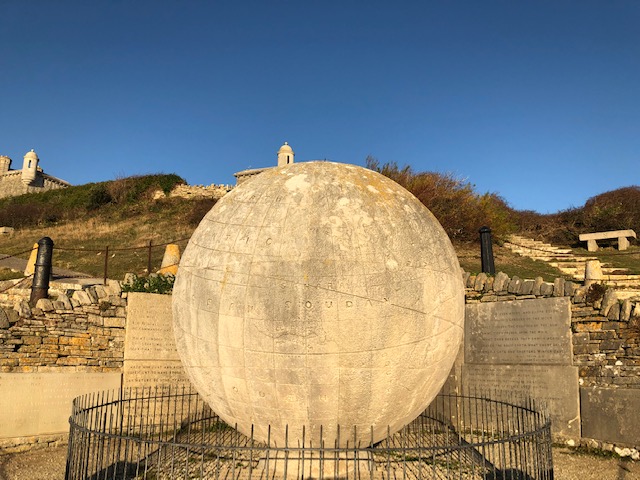 This walk passes the lovely named Tilly Whim Caves and Dancing ledge. This part of the coast is scattered with the remains of quarrying the famous Portland stone and Dancing ledge is an example of a man made feature used to transfer the huge pieces of stone onto boats to leave for Swanage and ultimately London. The coast line is breath-taking and with rough sees quite dramatic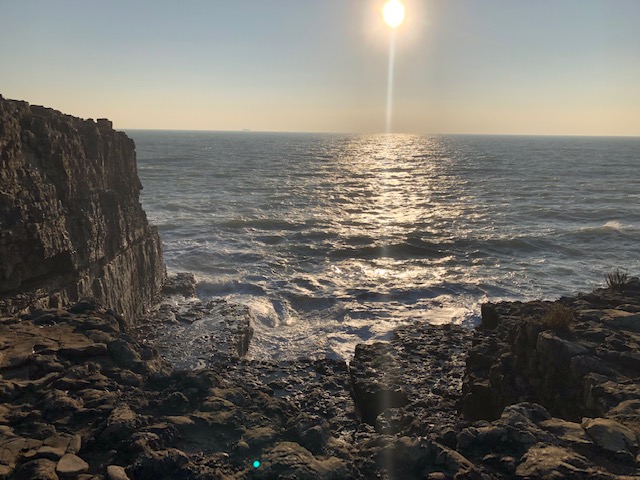 After the coast I head north to Worth Matravers and pass a pub called the square and Compass, named from the villages quarrying days.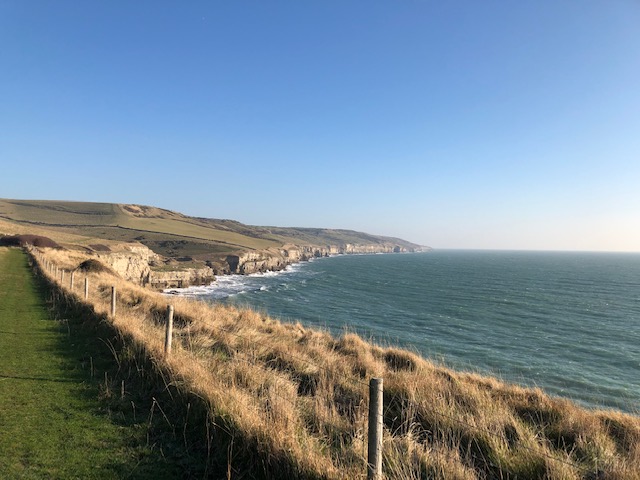 Then its along the Priests way on the ridge. Very windy along here, but great views across Swanage, and I can hear the whistle of the steam train being carried on the wind, fabulous.
After 11 miles its back to Durlston head and much needed cup of tea!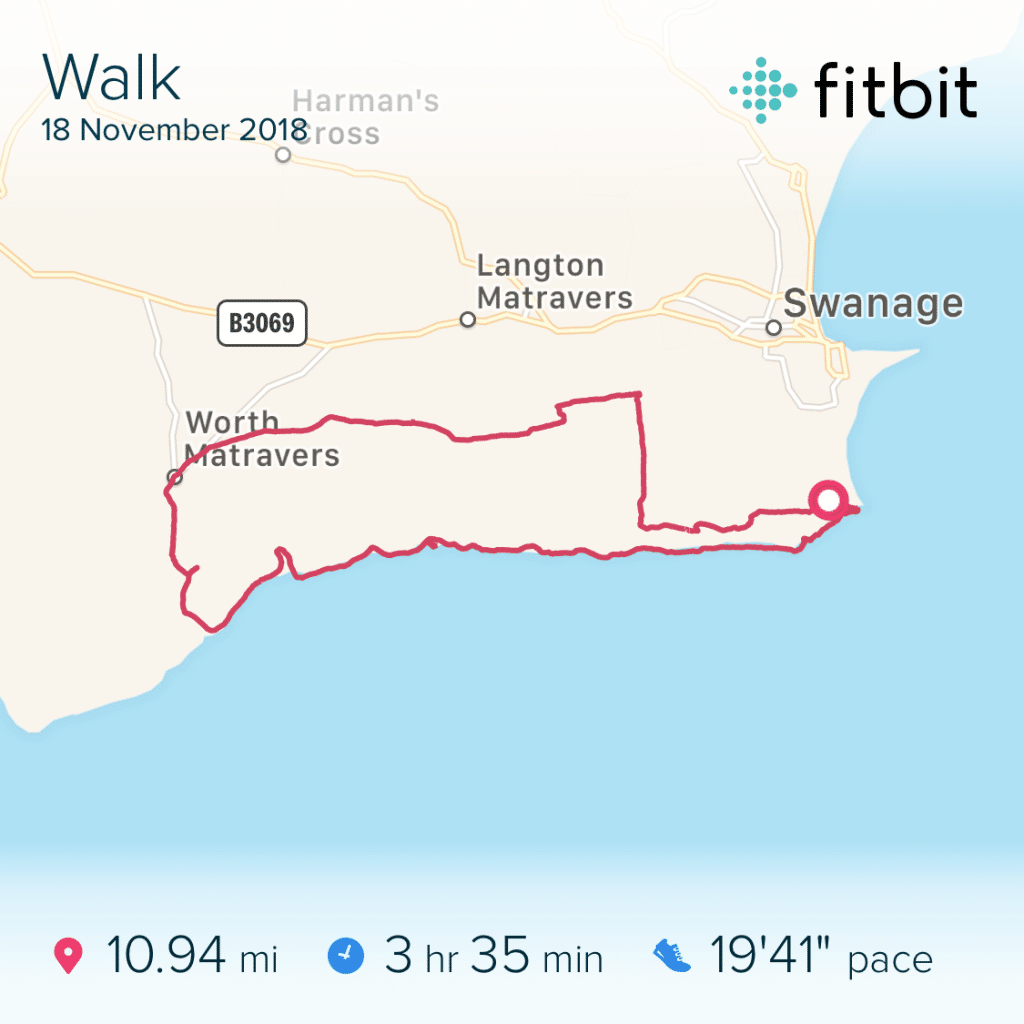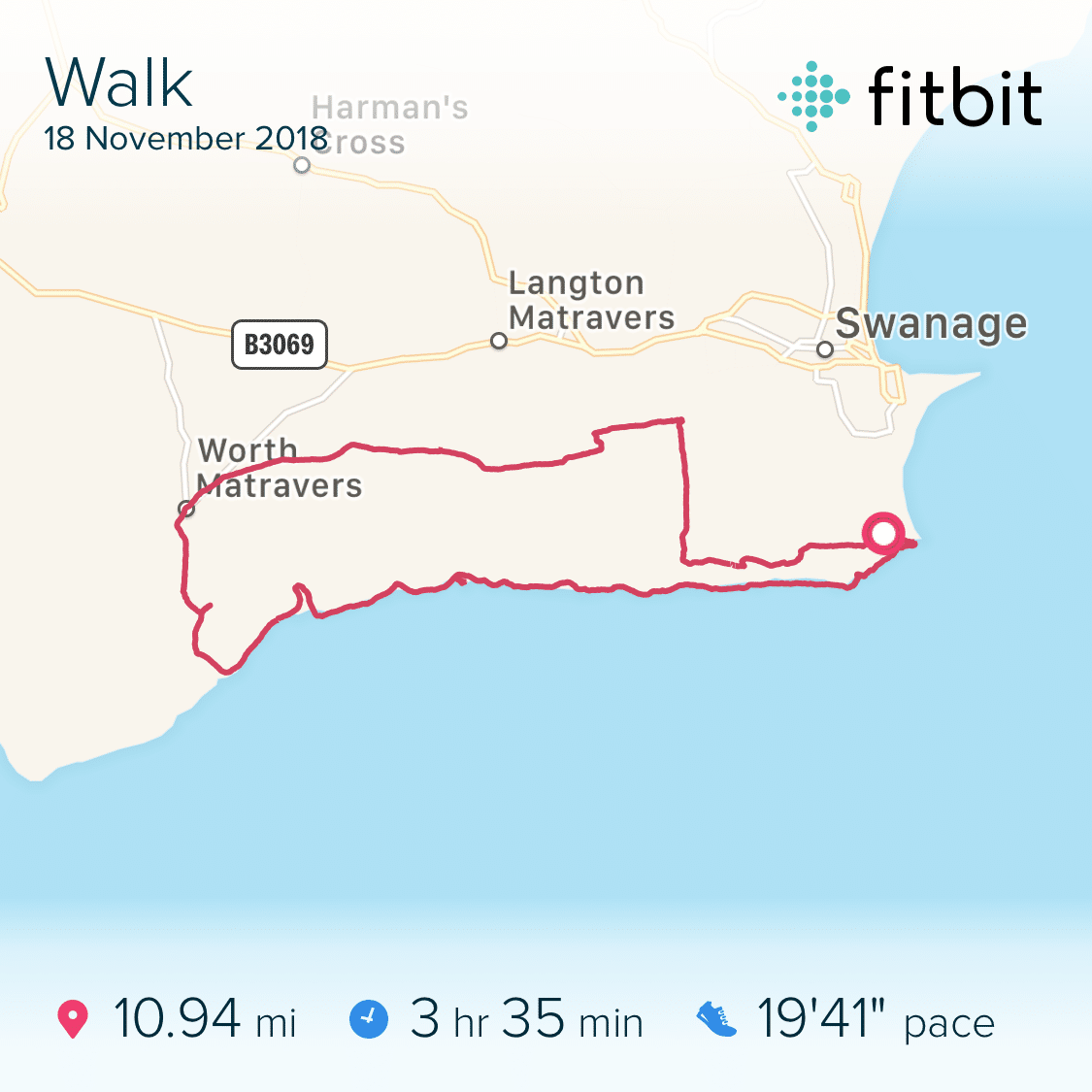 Walk Eight – Saturday 24th– Cranborne and the Allen Valley – 9.5 miles
A very wet, windy and grey day! Today's walk should have been spectacular with fabulous views over Cranborne chase but the weather had other ideas! Winter is now well and truly here with all the lovely golden leaves pretty much gone from the trees.
The walk started in Cranborne Square, Cranborne was once the Chases administrative centre and boasts a church with a 13th century nave and rare 14th century paintings. In addition is Cranborne Manor, one of the earliest domestic buildings in the country.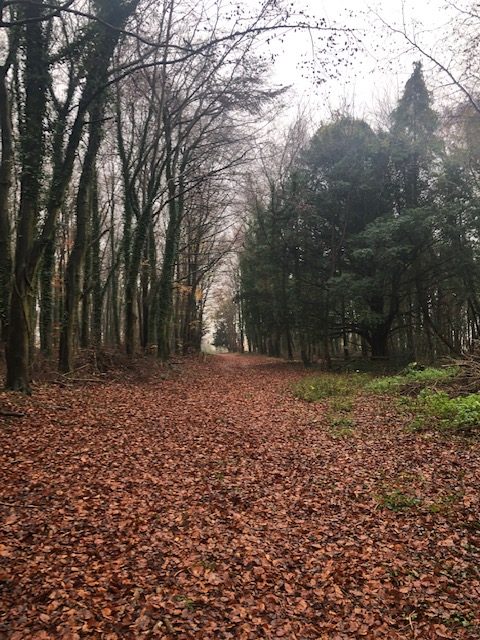 The walk starts through Burwood, then off into huge open spaces crossing the little river Crane. Then proceeding through more woods to the Monkton Drove before reaching Monkton up Wimborne, (don't you just love these names?!)
Then it's across the River Allen, where I saw both a buzzard and a heron looking for his lunch, then start heading back round the loop to Wimborne St Giles. The across a very muddy field back to Cranborne where there was a great view of the Cranborne Manor.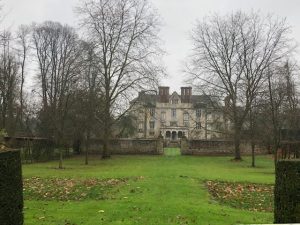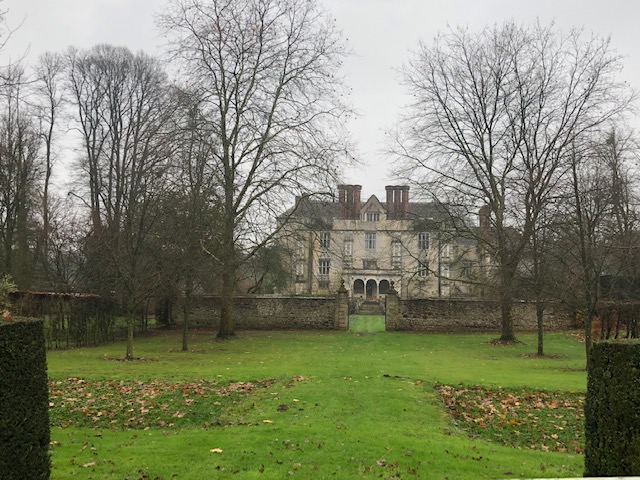 Sorry the pictures aren't so dramatic this week , but very difficult when everything is grey!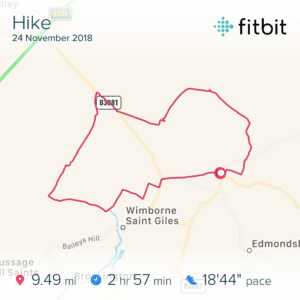 Walk Nine- Sunday 2nd – Sixpenny Handley and Pentridge
This was a pleasantly surprising walk with much mystery, interest with great views and fabulous countryside. It started in Sixpenny Handley, often written as 6D Handley, although it has nothing to do with money. The name is derived from two medieval Hundreds (administrative division that is geographically part of a larger region) 'Sexpena' (Saxon Hilltop) and 'Hanlega' (high clearing) which by the 14th century were united as the Hundred of 'Sexpenne et Henle'
This village was also home to the dreaded Isaac Gilliver (1745-1822) whose smuggling operations stretched from Poole to Lyme Regis!
Within a mile or so the strangeness started…first an upturned wellington boot on a post in the middle of two fields. Then we encountered random boxes with lids on, sitting on pallets amongst some trees. Couldn't leave them without taking a look, they turned out to be beehives as I found out when lifting the top off! Then before crossing the A354 we encountered a shipwreck, yes…with a skeleton and a lobster pot, which obviously looking at the poor chaps weight loss had been empty for some time!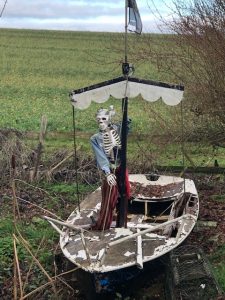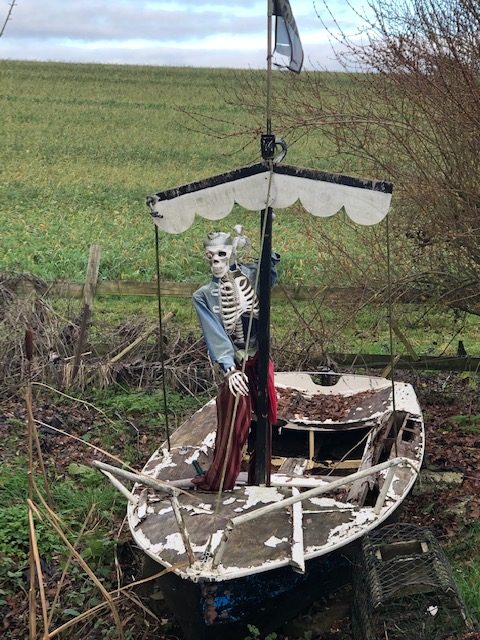 Then it was up onto Pentridge Down, this was glorious with views either side. The sun shone and it was T shirt weather for an hour or so. Would thoroughly recommend a walk up here it has everything, open space, woodland and amazing views.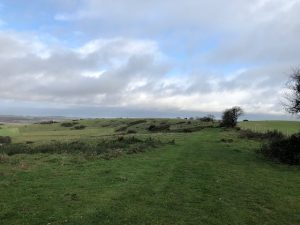 Then it was down into Pentridge, a beautiful cut off quiet village. Then back over the A354 to learn about the Trafalgar way, very interesting see the pic!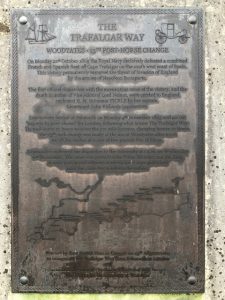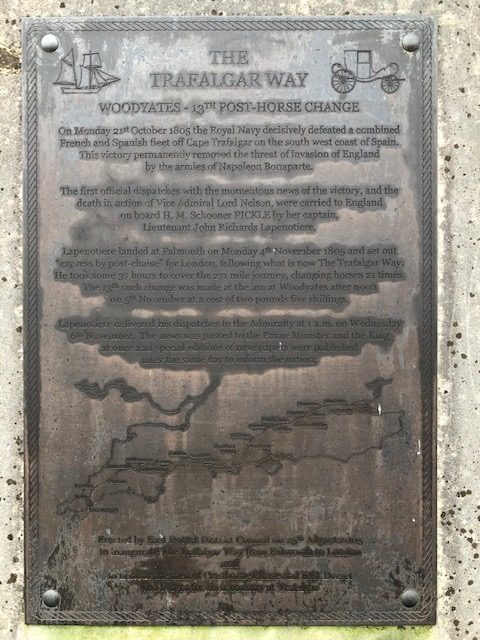 The last few miles were also hugely interesting taking us through an RSPB managed ancient wood, Garston Wood which actually is left to pretty much its own devices and was incredibly beautiful. This is worth a trip on its own!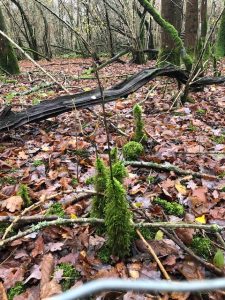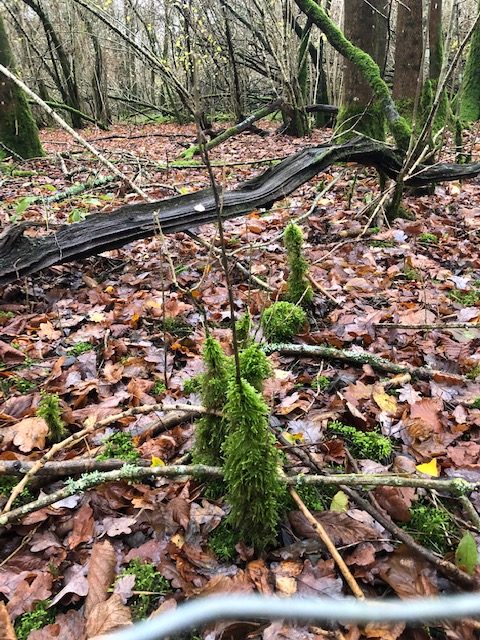 Then it was back to 6D Handley and a well deserved cup of tea! I love the Jurassic coast near here but this was very much on a par.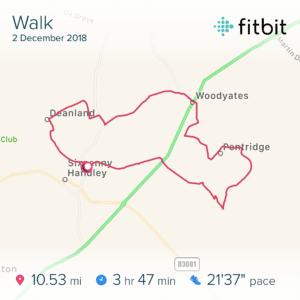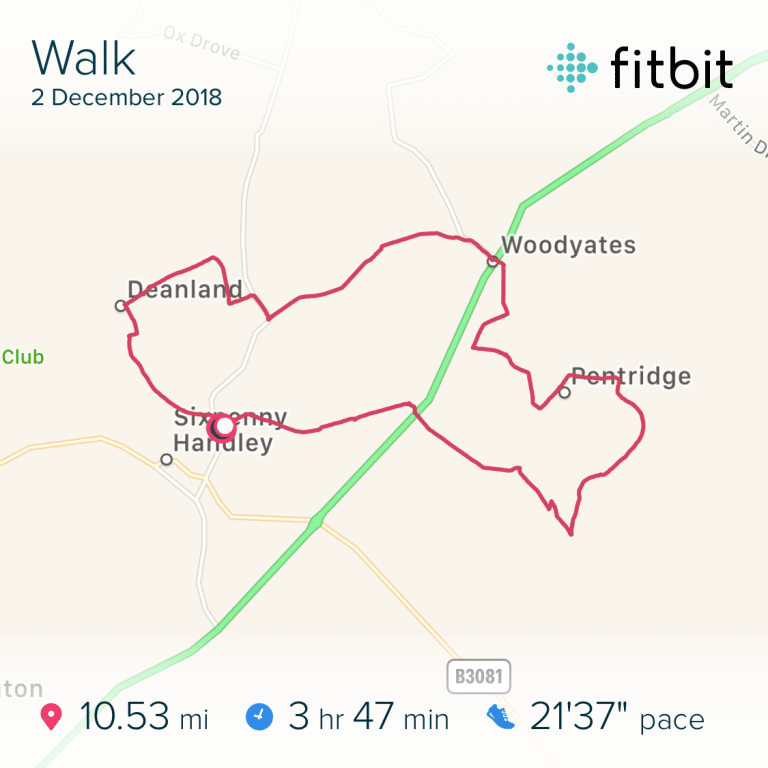 This challenge goes beyond the Jebel Saghro region, a forbidding landscape punctuated by peaks, gorges and oases. It is the land of the Ait Atta tribe, who migrate here from the High Atlas Mountains in winter.
The first day in Morocco is spent crossing the Maider El Kbir plateau and passing rose dunes.

A challenging climb up Jebel Lamrakeb is well worth it. Walking through palm gorges, the route joins the dry Rhris River and heads towards an oasis of tamarisk trees. The final days are spent trekking along the Tikertouachene River, before celebrating in Ouarzazate.
Watch this space and we will keep you up to date with Peter's training and with his fund raising schedule.
If you would like to know more about the challenge itself or our work with the brain tumour charity, please do not hesitate to get in touch with us.
why choose relec?
Faster

Our aim is to get back to you with an initial response within the hour.

Attention to detail

We pride ourselves on getting you the right product, at the right price and on time.

New ideas

We are constantly looking for latest technology and products for your applications.

Beyond standard

It's not just about the product.  Our service goes way beyond the norm.

Easy

We want to make your life as simple as it can be. Call us to find out what we can offer.