Relec February 2019 Newsletter
26th February 2019
Bi-directional dc dc converter for automotive applications

We're pleased to announce the introduction from Calex, of one of the world's highest power density bi directional dc dc converters for hybrid automotive applications.  The Bi-Directional 48S14.250BC has the ability to charge a low side (12V) battery during normal operation (buck mode) and can also charge or assist the high voltage (48V) battery in emergency situations (boost mode), with custom variants available on request.  Please call us for more information.
More products for mobile and automotive applications

We're also pleased to highlight a broader range of products which meet the requirements of the automotive and mobile sectors.  These include a range of very high density dc dc converters & CAN bus transceivers.
Our high density bricks feature 9 – 36V input ranges with power starting at 250W in quarter brick format up to 1000W in a full brick format.
We've also released a pair of Automotive grade products from Mornsun which met the requirements of AEC-Q100 – The CUWB series is a 6W converter featuring a 4.5V to 36V input, making it suitable for operation during engine start up.  Mornsun have also released the CF series of SMD 1W dc dc converters which feature 3500V isolation and are ideally suited to data transmission systems.
The Big Relec Desert Walk 2019 is underway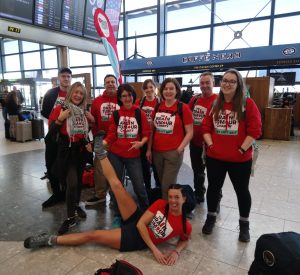 Our Managing director, Peter Lappin in now mid trek across the Sahara and we can't wait to hear his stories and see his pictures.  He's tantalisingly short of reaching his £6000 fundraising target for the Brain tumour charity.  If you'd like to give him a nice surprise, please check out the Big Relec Desert Walk blog, where you can find a link to his just giving page.
As always, we want to hear from you.  If something here whets your appetite, please give us a call and thanks again for reading
John Stone
Sales Director
sign up for our newsletter
Enter your email address below
why choose relec?
Faster

Our aim is to get back to you with an initial response within the hour.

Attention to detail

We pride ourselves on getting you the right product, at the right price and on time.

New ideas

We are constantly looking for latest technology and products for your applications.

Beyond standard

It's not just about the product.  Our service goes way beyond the norm.

Easy

We want to make your life as simple as it can be. Call us to find out what we can offer.