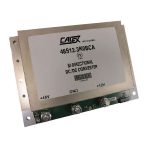 Bi-Directional DC DC Converter
The 48S12.3k0BCA is a Bi-Directional DC/DC converter for hybrid automotive applications, providing complete control of in-vehicle power distribution between 12V & 48V batteries (alternative voltages available on request).  The Bi-Directional 48S12.3k0BCA has the ability to charge a low side (12V) battery during normal operation (buck mode) and can also charge or assist the high voltage (48V) battery in emergency situations (boost mode).
The converter operates more as an ideal current source with variable direction, thus allowing energy transfer between two voltage domains.

Supervision of the 48S14.250BC is via an industry-standard CAN interface, providing control of output voltages, currents (& direction) and protection circuits as well as monitoring of temperature and other vital parameters. A high-speed CAN-Transceiver (TLE7251VSJ) is employed for communication between the CAN interface and the integral microcontroller. The converter requires both voltages to be present, the high side and low side voltages must be inside the specified range, in order to operate.
The converter has default limits (minimum and maximum) for current and voltage setpoints as well as for under voltage, overvoltage, and over-temperature thresholds.
State of the art synchronous rectification technology, along with optimized thermal and mechanical design techniques, delivers industry-leading efficiency and power density.  Diode emulation mode prevents the generation of negative currents and also provides for improved efficiencies at light loads.
The 48S12.3k0BC comes in a low profile 240 x 136.4 x 18.5mm mechanically enclosed package weighing only 1.31kg. The packaging makes the converter ideal for rugged environments and can be simply integrated with the battery packs via 4 x M8 studs.
Relec Electronics has worked closely with our list of Manufacturers for over 40 years, we specialize in many industries; automotive, industrial and defense.
We have a team of dedicated engineers ready to support you throughout the design process. We also carry stock of all standard modules and accessories for next day delivery.
Let's make this easy and call us today.
Follow us on Facebook, LinkedIn & Twitter for updates on all of the latest Power Conversion products.
Sign up to our monthly newsletter below, and never miss out on our updates of industry news, we release news/blog pages weekly with news from the power and display industries.
Relec Electronics holds the highest standards towards finding you the ideal solution for your application. We truly believe "Standard is Just the Beginning". Get in touch with our technical team today.
READ MORE
READ LESS
why choose relec?
Faster

Our aim is to get back to you with an initial response within the hour.

Attention to detail

We pride ourselves on getting you the right product, at the right price and on time.

New ideas

We are constantly looking for latest technology and products for your applications.

Beyond standard

It's not just about the product.  Our service goes way beyond the norm.

Easy

We want to make your life as simple as it can be. Call us to find out what we can offer.
sign up for our newsletter
Enter your email address below