Relec March 2019 Newsletter
27th March 2019
Power supplies as constant current sources.
Applications which require accurate control of output current.
Relec Electronics has been supplying DC power sources to the industrial market for over 40 years. Whilst most electronic systems require a constant voltage source there are applications which operate most efficiently with a constant current rather than a constant voltage. This article looks at some of these applications and the features within some of our power supplies that can be used to create an easy to implement system.
LED Drivers
The luminous output of an LED is proportional to the current flowing through it. Whilst it is relatively simple to control this current for panel indicators with a fixed resistor, this is not the case for LEDs used in modern day lighting applications. Simply increasing the voltage across an LED leads to an exponential increase in current. Add in the fact that a diode's forward voltage drops with temperature, it is extremely easy to damage an LED. The best way to combat this is to control the current flowing through the device rather than the voltage across it.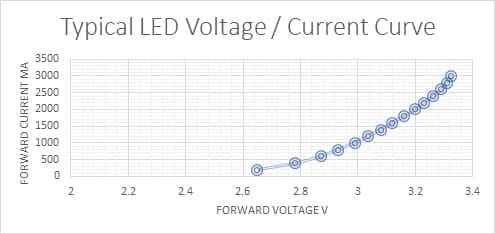 Relec have a range of bespoke dc LED drivers which can accurately control LED forward current from 0 -1200mA with a dc input voltage range from 5.5V up to 48V. The KC series drivers from Mornsun can be supplied with fixed outputs, with options to further control the output current either with a PWM signal or an analogue control voltage. KC series LED drivers are available in through hole, surface mount and chassis mount options and are all competitively priced and available on 4 – 6 week lead-times, with samples available on request.

Battery chargers
A similar scenario exists when charging different battery technologies. Nearly all battery types require a mix of constant current and constant voltage modes during their charge cycle. An empty battery presents a very low impedance to any charging source and it is essential that this charge current be limited to protect both the cells and the wiring connecting the batteries. The control of charge current is also essential depending on the time available. The slower the charge the more effective it is, but this is not always practical when it comes to electric vehicles.
Relec's AE series are a range of AC DC converters from Cotek, with outputs from 800W to 3000W, have the ability to control both the output voltage and output current limit via either analogue or I2C control. Units are available with output voltages up to 400V dc and are finding widespread use in battery charger systems for electric vehicles.
Water purification
Electrodeionization is a water treatment process that can remove impurities (dissolved ions) from water using ion exchange membranes with a closely controlled dc current. The level of purification is directly proportional to the amount of charge passed through the water, hence accurate control control of the dc current is essential.
The Ultimod and CoolX modular power supplies from Excelsys give the user the power to control both the output voltage and current accurately through the use of Itrim and Vtrim functions. Both the CoolX and Ultimod platforms can support multiple output modules (up to 240W each) and have the ability to support both parallel and series connections.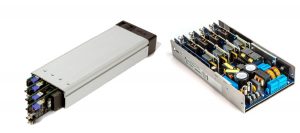 Cathodic protection
Offshore structures such as ships, bridges and turbines all inherently suffer from the effect of corrosion because of the environment they are in. Traditionally, metal structures could be protected by the use of a sacrificial anode, which corrodes in place of the main structure, and is designed to be replaceable. An alternative method is to pass a dc current through the structure with a technique called "Impressed current". Once again, the key to these systems is accurately and efficiently controlling the dc current into the system.
The PSx series of switching regulators from Melcher, have the ability to accurately control the output current flowing into a system by use of their "R" control feature. The PSx family have a true constant current limit characteristic, coupled with the ability to drive the output voltage right down to 0V make them ideal modules for this application. The PSx family are available with inputs up to 144V dc and outputs from 1 to 25A.


Our technical team here at Relec have experience in all of these applications and would love to share them with you. Please call us today with details of what you are trying to achieve and hopefully we can take you straight to an optimised solution.
John Stone
Relec Electronics
sign up for our newsletter
Enter your email address below
why choose relec?
Faster

Our aim is to get back to you with an initial response within the hour.

Attention to detail

We pride ourselves on getting you the right product, at the right price and on time.

New ideas

We are constantly looking for latest technology and products for your applications.

Beyond standard

It's not just about the product.  Our service goes way beyond the norm.

Easy

We want to make your life as simple as it can be. Call us to find out what we can offer.