Award winning Relec Electronics…
22nd November 2016
Relec are very proud to have received an award from one of their manufacturing partners Excelsys at the recent Electronica exhibition held in Münich.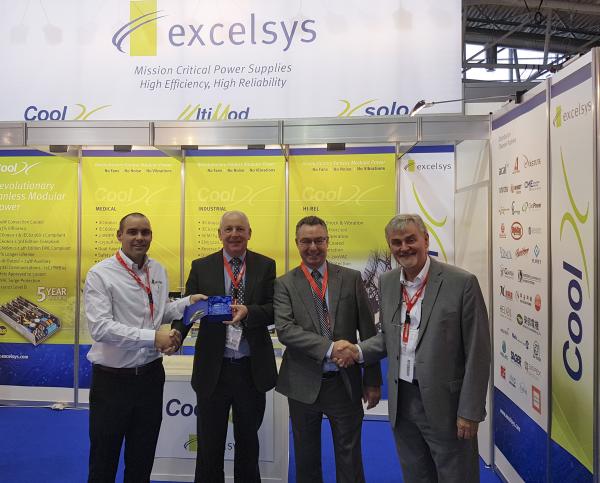 Garry Duffy CEO of Excelsys far right is seen congratulating Peter Lappin and Jonathan Smith of Relec (centre) as Conor Duffy (left) European Sales Manager of Excelsys looks on
Excelsys made the award to the company in recognition of the first ever world wide application for the new Excelsys CoolX convection cooled power supply which Relec Electronics have achieved. The brand new product has only just been launched on the market and the Engineers at Relec were able to capitalise on a requirement they had received which fitted perfectly with the specification of the CoolX power supply unit and the requirements of the customer.
The client is a manufacturer of LED lighting controllers for installation in a TV studio. One of the requirements was for an extremely low noise power supply product able to deliver the correct power requirements.
The revolutionary CoolX600 convection cooled modular power supply delivers an incredible 600W, without fan assisted cooling, from a very compact 219mm x 114mm x 1U package. The only fanless modular power supply on the market, the CoolX600 is completely silent in operation, produces no vibration and offers >25% reliability increase over fan cooled alternatives. Excelsys's innovative patented modular resonant technology offers system designers best in class efficiency and reliability in addition to the most comprehensive feature set and specifications available. An industry leading 5 year warranty ensures quality, reliability and the lowest total cost of ownership.
Key features and options include 600W output with natural convection cooling, no fan/airflow required. This results in higher system reliability, with typically 25% longer lifetime than competitors. In addition, the CoolX600 leads the market with conversion efficiencies of up to 94%. CoolX600 provides higher input surge protection of 4kV Line to PE for operation in harsh environments, reverse energy protection without the use of external blocking diodes as well as safety certified operation at altitudes of up to 5000m. A 24W, medically isolated, auxiliary supply is available as a standard feature, offering effectively another output for system intelligence, control, displays etc. With optional Digital Communications available the CoolX600 provides the most flexible, highest specification modular power supply on the market.
Certification:
Industrial: IEC 60950; IEC 62368-1; ISO 9000; SEMI F47
Medical: IEC 60601-1; IEC 60601-1-2; 2 MOPP; BF rated; ISO 13485
Defence: MIL-STD-810G; MIL-STD-461G, CE101, CE102
For further information or to discuss your application with one of our experienced team members please contact our technical sales team: e-mail sales@relec.co.uk or telephone 01929 555800.
John Stone
Sales Director
The Big Relec Bike Ride 2018
sign up for our newsletter
Enter your email address below
why choose relec?
Faster

Our aim is to get back to you with an initial response within the hour.

Attention to detail

We pride ourselves on getting you the right product, at the right price and on time.

New ideas

We are constantly looking for latest technology and products for your applications.

Beyond standard

It's not just about the product.  Our service goes way beyond the norm.

Easy

We want to make your life as simple as it can be. Call us to find out what we can offer.