Relec's New Range of DC DC Converters
22nd January 2017
The HP series of 10:1 wide input 192W dc dc converters supplied by Relec Electronics are the ideal solution where enhanced durability power conversion products are required for use in harsh environments.
The HP series power converters are manufactured by Bel Power Solutions who has over 40 years' experience in supplying the railway industry throughout the world. The range has a tried and tested track record and has the Melcher™ brand name that is synonymous with quality design and engineering.
The extremely wide input range of 16.8Vdc to 137.5Vdc with dynamic transient deviations to 12.5Vdc and 154Vdc for 2 seconds respectively makes these converters particularly suitable for railway applications and can be supplied by all common dc traction supplies of 24V, 36V, 48V, 72V, 96V & 110V nominal voltage.
Features include high efficiency, high reliability, low output noise, and excellent dynamic response to load/line changes. The converters comply with EN50155 and EN50121-3-2; IEC/EN 60950-1; UL/CSA 60950-1 2nd Ed.; IEC61000-4-2, -3, -4, -5, -6; fire and smoke standard EN45545.
Available as single, dual, triple and quad outputs as combinations of 5V, 12V, 15V, 24V, 48Vdc and is configurable up to 96Vdc; LED indicators display the status of the converter and allow for visual monitoring of the system at any time.
The converters are housed in a rugged cassette case, that may either be plugged into a 19" rack system according to IEC60297-3, or be chassis mounted. Cooling plates are available for conduction cooled applications or heat-sinks for convection cooling.
Extremely wide input range 16.8 to 137.5Vdc
Inrush current limitation
Input overvoltage protection
Programmable undervoltage lockout
Zero load, overload & short-circuit proof
10ms interruption time
Parallel operation with current sharing
High efficiency to 92%
Very high reliability
Operating temperature range -40°C to +71°C
A comprehensive data sheet is available here.
Now available on the Relec website are downloadable 3D files for the HP series, follow this link.
The dual 12V HP2320-9RG, dual 24V HP2660-9RG & quad 24V HP4660-9RG are generally available from stock at Relec.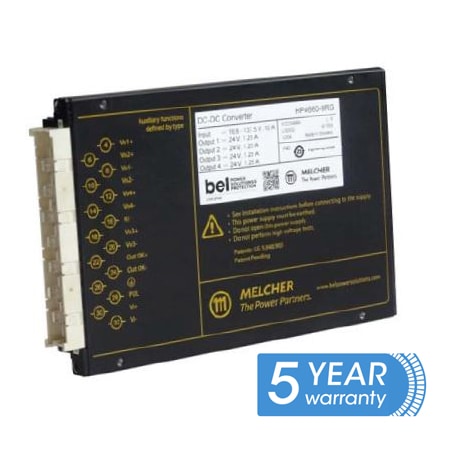 For further information or to discuss your application with one of our experienced team members please contact our technical sales team: e-mail sales@relec.co.uk or telephone 01929 555800.
John Stone
Sales Director
sign up for our newsletter
Enter your email address below
why choose relec?
Faster

Our aim is to get back to you with an initial response within the hour.

Attention to detail

We pride ourselves on getting you the right product, at the right price and on time.

New ideas

We are constantly looking for latest technology and products for your applications.

Beyond standard

It's not just about the product.  Our service goes way beyond the norm.

Easy

We want to make your life as simple as it can be. Call us to find out what we can offer.