Compact AC-DC Converters Meet The Need for Miniaturisation
16th November 2022
Compact AC-DC Converters Meet The Need for Miniaturisation
The increase in IoT connected devices in the home, office and factory settings is driving demand for ever-smaller networked equipment (Miniaturisation). The LSxx-K3Bxx series from Mornsun, available from Relec Electronics, is ideal for space-constrained, budget conscious design projects.
---
The LSxx-K3Bxx ac-dc converters are compact, low power converters created specifically for the home automation / IoT markets. In addition, they are cost-efficient for low power, price-sensitive The 1W- 5W, non-isolated converters are ideal for easy integration into cost-sensitive, consumer products. The dimensions of just 16.13 x 15.1 x 9.5mm mean they can be used in the most space-constrained areas.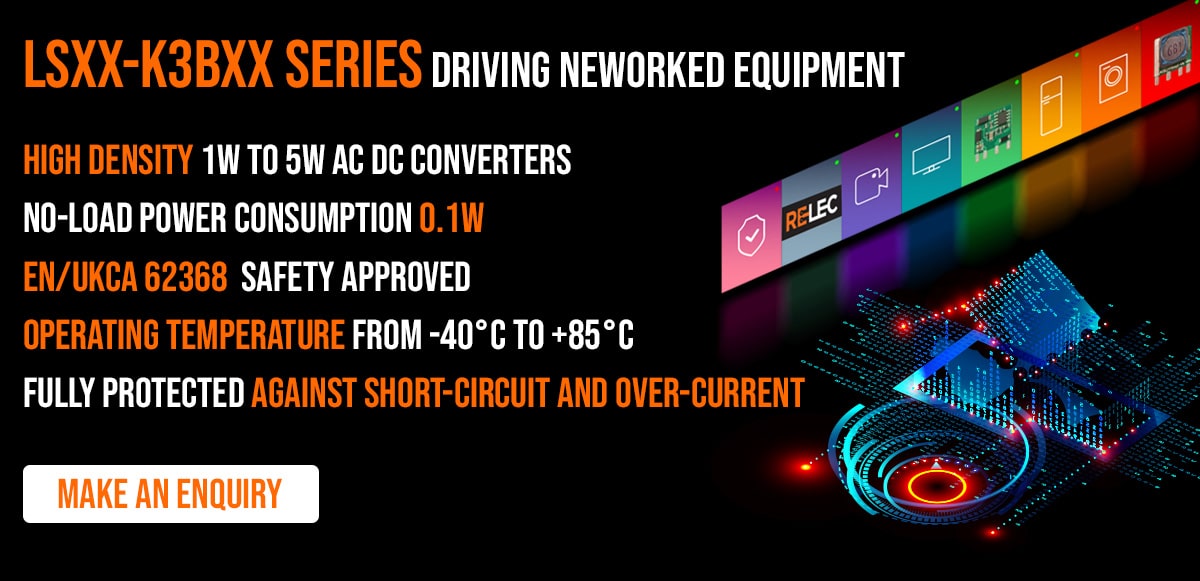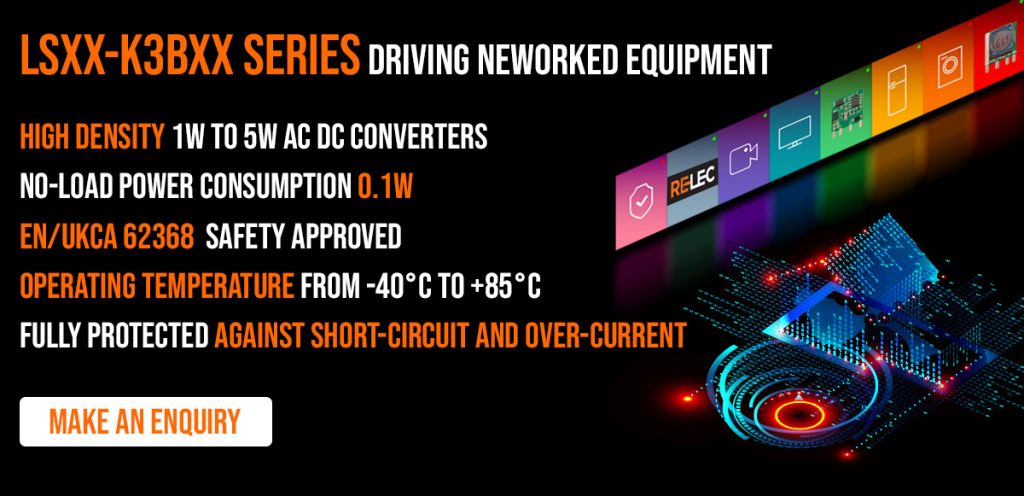 To meet exacting safety standards, the majority of commercially available ac-dc converters have an isolation barrier between the mains side and the dc output, making life simple for designers incorporating the power supply into their designs. There are occasions however when an isolation barrier does not need to be incorporated because sufficient measures are in place to ensure users do not run the risk of electric shock. Typical examples are simple motors, relays and microcontrollers, often found in IoT and smart home applications, where the casing or enclosure provides the main safety barrier from the incoming mains supply.
An isolation transformer can be one of the more expensive items in an ac-dc converter and in low power devices, the cost is disproportionately high. Mornsun has designed the LSxx-K3Bxx series with no isolation barrier which has many advantages.
The first is that the absence of a transformer makes the ac-dc converter smaller and lighter. It also contributes to significant savings – up to 50% of the cost compared to isolated power supplies. In addition, the simple design means that the converter can be easily adapted to meet a variety of applications in different environments.
The LSxx-K3Bxx ac-dc converters have an ultra-wide input voltage range of 85 – 305Vac/ 70 – 430Vdc. The operate over a wide temperature range (-40°C to +85°C) and up to 77% efficiency.
The industrial-grade design allows for additional EMC additional circuits, if required and is designed to simplify customer PCB layout.
For safety, the converters have output short circuit and over-current protection and are certified to EN62368.
Mornsun's LSxxK3Bxx series is available on short lead-times of six to eight weeks. Pricing starting at $1.00 for a 1W device.
---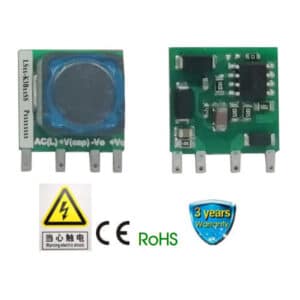 Input: 85-305Vac
Outputs: 5V Power: 1 Watt
Tamb: -40°C to 85°C
Dims: 16.13 x 18.17 x 9.50 mm
EN/UKCA 62368 Safety Approved
Non Isolated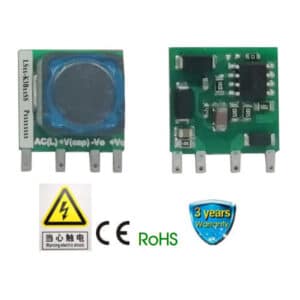 Input: 85-305Vac
Outputs: 12V Power: 3 Watt
Tamb: -40°C to 85°C
Dims: 16.13 x 18.17 x 9.50 mm
EN/UKCA 62368 Safety Approved
Non Isolated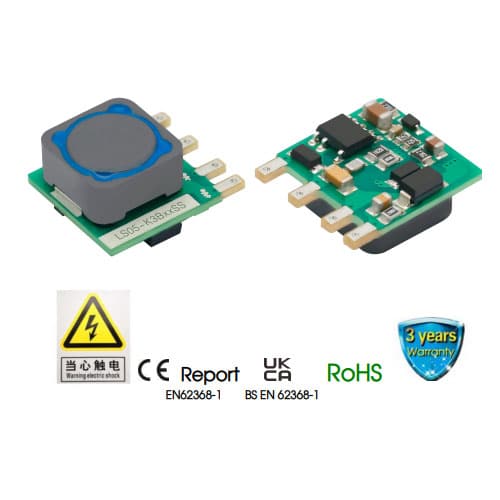 Input: 85-305Vac
Outputs: 12V, 15V & 18Vdc Power: 5 Watt
Tamb: -40°C to 85°C
Dims: 16.13 x 18.17 x 9.50 mm
EN/UKCA 62368 Safety Approved
Non Isolated
GET IN TOUCH TODAY – 01929 555700
Here at Relec Electronics, we have worked closely with our key suppliers for over 40 years. We specialise in many industries, including; automotive, industrial, transportation, instrumentation & defence. We have a team of dedicated engineers ready to support you throughout the design process. We also carry stock of all standard modules and accessories for next day delivery.
Let's make this easy and call us today.
Follow us on Facebook, LinkedIn & Twitter for updates on all of the latest Power Conversion & Display products.
Sign up to our monthly newsletter below, and never miss out on our updates of industry news, we release news/blog pages weekly with news from the power and display industries.
Relec Electronics holds the highest standards towards finding you the ideal solution for your application. We truly believe "Standard is Just the Beginning". Get in touch with our technical team today.
sign up for our newsletter
Enter your email address below
why choose relec?
Faster

Our aim is to get back to you with an initial response within the hour.

Attention to detail

We pride ourselves on getting you the right product, at the right price and on time.

New ideas

We are constantly looking for latest technology and products for your applications.

Beyond standard

It's not just about the product.  Our service goes way beyond the norm.

Easy

We want to make your life as simple as it can be. Call us to find out what we can offer.