What Makes "Melcher" Converters, The Best In Class?
4th June 2019
What Makes "Melcher" Converters, The Best In Class?
The Melcher name has always been associated with rugged Power Supplies and DC-DC Converters, and has been a leading supplier to the Railway industry of over 40 years.
In this article, we look at the design and verification processes that make a 'Melcher' converter a true fit and forget the power supply. All new products which come out of the Melcher stable are designed in accordance with the very strict specification and design guidelines. Component derating is an important philosophy at Melcher and all components are checked to ensure that they never exceed the derating factors which the Melcher philosophy demands.
The engineering team also make use state of the art software to conceptualize and test circuits before they get anywhere near a breadboard.
Extensive use of Program Tools ensures the Integrity of the Design
Mathcad is used to confirm key parameters within the circuit and is also used to help design key components such has transformer and inductors.
Verification of Circuit Operation
Microcap is a circuit simulation software package that can be used to check correct operation of complete circuits and test the effects of tolerances in key components.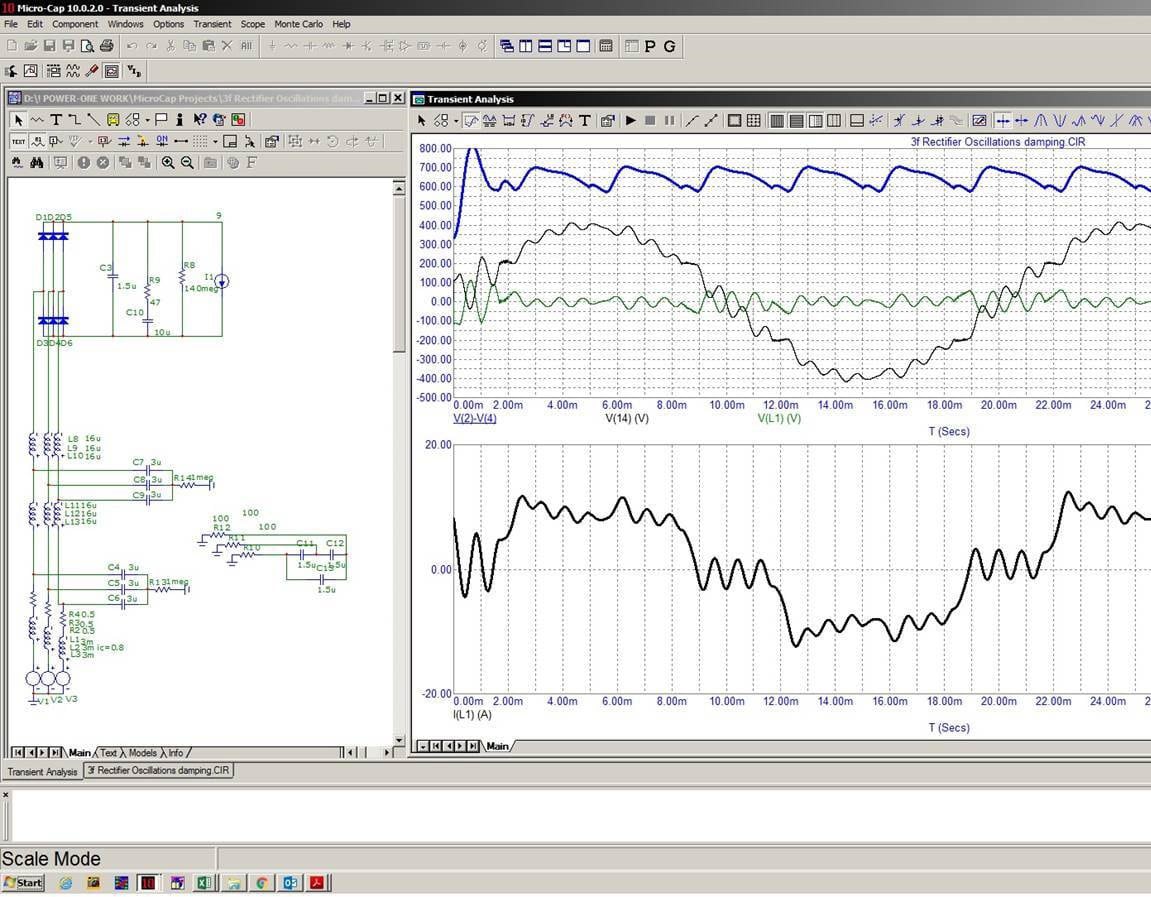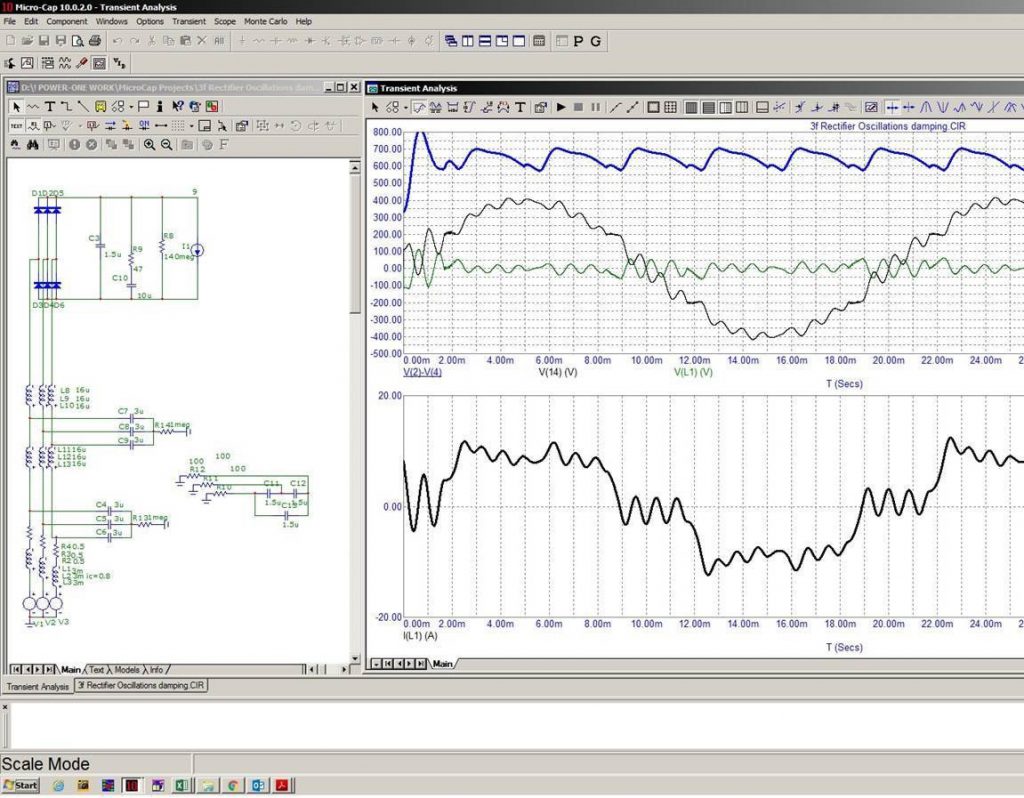 Mechanical & Thermal Checking
One of the key driving factors in any new power supply design is efficiency and hence power loss. With a drive to make products smaller and cheaper, it is important to make sure there are no thermal hotspots or overloads within a system. Mechanical and thermal checks are made using FloTherm and solid-Edge-FloEFD packages.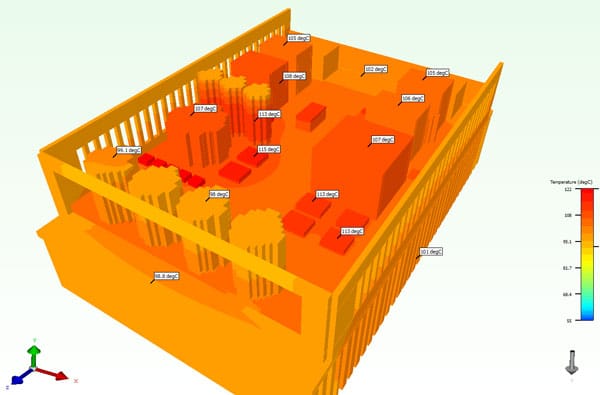 Extensive Prototype Testing
Once prototypes have been built, Melcher units are subject to extensive HALT (highly accelerated life test) and STRIFE (Stress + Life) test protocols. The units are tested at the extremes of their environmental specifications and also on the most demanding electrical characteristics. These might include operation with a highly pulsed load at maximum operating temperature whilst also vibrating the unit at the same time. This level of testing can very quickly pick out weak points in a design before they go to production.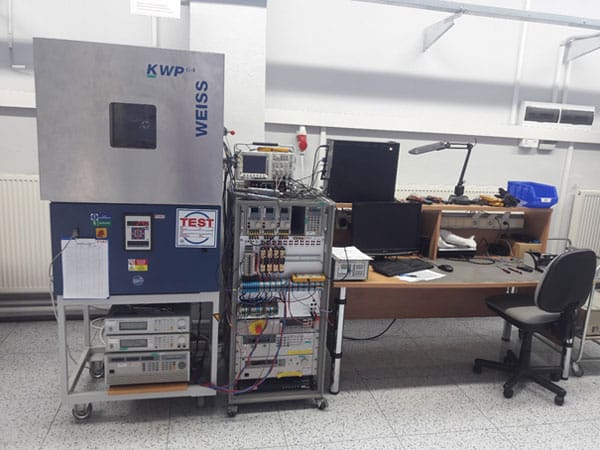 Design Verification Testing
And last, but not least, Melcher Converters (and other products) go through a thorough protocol of DVT (Design verification testing) and AVT (acceptance verification testing). This includes checking all of the published parameters over all environmental conditions as well as compliance to external standards. In the case of railway products this includes EN50155 and EN50121 standards. To help facilitate this Melcher have in-house thermal, humidity and vibration chambers to check compliance.
Production Burn In Testing
Once into production all units go through a 24-hour extended temperature burn in process. This ensures that any component infant mortality issues are identified before units go into the field. Whilst some of the modelling and test tools might have changed over the years, the Melcher philosophy is still as strong as ever. The Melcher name has stood for reliability and technical excellence for the past 40 years and with these tools in place it will remain the case for the next 40.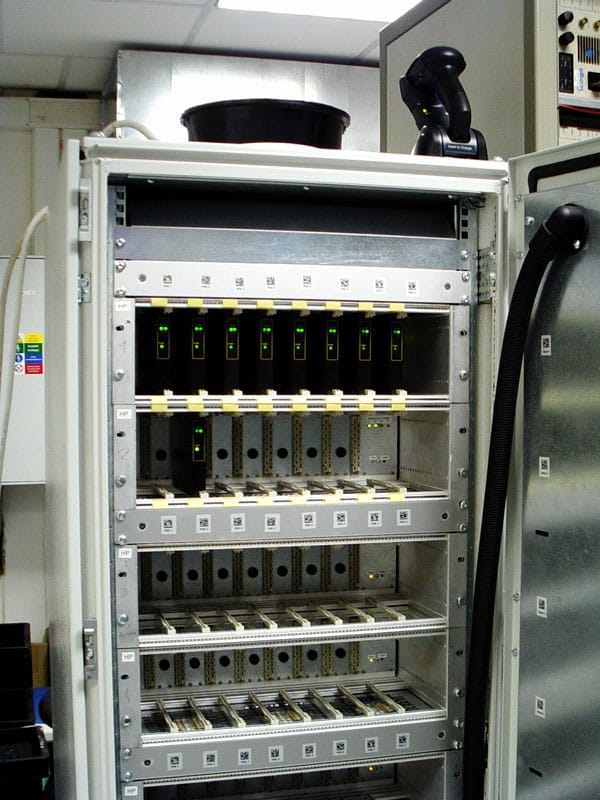 Relec Electronics Limited was established in 1978 with the aim of providing specialist products and support to the professional electronics industry. The company is based in Wareham, Dorset.
Relec has expanded and refined this philosophy over the past 40 years and specialises in offering the AC-DC power supplies, DC-DC converters, DC-AC Inverters, Displays, and EMC filter solutions to equipment manufacturers and system integrators in the UK and Ireland.
MELCHER PRODUCTS
Input: 9-36V or 16.8-137.5V DC
Outputs: 12, 15 or 24V DC
Power: 60 Watt
Tamb: -40°C to +70°C
Dims: 172 x 50 x 32mm
EN50121-3-2 / EN50155 Compliant
5 Year Warranty
Input: 90 to 264V AC
Outputs: 12 to 30V
Power: 300 Watt
Tamb: -40°C to +71°C
Dims: 168 x 111 x 80mm (3U x 16TE)
UL / CE EN62368 Approved
5 Year Warranty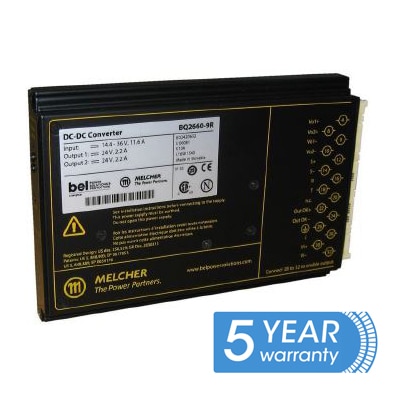 Input: Wide input (2:1)
Outputs: 5 to 48V
Power: 120 Watt
Tamb: -40°C to +71°C
Dims: 168 x 111 x 20mm
UL / CE EN60950 Approved
5 Year Warranty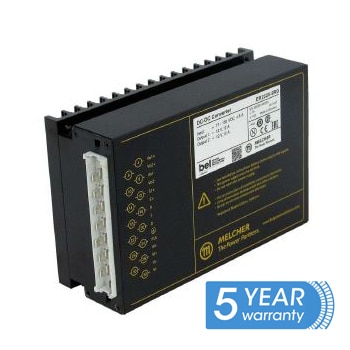 Input: 12 to 68V DC
Outputs: 12 to 96V
Power: 288 Watt
Tamb: -40°C to +70°C
Dims: 168 x 111 x 80mm (3U x 16TE)
UL / CE EN60950 Approved
5 Year Warranty
GET IN TOUCH TODAY – 01929 555700
Here at Relec Electronics, we have worked closely with our key suppliers for over 40 years. We specialise in many industries, including; automotive, industrial, transportation, instrumentation & defence. We have a team of dedicated engineers ready to support you throughout the design process. We also carry stock of all standard modules and accessories for next day delivery.
Let's make this easy and call us today.
Follow us on Facebook, LinkedIn & Twitter for updates on all of the latest Power Conversion products.
Sign up to our monthly newsletter below, and never miss out on our updates of industry news, we release news/blog pages weekly with news from the power and display industries.
Relec Electronics holds the highest standards towards finding you the ideal solution for your application. We truly believe "Standard is Just the Beginning". Get in touch with our technical team today.
sign up for our newsletter
Enter your email address below
why choose relec?
Faster

Our aim is to get back to you with an initial response within the hour.

Attention to detail

We pride ourselves on getting you the right product, at the right price and on time.

New ideas

We are constantly looking for latest technology and products for your applications.

Beyond standard

It's not just about the product.  Our service goes way beyond the norm.

Easy

We want to make your life as simple as it can be. Call us to find out what we can offer.