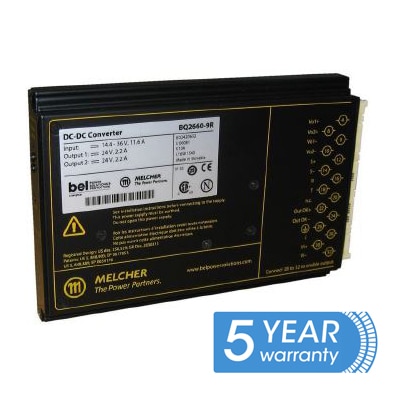 Q Series
Input: Wide input (2:1)
Outputs: 5 to 48V
Power: 120 Watt
Tamb: -40 to +71°C
Dims: 168 x 111 x 20mm (3U x 4TE)
UL / CE EN62368-1 Approved
5 Year Warranty
Request a sample
have a question? Contact us now
APPLICATION
These extremely compact Melcher DC-DC Converters by Bel Power incorporate all necessary input and output filtering, signaling, and protection features, which are required in the majority of applications.
The converters provide important advantages such as flexible output power through primary current limitation, high efficiency, excellent reliability, very low ripple and RFI noise levels, full input to output isolation, negligible inrush current, overtemperature protection, and input over-/undervoltage lockout. The converter inputs are protected against surges and transients occurring on the source lines.
The converters are particularly suitable for rugged environment, such as railway applications. They have been designed in accordance with the European railway standards EN 50155 and EN 50121-3-2. The Q series of power supplies are Network Rail Approved. All printed circuit boards are coated with a protective lacquer.
The outputs are continuously open- and short-circuit proof. An isolated output Power Good signal and LEDs at the front panel indicate the status of the converter. Test sockets at the front panel allow for a check of the main output voltage.
Full system flexibility and n+1 redundant operating mode are possible due to virtually unrestricted series or parallel connection capabilities of all outputs. In parallel connection of several converters, automatic current sharing is provided by a single-wire interconnection.
As a modular power supply or as part of a distributed power supply system, the extremely low profile design significantly reduces the necessary power supply volume without sacrificing high reliability. A temperature sensor disables the outputs, if the case temperature exceeds the limit. The outputs are automatically re-enabled, when the temperature drops below the limit.
The fully enclosed, black-coated aluminum case acts as a heatsink and an RFI shield. The converters are designed for 19″DIN-rack systems occupying 3U/4TE only, but can also be chassis-mounted by means of four screws. It is possible to fit an additional heat sink.
feature list
RoHS lead-free-solder and lead-solder-exempted products are available
Wide input voltage ranges up to 150 Vdc
1 or 2 isolated outputs from 3.3 to 48 Vdc
Class I equipment
Extremely high efficiency of up to 90%
Flexible output power
Excellent surge and transient protection
Outputs open- and short-circuit proof
Redundant operation, current sharing
Extremely low inrush current, hot swappable
Externally adjustable output voltage and inhibit
Electric strength test 2.1 kVdc
Very compact (<20 mm wide)
Railway standards EN50155 / EN50121 observed
Safety according to IEC/EN 62368-1, UL/CSA 62368-1
5 year warranty on -G versions
MODEL NUMBER
INPUT RANGE
OUTPUT
POWER
BQ1001-9RG
14.4-36VDC
5.1V
100W
BQ2320-9RG
14.4-36VDC
12V
12V
120W
BQ2540-9RG
14.4-36VDC
15V
15V
120W
BQ2660-9RG
14.4-36VDC
24V
24V
132W
CQ1001-9RG
33.6-75VDC
5.1V
100W
CQ2320-9RG
33.6-75VDC
12V
12V
120W
CQ2540-9RG
33.6-75VDC
15V
15V
120W
CQ2660-9RG
33.6-75VDC
24V
24V
132W
DQ1001-9RG
43-100VDC
5.1V
100W
DQ2320-9RG
43-100VDC
12V
12V
120W
DQ2540-9RG
43-100VDC
15V
15V
120W
DQ2660-9RG
43-100VDC
24V
24V
132W
EQ1001-9RG
66-137.5VDC
5.1V
100W
EQ2320-9RG
66-137.5VDC
12V
12V
120W
EQ2540-9RG
66-137.5VDC
15V
15V
120W
EQ2660-9RG
66-137.5VDC
24V
24V
132W
GQ1001-9RG
21.6-54VDC
5.1V
100W
GQ2320-9RG
21.6-54VDC
12V
12V
120W
GQ2540-9RG
21.6-54VDC
15V
15V
120W
GQ2660-9RG
21.6-54VDC
24V
24V
132W
Downloads
Click on the link below for an instant download.

We would love to know more about the problem you are trying to solve
Our experts are on hand to help you find the best solution!
why choose relec?
Faster

Our aim is to get back to you with an initial response within the hour.

Attention to detail

We pride ourselves on getting you the right product, at the right price and on time.

New ideas

We are constantly looking for latest technology and products for your applications.

Beyond standard

It's not just about the product.  Our service goes way beyond the norm.

Easy

We want to make your life as simple as it can be. Call us to find out what we can offer.
sign up for our newsletter
Enter your email address below