LR Series AC-DC Converters for Railway & Rugged Applications
11th September 2019
LR Series AC-DC Converters for Railway & Rugged Applications
The new 300 Watt LR Series from Melcher represents an extension to the existing broad range of 19" cassette Power Supplies and DC-DC Converters, and are ideal for applications working in rugged conditions and where high reliability is required.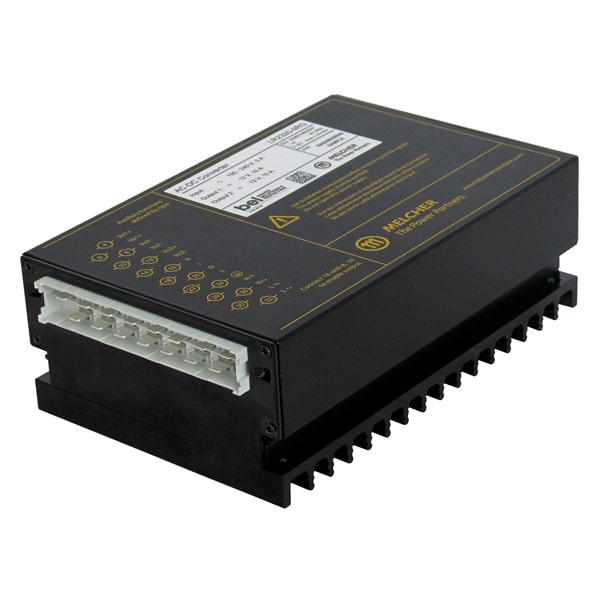 The products feature a universal AC Input Voltage range including active inrush current limitation and power factor correction (PFC). Two highly efficient isolated outputs of 12 or 15 V up to 300 W offer maximum flexibility in system architecture and make them especially suitable for a number of railway applications such as signalling, rugged communication as well as heavy-duty industrial control, and mission-critical defence or security systems.

LR Series – Rugged Cases & 19″ Rack Options
The converters are incorporated in a rugged aluminium extruded case, with options for bespoke 19″ subracks, and can operate in a convection / conduction cooled environment at temperatures from -40° up to 85°C. All PCBs are conformal coated for protection against humidity and pollution which occurs during typical lifecycles of +20 years.
The LR Series are fully compliant and safety approved to the latest edition of IEC/EN 62368-1 and UL/CSA 62368-1. Underlining the high quality and reliability of the LR Series, Bel Power Solutions is offering an extended warranty of 5 years on all LR Series power converters.
The converters are fully protected against over-load, -voltage, -temperature, under voltage, no-load and short circuit with automatic recovery.
Additional features include integrated hold- up capacitors for 20ms interruption, active current share for parallel and redundant operation, rectangular current limit characteristic and remote voltage adjust, inhibit and fail signal.
GET IN TOUCH TODAY – 01929 555700
Here at Relec Electronics, we have worked closely with our key suppliers for over 40 years. We specialise in many industries, including; automotive, industrial, transportation, instrumentation & defence. We have a team of dedicated engineers ready to support you throughout the design process. We also carry stock of all standard modules and accessories for next day delivery.
Let's make this easy and call us today.
Follow us on Facebook, LinkedIn & Twitter for updates on all of the latest Power Conversion & Display products.
Sign up to our monthly newsletter below, and never miss out on our updates of industry news, we release news/blog pages weekly with news from the power and display industries.
Relec Electronics holds the highest standards towards finding you the ideal solution for your application. We truly believe "Standard is Just the Beginning". Get in touch with our technical team today.
sign up for our newsletter
Enter your email address below
why choose relec?
Faster

Our aim is to get back to you with an initial response within the hour.

Attention to detail

We pride ourselves on getting you the right product, at the right price and on time.

New ideas

We are constantly looking for latest technology and products for your applications.

Beyond standard

It's not just about the product.  Our service goes way beyond the norm.

Easy

We want to make your life as simple as it can be. Call us to find out what we can offer.