LMF1000 Series, Compact, Powerful & Intelligent
26th September 2022
LMF1000 Series, Compact, Powerful & Intelligent
Mornsun expands its range of ac dc converters from 15W to 1000W with the LMF1000 series, high power density, power factor corrected, enclosed PSUs, which are aimed at a variety of industrial & medical applications.
In addition to a small form factor & active power factor correction, Mornsun have introduced a number of new features including a 5V 2A auxiliary supply, fully automatic variable fan speed control, I2C communication, boost mode power, and parallel operation.
The LMF1000 series operate at up to 94% efficiency and have an incredible power density of 17.22W/inch3 within a 190*127*40.5mm footprint, making it suitable for 1U rack based and standard cabinet applications.

Units are fully approved for global use to EN/UKCA/UL62368-1 (5000m operation) and EN60601-1-2 for medical applications with 4000Vac isolation from input to output (Class I use). All units have near unity power factor (Typ 0.99) making them fully compliant with EN61000-3-2 class D operation.
The LMF1000 has be designed to offer a high reliability product (MTBF>250,000hrs), meets 5g vibration specifications, and is offered with a 5 year warranty as standard. All units have output short-circuit, over-voltage, over-current, and over-temperature protection as standard.
Higher power, and redundant (N+1) systems can easily be implemented by virtue of an internal ORing facility. Up to 4 units can with wired in parallel, with a simple single wire current share facility.
The LMF1000 series offers a range of analogue control features including remote on/off, DC OK, sense lines and current sharing. An I2C digital bus allows users to monitor the performance of the power supply with readings of voltage and current on both main and auxiliary outputs along with status readings on protection circuits and individual circuit blocks within the unit.
LMF1000 Series from Mornsun
Input: 80 – 264V ac / 110 – 370V dc
Outputs: 12 to 54V
Power: 1000 Watt
Tamb: -30℃ to +70℃
Dims: 190 x 127 x 40.5mm
CE EN/UL62368-1 Approved
Built-in PFC Function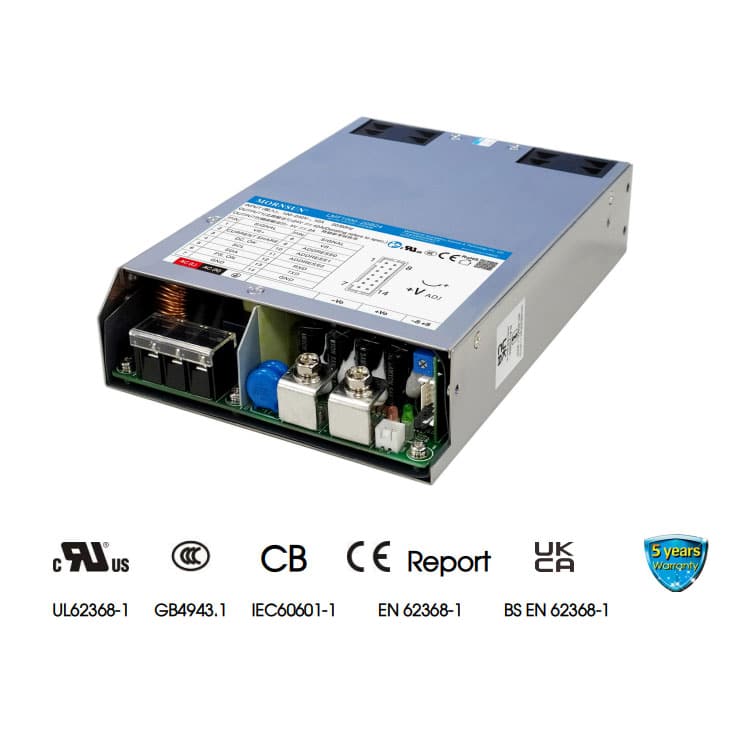 GET IN TOUCH TODAY – 01929 555700
Here at Relec Electronics, we have worked closely with our key suppliers for over 40 years. We specialise in many industries, including; automotive, industrial, transportation, instrumentation & defence. We have a team of dedicated engineers ready to support you throughout the design process. We also carry stock of all standard modules and accessories for next day delivery.
Let's make this easy and call us today.
Follow us on Facebook, LinkedIn & Twitter for updates on all of the latest Power Conversion & Display products.
Sign up to our monthly newsletter below, and never miss out on our updates of industry news, we release news/blog pages weekly with news from the power and display industries.
Relec Electronics holds the highest standards towards finding you the ideal solution for your application. We truly believe "Standard is Just the Beginning". Get in touch with our technical team today.
sign up for our newsletter
Enter your email address below
why choose relec?
Faster

Our aim is to get back to you with an initial response within the hour.

Attention to detail

We pride ourselves on getting you the right product, at the right price and on time.

New ideas

We are constantly looking for latest technology and products for your applications.

Beyond standard

It's not just about the product.  Our service goes way beyond the norm.

Easy

We want to make your life as simple as it can be. Call us to find out what we can offer.