K78-LB buck converters set new standards for cost vs performance
16th September 2022
K78-LB Series switching regulators set new standards for cost vs performance
Relec Electronics is pleased to announce the introduction of K78xxJT-500R3-LB and K78xx-500R3-LB series switching regulators (K78-LB). Available as traditional 3 pin, through-hole packages, or compact surface mount (SMD), the LB series offers a step change drop in cost making them ideal for price-sensitive, high-volume applications.
High Efficiency / Low Cost
These high-efficiency switching regulators from Mornsun Power, and are ideal for use in space-constrained and cost-conscious designs. Both families feature input ranges up to 36Vdc with operating temperatures from -40 to +85°C and efficiencies up to 95% with no requirements for additional heatsinks.
Characteristics include low ripple and low noise operation (typ 50mV pp), with a MTBF of >2,000,000 hours. All models have short circuit protection as standard. They are also RoHS-compliant.


The K78xx-500R3-LB regulators are supplied in an industry-standard SIP3 package and are pin-compatible with the LM78xx linear regulators and can be used to directly replace them. The K78xxJT-500R3-LB series buck converters come in a 12.00 x 12.00 x 4.50mm surface mount package and can be supplied either in tubes or as a tape and reel (T&R) option.
Wide Variety of Applications
The K78xxJT-500R3-LB and K78xx-500R3-LB series switching regulators find uses in a wide variety of projects including instrumentation, robotics, street lighting and IoT (Internet of things) applications.
Short Lead-times & Competitively Priced
The K78xxJT-500R3-LB and K78xx-500R3-LB are available today with the industry's shortest lead-times (4 – 6 weeks in volume) and benchmark pricing.
Here at Relec we are a happy to offer free of charge samples, many of which we have in stock for immediate delivery. We will also offer full technical support to help integrate the converters into your design as well as finding solutions for other aspects of your power topology…
K78-500R3-LB Series Converters from Mornsun Power
Input: 4.75 – 36V dc
Outputs: 3V3 to 15V
Power: 1.65-7.5 Watt
Tamb: -40 to +85°C
Dims: SIP3
Non-Isolated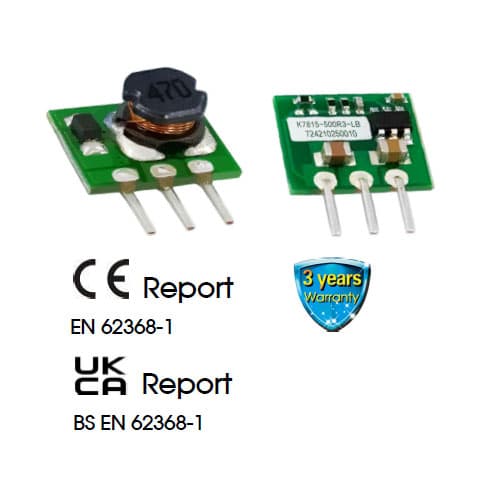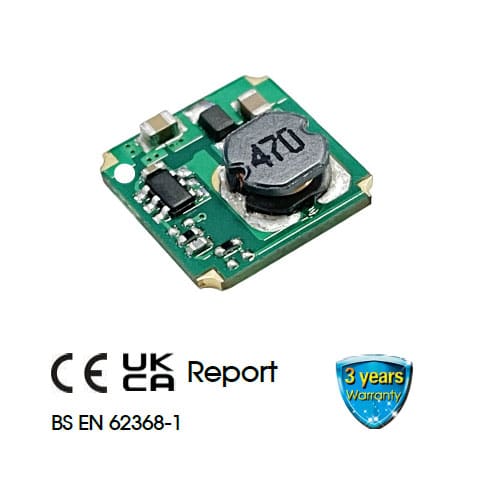 Input: 4.75 – 36V dc
Outputs: 3V3 to 15V
Power: 0.75 – 7.5 Watt
Tamb: -40 to +85°C
Dims: 12mm x 12mm SMD Non-Isolated

GET IN TOUCH TODAY – 01929 555700
Here at Relec Electronics, we have worked closely with our key suppliers for over 40 years. We specialise in many industries, including; automotive, industrial, transportation, instrumentation & defence. We have a team of dedicated engineers ready to support you throughout the design process. We also carry stock of all standard modules and accessories for next day delivery.
Let's make this easy and call us today.
Follow us on Facebook, LinkedIn & Twitter for updates on all of the latest Power Conversion & Display products.
Sign up to our monthly newsletter below, and never miss out on our updates of industry news, we release news/blog pages weekly with news from the power and display industries.
Relec Electronics holds the highest standards towards finding you the ideal solution for your application. We truly believe "Standard is Just the Beginning". Get in touch with our technical team today.
sign up for our newsletter
Enter your email address below
why choose relec?
Faster

Our aim is to get back to you with an initial response within the hour.

Attention to detail

We pride ourselves on getting you the right product, at the right price and on time.

New ideas

We are constantly looking for latest technology and products for your applications.

Beyond standard

It's not just about the product.  Our service goes way beyond the norm.

Easy

We want to make your life as simple as it can be. Call us to find out what we can offer.