AIF Series – Highly Efficient PFC in Extreme Temperatures
6th August 2021
The full-brick AIF Series by Artesyn. High-efficiency next-gen compact PFC module withstands extreme temperatures
Advanced Energy's Artesyn AIF Series is the size of a smartphone but can withstand extremes of heat and cold for high-voltage, reliable power in a wide variety of demanding applications.
The compact AIF06ZPFC Series power factor correction (PFC) module is rated at 2400W and accepts 85 – 264 Vac input and provides a nominal non-isolated output of 400 Vdc. It has a high efficiency of 97.3% and a power density of 395W per cubic inch.
It is ideal for a wide range of high-voltage applications including medical devices, unmanned aerial and terranean vehicles, and industrial applications where extreme heat and cold conditions are encountered.


AIF06ZPFC series PFC modules offer extensive monitoring, protection and adjustment facilities. Remote communications are supported by a built-in PMBus interface and there is an internal memory for user data storage. The modules feature accurate current sharing for parallel operation with 2 units without ORing diodes, and there is an option to use external diodes with three or more modules in parallel for high power solutions.
The encapsulated module incorporates a thermal baseplate and operates across a wide temperature range (-20 to +100˚C) and can start from temperatures as low as -40˚C.
Medical Equipment | Insulation Tests | Process Control | Automation Systems | High-Voltage Motors & Pumps | Tethered Drones
The full brick module measures 61 x 116.8 mm (2.4 x 4.6-inch) and is only 13.7mm in height. It is available from Relec Electronics.
The AIF06ZPFC can operate as a standalone power supply in medical equipment, insulation tests, process control and automation systems and high-voltage motors and pumps. It can also be used in tethered drones, requiring power transmission over longer distances.
AIF Series Full-Brick Power Factor Correction Modules from Artesyn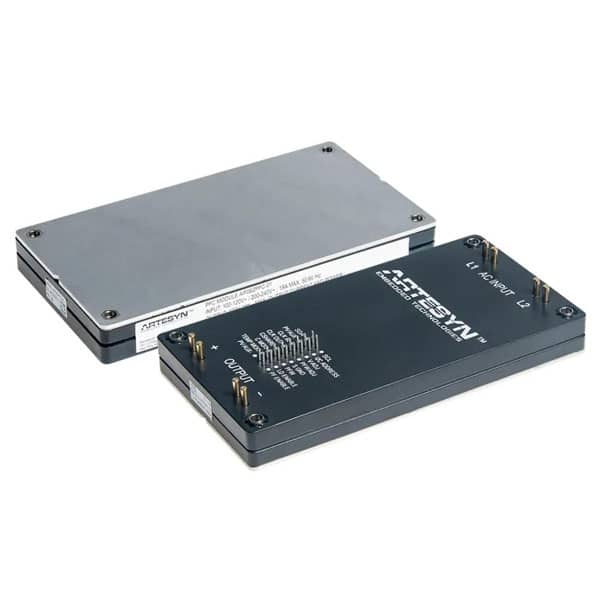 Input: 85 – 264V ac
Output: 380V dc
Power: 2400 Watt
Tamb: -40 to 100˚C
Dims: 116.8 x 61 x 13.95mm
UL / CE Approved & 2 Year Warranty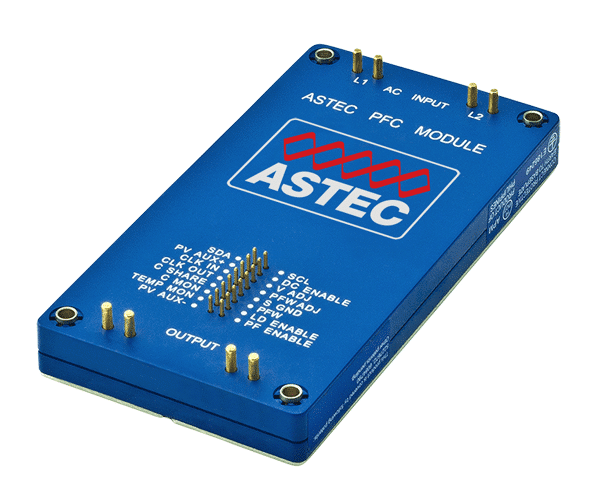 Input: 85 – 264V ac
Output: 380V dc
Power: 1600 Watt
Tamb: -40 to 100˚C
Dims: 116.8 x 61 x 13.95mm
UL / CE Approved & 2 Year Warranty
GET IN TOUCH TODAY – 01929 555700
Here at Relec Electronics, we have worked closely with our key suppliers for over 40 years. We specialise in many industries, including; automotive, industrial, transportation, instrumentation & defence. We have a team of dedicated engineers ready to support you throughout the design process. We also carry stock of all standard modules and accessories for next day delivery.
Let's make this easy and call us today.
Follow us on Facebook, LinkedIn & Twitter for updates on all of the latest Power Conversion products.
Sign up to our monthly newsletter below, and never miss out on our updates of industry news, we release news/blog pages weekly with news from the power and display industries.
Relec Electronics holds the highest standards towards finding you the ideal solution for your application. We truly believe "Standard is Just the Beginning". Get in touch with our technical team today.
sign up for our newsletter
Enter your email address below
why choose relec?
Faster

Our aim is to get back to you with an initial response within the hour.

Attention to detail

We pride ourselves on getting you the right product, at the right price and on time.

New ideas

We are constantly looking for latest technology and products for your applications.

Beyond standard

It's not just about the product.  Our service goes way beyond the norm.

Easy

We want to make your life as simple as it can be. Call us to find out what we can offer.