iLS Series 600/1500W of Programmable DC Power
20th July 2021
iLS Series from Artesyn Embedded Power – Programmable DC Power Supplies with wireless remote sense
Advanced Energy's Artesyn iLS Series consists of the iLS600 Series (600W) and iLS1500 Series (1500W) models. The programmable dc power supplies are available to order from Relec Electronics.
The iLS600 Series and iLS1500 Series programmable DC Power Supplies offer fast, reliable and repeatable and precise voltage source and current source measurement. The 12-bit D/A and A/D converters ensure accurate measurement in test and measurement scenarios for semiconductor testing, automatic testing equipment (ATE) and general test and measurement applications.
Advanced Energy's patented wireless remote sensing increases accuracy by allowing dc power to be regulated at the point of load. Typically, output wires between the power supply and load can cause voltage drop or pick up noise/create ground loops but the iLS's remote sense function ensures accurate and consistent power supply voltage over various load conditions.


The fully digital design of the iLS series uses newer technologies, architectures and components than competing alternatives. The use of readily available components ensures faster delivery to begin work on test projects quicker.
The iLS600 (front dc output), iLS600-R (rear dc output) and iLS1500 (rear dc output) power supplies offer five voltage ranges, from 0 to 30V up to 0 to 400V. All offer a wide variety of control options, including front panel manual control, Ethernet (LXI), USB, analog and LabView drivers. There is also the option for master/slave configurations, using up to four units in parallel or two units in series for 600V max.
All models are fully adjustable from 0 to max voltage or 0 to max current and cannot exceed maximum power. Safety features include adjustable over-voltage and over-current protection.
iLS Series 600W & 1500W, with built in LabVIEW Drivers, & Certified to CAN/CSA C22.2 # 60950-1 & 62368-1
The programmable dc power supplies can be used in ATE for production testing, avionics and military testing, EV testing, data loggers and functional testers. They are also suitable for engineering labs, product development and circuit design for R&D, national and commercial laboratories and as bench manual control and programmable power supplies in universities.
The procedure for calibration in the field is simple and straightforward. Customers can also write special scripts which can be uploaded directly. All firmware updates can be uploaded and installed in the field.
Modification and customization is available on request. These include colour choices and custom overlay, as well as specification changes, depending on volume, NRE and compliance testing considerations.
The iLS 600, iLS600-R and iLS1500 programmable DC power supplies will be available from September.
Programable DC Power Supplies from Artesyn
Input: 100Vac – 240Vac
Outputs: 0-30Vdc to 0-400Vdc (5 ranges)
Power: 600W
Tamb: +10 to +40°C
Dims: 262 x 224 x 44mm
Certified to CAN/CSA C22.2 # 60950-1 & 62368-1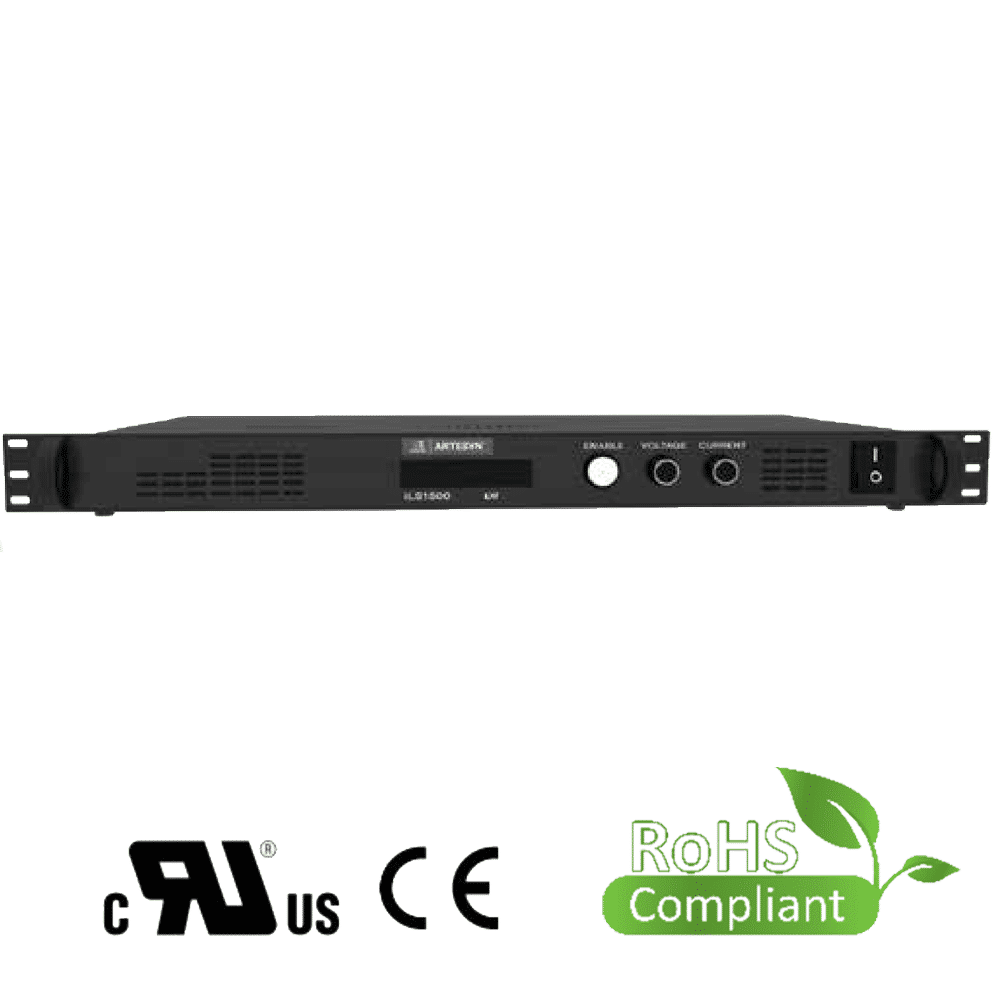 Input: 100Vac – 240Vac
Outputs: 0-30Vdc to 0-400Vdc (5 ranges)
Power: 1500W
Tamb: +10 to +40°C
Dims: 1U Compact Design
Certified to CAN/CSA C22.2 – 60950-1 & 62368-1
GET IN TOUCH TODAY – 01929 555700
Here at Relec Electronics, we have worked closely with our key suppliers for over 40 years. We specialise in many industries, including; automotive, industrial, transportation, instrumentation & defence. We have a team of dedicated engineers ready to support you throughout the design process. We also carry stock of all standard modules and accessories for next day delivery.
Let's make this easy and call us today.
Follow us on Facebook, LinkedIn & Twitter for updates on all of the latest Power Conversion products.
Sign up to our monthly newsletter below, and never miss out on our updates of industry news, we release news/blog pages weekly with news from the power and display industries.
Relec Electronics holds the highest standards towards finding you the ideal solution for your application. We truly believe "Standard is Just the Beginning". Get in touch with our technical team today.
sign up for our newsletter
Enter your email address below
why choose relec?
Faster

Our aim is to get back to you with an initial response within the hour.

Attention to detail

We pride ourselves on getting you the right product, at the right price and on time.

New ideas

We are constantly looking for latest technology and products for your applications.

Beyond standard

It's not just about the product.  Our service goes way beyond the norm.

Easy

We want to make your life as simple as it can be. Call us to find out what we can offer.