Relec @ Southern Manufacturing Show 2020
27th February 2020
Relec Electronics at Southern Manufacturing & Electronics 2020


Fresh back from our 9th consecutive (and probably most successful) year at the Southern Manufacturing & Electronics show 2020, Farnborough.
We presented our comprehensive range of AC-DC Power Supplies, DC-DC Converters, DC-AC Inverters and Displays to both new and existing customers. Our technical team were on hand to discuss any specific requirements our attendees had, and received great feedback.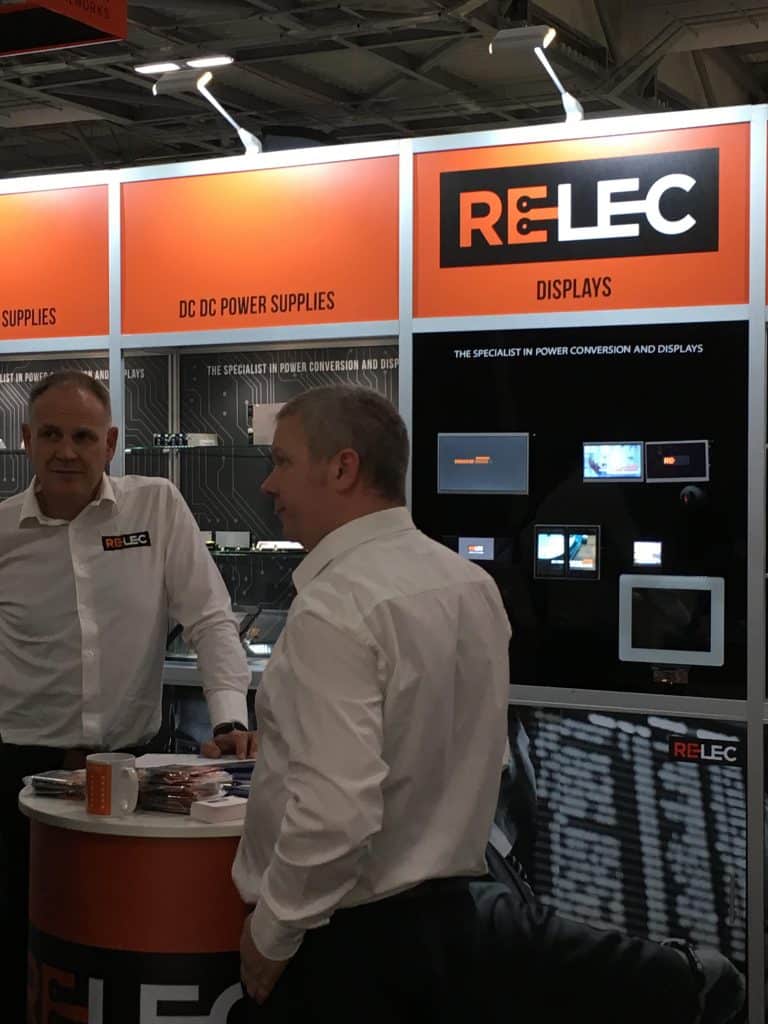 ---
Much more than just standard products
We pride ourselves on being much more than a standard catalogue distributor, and the show gave us a great opportunity to go into real depth with our visitors. It also gave us the perfect platform to show to show some of our new releases.
---
Here are some of the latest products we were discussing at the show…
The XRCM60 Series
Designed to operate across all standard DC battery voltages from 24V through to 110V dc, the XRCM60 Series provides 60 Watts of DC Power for Industrial and Transportation applications.
The XRCM60 Series from Bel Power Solutions is part of the "Melcher" range of products which have been market leaders in the railway industry for the past 40 years.
Click here to read more about the XRCM60 Series.
The KUB48 Series
Ultra high density, non-isolated DC-DC Converters, the KUB48 Series are ideally suited to robotic, home automation and general logistics applications where the primary source is a battery.
Housed in an industry standard quarter brick package, and with an efficiency of 97%, the KUB48 Series are the ideal DC-DC Converter solution where regulated 12V or 24V rails up to 10 Amps are required from unregulated battery sources.
To discover more about the KUB48 Series, read our latest blog post…
---
Team Bath Racing Electric
Recently we supplied Team Bath Racing Electric with an eight-inch letterbox LVDS TFT for their cockpit display – We were delighted to welcome the core engineering team, who came along to say hello at the show! The display provides details of the speed, cell voltages and the temperature of the vehicle. You can read more about the project and the student team here.

---
Value-added product services
We believe in providing our clients with even more choice thereby adding value to their projects. This is achieved by providing unique options and enhancements in all the lines we supply, and by offering manufacturing services such as sub-assemblies and finished products. In addition, many of our products complement one another, allowing customers to source many of their power supplies and displays from a single supplier.

---
Friendly approachable advice
Here at Relec we love helping engineers solve problems. Our technical team get the highest job satisfaction when they have the opportunity to dig into the heart of your power and display applications. We were delighted that so many attendees came and let us know what projects they are working on, and hopefully we were able to provide the spark that ignited some new ideas.
Tel: 01929 555700
www.relec.co.uk
sales@relec.co.uk


---
GET IN TOUCH TODAY – 01929 555700
Here at Relec Electronics, we have worked closely with our key suppliers for over 40 years. We specialise in many industries, including; automotive, industrial, transportation, instrumentation & defence. We have a team of dedicated engineers ready to support you throughout the design process. We also carry stock of all standard modules and accessories for next day delivery.
Let's make this easy and call us today.
Follow us on Facebook, LinkedIn & Twitter for updates on all of the latest Power Conversion products.
Sign up to our monthly newsletter below, and never miss out on our updates of industry news, we release news/blog pages weekly with news from the power and display industries.
Relec Electronics holds the highest standards towards finding you the ideal solution for your application. We truly believe "Standard is Just the Beginning". Get in touch with our technical team today.
sign up for our newsletter
Enter your email address below
why choose relec?
Faster

Our aim is to get back to you with an initial response within the hour.

Attention to detail

We pride ourselves on getting you the right product, at the right price and on time.

New ideas

We are constantly looking for latest technology and products for your applications.

Beyond standard

It's not just about the product.  Our service goes way beyond the norm.

Easy

We want to make your life as simple as it can be. Call us to find out what we can offer.