Relec June 2018 Newsletter
26th June 2018
Our June 2018 newsletter looks at the new safety standard EN62368-1 and how this impacts those who specify power supplies (our customers). We also have a detailed look at the new fanless configurable (CoolX) power supplies from Excelsys, and also give you a final wrap up on the Big Relec Bike Ride which took place earlier this month raising, £10,000 for the Brain Tumour Charity.
EN62368-1 what engineers need to know
All electronic equipment put on to the open market needs to be approved to a relevant safety standard. Over the past few decades there have been 3 standards which are relevant to all electronic products:
• EN 60950-1 deals with the safety of IT and communications equipment
• EN 60065 covers the safety of audio, video and similar electronic apparatus.
• EN 60601 covers the safety of medical equipment.
The technology within IT, communications and audio/video equipment has over time started to overlap, so a new standard EN62368-1 is in the process of being introduced. EN62368 (1st ed) was originally introduced in 2012 and quickly replaced by EN62368-1 (2nd ed) in 2014, with a 3rd edition planned for Q4 2018. This will supersede the EN 60950-1 and the EN 60065 standards by June 2019. However, the formal date for withdrawal of EN60950 and EN60065 is not until December 2020 in the European Union.
Components and sub assemblies that comply with EN60950 or EN60065 can be used as part of equipment covered by EN62368. No further evaluation is necessary other than to consider the appropriate use of the component or sub assembly in the end product. Please be aware however that in the EU after Dec 2020 EN60065 and EN60950 certified components will no longer be permitted in equipment investigated to EN62368 without further investigation.
EN62368-1 3rd edition will contain a refinement of the requirements for creepage and clearance including a new prescriptive option (Annex X which will be based on EN60950 tables). This is due to be published in Q3/4 2018
Hazard Based safety engineering – EN62368 differs from EN60950 & EN60065 in the key element to compliance is identifying hazards that exist within equipment and how the risk associated with these are mitigated in the end equipment. This actually gives designers more flexibility in bringing their products to market.
A hazard is defined as an energy source that exceeds the body's susceptibility limits and safety is defined as a situation where at least one safeguard is interposed between the body and the hazardous energy source. These sources can come from a number of areas – Electrical shock energy, electrically caused fire, mechanical energy, thermal energy and radiation energy.
So what are the practical issues associated with transitioning components certified to EN60065 or EN60950 into products investigated to EN62368-1? Generally speaking, power supplies certified to EN60950 have outputs which are specified as SELV (Safe extra low voltage). In EN62368-1 this has been replaced with the ES1 energy source classification. Whilst the two standards do differ in the way they treat energy sources and hazards, an SELV circuit is safe to touch, just as an ES1 source is by definition in EN62368-1. EN62368-1 does clearly set out in its scope that the legacy component provision should "…provide a smooth transition from the latest editions IEC 60950-1 & IEC60065 to this standard".
One other issue which does need to be addressed is backward compatibility between EN62368-1 and EN60950/EN60065. There are equipment manufacturers that are continuing to certify their products to EN60950 / EN60065 (as they have not been withdrawn yet) and may have to use components which are now certified to EN62368-1. It is understood that provision will be made with the legacy standards to allow incorporation of components designed, investigated and certified to EN62368-1
Here at Relec Electronics we are working closely with all our suppliers of power supplies to ensure that we are fully aware of what transitions they are making moving from legacy standards to EN62368-1. Our technical staff are all informed of the issues involved, both with regards new product designs and transitions of older equipment to the new standard. If you require any further assistance our technical team will be more than happy to help you.
COOLX 600 Series Fanless Configurable Power Supply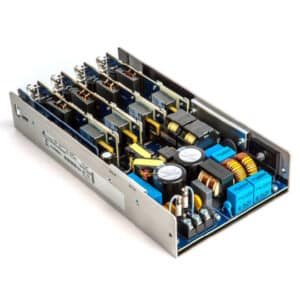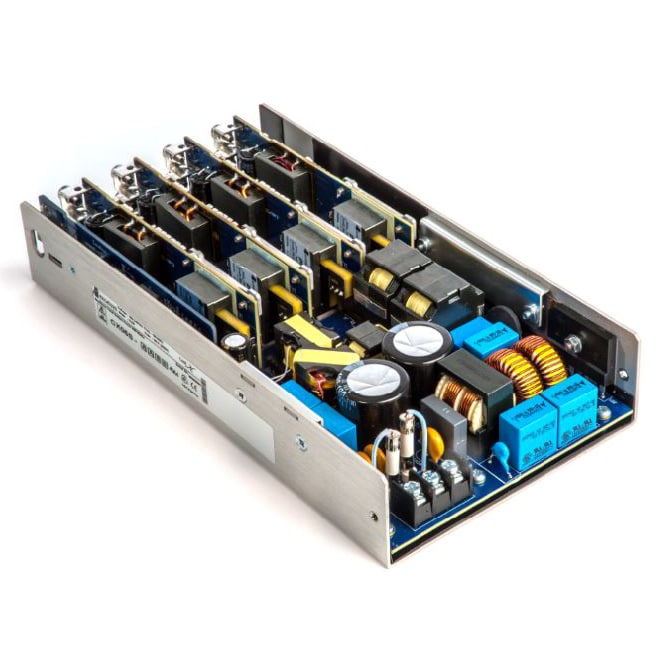 The Excelsys CoolX 600 series is the world's first fanless modular power supply and also has the added benefit of already carrying certification to all of the relevant standards:
• EN60950 2nd edition
• IEC60601-1 3rd edition
• IEC60601-1-2 4th edition
• EN62368-1 2nd edtion
The silent CoolX600 generates no acoustic noise and offers system designers best in class performance in efficiency (>93%) and unrivalled reliability in addition to the most comprehensive feature set and specifications.
The series comprises two base models. The CX06S is certified to IEC60950 2nd edition for industrial applications as well as the new IEC62368-1 standard. The CX06M carries IEC60601-1 3rd edition & IEC60601-1-2 4th edition (EMC) for medical applications. The CoolX600 can be populated with up to 4 CoolMods (output modules), providing up to 4 isolated DC outputs ranging from 2.5V to 58.0V. Outputs can be adjusted to the required set point voltages and can be configured in parallel or series for higher current and/or higher voltages. CoolPacs can be paralleled for higher power and N+1 redundancy applications.
Stand-out features for medical applications include suitability for type BF rated (Body Floating) applications, input dual fusing, 2 x MOPP isolation and <300uA leakage current.
The CoolX brings user flexibility to a completely new level allowing system designers to monitor and power supply performance power supply performance using either analog and digital communications (PMBus™).
Relec Electronics are pleased to be able to offer sample quantities of the CoolX600 from stock. Simply call our technical team today and we can help design your ideal configuration and offer you a competitive quotation.
The Big Relec Bike Ride (John O'Groats to Lands End)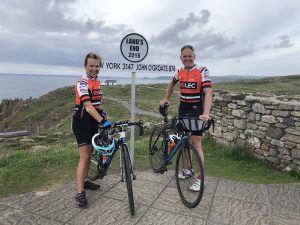 Well, we made it everyone. John O'Groats to Lands end by bike over 14 days! Just in case you didn't know, we were riding with the aim of raising £10,000 for the brain tumour charity.  I can only say that they were the best 14 days that Lesley and I have ever spent on our bikes.  At the time of writing we are so close to hitting our £10,000 target. If you would like to get us over the finish line just hop on to our just giving page for more information. Every donation helps no matter how small.
We have written a blog of our day to day experiences and we've also added links to online photo albums of each day if you would like to see more of our adventure.
We would also love to hear from you. Perhaps we met you along the way, maybe you've been affected by a friend or family member with a brain tumour, or maybe you're planning your own ride. Please drop us a line through our contact page – we'd love your feedback.
John Stone
Sales Director
John Stone
Sales Director
Tel: 01929 555700
Email: sales@relec.co.uk
www.relec.co.uk / sales@relec.co.uk
sign up for our newsletter
Enter your email address below
why choose relec?
Faster

Our aim is to get back to you with an initial response within the hour.

Attention to detail

We pride ourselves on getting you the right product, at the right price and on time.

New ideas

We are constantly looking for latest technology and products for your applications.

Beyond standard

It's not just about the product.  Our service goes way beyond the norm.

Easy

We want to make your life as simple as it can be. Call us to find out what we can offer.