New Compact 24Vdc Power System
29th July 2016
Previously concentrating on 48Vdc systems, Unipower has unveiled the Guardian Access 2U 24V, an integrated dc power system designed for telecom systems and many other applications that require 24Vdc. Guardian Access 2U 24V, a variation of the well-established Guardian family of dc power systems, is a compact system based on a 2U 19" shelf which provides output loads to 100A. The factory default output voltage is +26.8Vdc. This can be adjusted via the integral system controller to meet customer needs.
Guardian Access 2U 24V dc power systems can house one or two high efficiency (92.5%) 2kW hot-swap Guardian FMP20.24 rectifiers. A total of 100A is available to the loads. 75A is available when operating in redundant (N+1) configurations. Internal speed controlled fans are used to cool the rectifiers and, as they respond to load as well as temperature conditions, acoustic noise is kept to a minimum.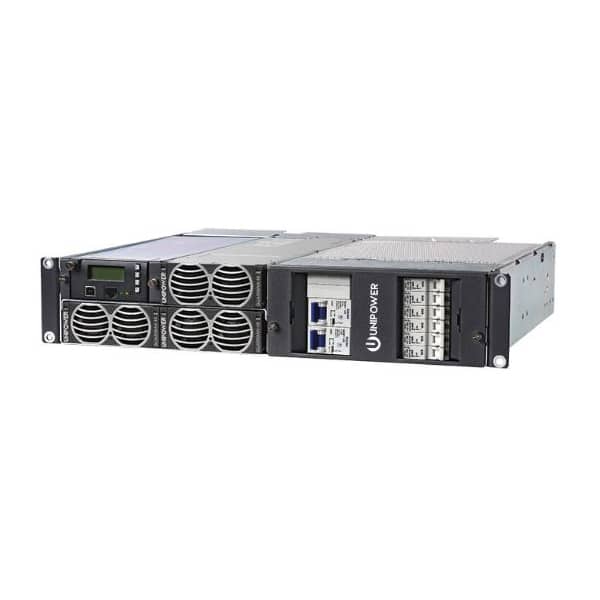 The system's dc output distribution can provide as many as 6 loads which utilise interchangeable circuit breakers, each rated from 4A to 150A. Up to two additional breakers rated at 80A, 100A or 125A each provide battery protection. A low voltage battery disconnect is incorporated as standard and an optional partial load disconnect is available to maximize battery supported operation of critical loads.
Guardian Access 2U 24V dc power systems utilize Unipower's ACC extended field replaceable remote access controller monitors system parameters, controls rectifier output and provides alarms for system failures. LEDs are used to indicate operational status while form-C relay outputs provide various alarms for remote use.
The ACC extended controller also provides remote communications via USB/RS232 or TCP/IP Ethernet and allows system monitoring and control using the proprietary PowCom PC software. SNMP v1/2 and v3 are standard, enabling complete monitoring and control from a customer site NMS. It also has provision for temperature compensated charging of an external battery using a supplied TC probe. An LCD screen and keypad is provided for local metering, status and set-up.
For further information or to discuss your application with one of our experienced team members please contact our technical sales team: e-mail sales@relec.co.uk or telephone 01929 555800.
John Stone
Sales Director
sign up for our newsletter
Enter your email address below
why choose relec?
Faster

Our aim is to get back to you with an initial response within the hour.

Attention to detail

We pride ourselves on getting you the right product, at the right price and on time.

New ideas

We are constantly looking for latest technology and products for your applications.

Beyond standard

It's not just about the product.  Our service goes way beyond the norm.

Easy

We want to make your life as simple as it can be. Call us to find out what we can offer.