CVS 280 High Voltage DC DC Converter/ Battery Starter
20th May 2021
CVS 280 Series – High Voltage DC DC Converter/ Battery Starter
Relec Electronics proudly announces the availability of CVS-280 series DC-DC Converters. The CVS-280 series are designed to operate directly from the 750V dc catenary line and can provide dc outputs from 24V to 110V @ 280 Watts continuous & 400 Watts peak power.
Typically applications include battery start up and control systems in train or tram systems, photovoltaic control systems, subsea electronic modules or electric vehicle projects.


The CVS-280 series have a wide input voltage range from 400-1100V dc and have been primarily designed to support battery starting applications in the railway sector. It is designed to operate directly from the main 600/750V dc catenary line and meets the requirements of EN50155:2017 (Electronic equipment for rolling stock applications), EN50163:2006 (Railway applications – Supply voltages of traction systems), EN50121-3-2 (Railway applications – electromagnetic compatibility) and EN45535 (Fire protection on railway vehicles). In addition to the wide continuous input range, the CVS-280 can withstand surges to 3kV dc for 20mS and 4.5kV for 1mS. Units are available with 24V, 36V, 72V or 110V outputs and can be connected directly to battery terminals for battery charging applications.
The CVS-280 series provides 280W of continuous power with peaks of 400 Watts. Input to output isolation is 7kV rms and input to earth 5.3kV rms.
Key features of the CVS-280 series are…

Whilst being primarily designed for the railway sector the wide input range of the CVS-280 series lends itself to other applications with high voltage dc inputs. These include:
Solar (PV) Installations | Subsea Electronic Modules | Electric Vehicles
Biomass Energy Systems | Bespoke Energy Storage Systems
The CVS-280 is a standard platform with samples available on short lead-times. Flexibility and customisation are also at the forefront of the design, so please contact us with any specific needs for your application.
High Voltage DC-DC Converter/ Battery Starter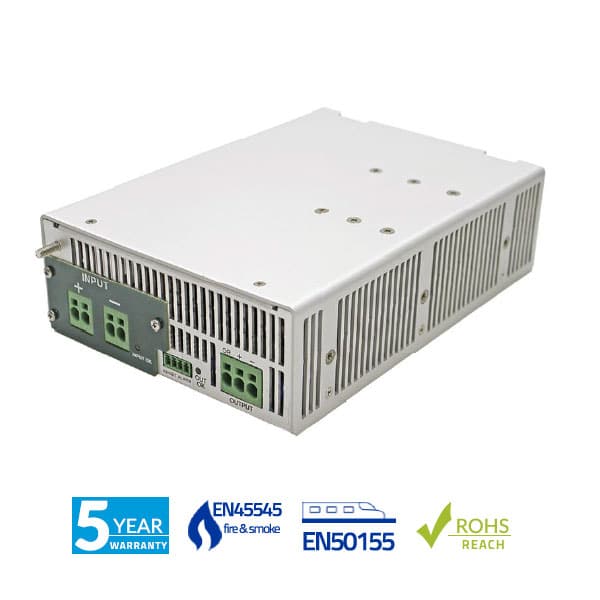 Input: 400 to 1100Vdc
Outputs: 24V, 36V, 72V, 110Vdc
Power: 280W nom, 400W pk
Tamb: -40 to 85°C
Dims: 243 x 162 x 64.5mm
Conforms to EN62368 / EN50155
GET IN TOUCH TODAY – 01929 555700
Here at Relec Electronics, we have worked closely with our key suppliers for over 40 years. We specialise in many industries, including; automotive, industrial, transportation, instrumentation & defence. We have a team of dedicated engineers ready to support you throughout the design process. We also carry stock of all standard modules and accessories for next day delivery.
Let's make this easy and call us today.
Follow us on Facebook, LinkedIn & Twitter for updates on all of the latest Power Conversion products.
Sign up to our monthly newsletter below, and never miss out on our updates of industry news, we release news/blog pages weekly with news from the power and display industries.
Relec Electronics holds the highest standards towards finding you the ideal solution for your application. We truly believe "Standard is Just the Beginning". Get in touch with our technical team today.
sign up for our newsletter
Enter your email address below
why choose relec?
Faster

Our aim is to get back to you with an initial response within the hour.

Attention to detail

We pride ourselves on getting you the right product, at the right price and on time.

New ideas

We are constantly looking for latest technology and products for your applications.

Beyond standard

It's not just about the product.  Our service goes way beyond the norm.

Easy

We want to make your life as simple as it can be. Call us to find out what we can offer.