The Big Relec Bike Ride 2018
May News – The Final Countdown
May – The final countdown – Target 750 miles
April certainly had its ups and downs.  I managed to get a good block of training done in the middle of the month with 280 miles completed in one week and felt pretty much ready to go.  Lesley has been struggling with a sore knee which hampered training, but we're confident everything will alright on the night
1 – 4th May I really should leave furniture removal to the professionals.  Lesley and I spent Monday evening shifting a sofa bed.  It was a bit of struggle but all seemed to go well until I tried to get out of bed on Tuesday morning.  I've been here before with a stiff back and was hoping that a gentle ride into work might loosen things up.  Sitting on the bike was actually a lot easier than walking.
As the week went on my back got stiffer despite what felt like a great short ride on Wednesday evening.  Woke up Thursday and had to crawl out of bed.  Not good!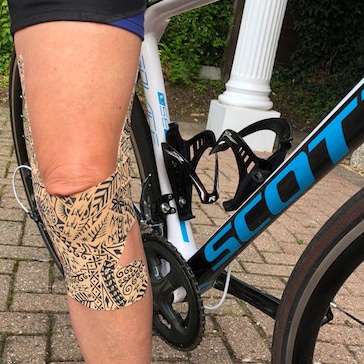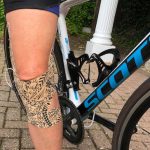 At the same time Lesley's been struggling with her left knee, which hasn't been comfortable for the last 2 months.  So it was off to see our trusty Physio, Dave Mott at Physiofitness.  Lesley was diagnosed with tendonitis but it should be manageable with regular icing, very stylish taping and proper pain relief.  Dave (who is a keen cyclist himself) commented that we're sure to have worse aches and pains after riding 80 miles a day (that's reassuring).  Lesley's back on the bike this weekend and hopefully all will be OK.
As far as I'm concerned, I managed to get 2 of my lower vertebrae jammed together.  Dave has loosened them off and I'm walking freely again now.  I've been told to take it easy for a couple of days.  It's still a bit sore but as the sun is now shining hopefully I can get out again Monday.
5th May – The Big Relec Fundraiser  – Our sincere thanks go out to the 50 or so friends and family that made it along to our fundraising bash on Saturday.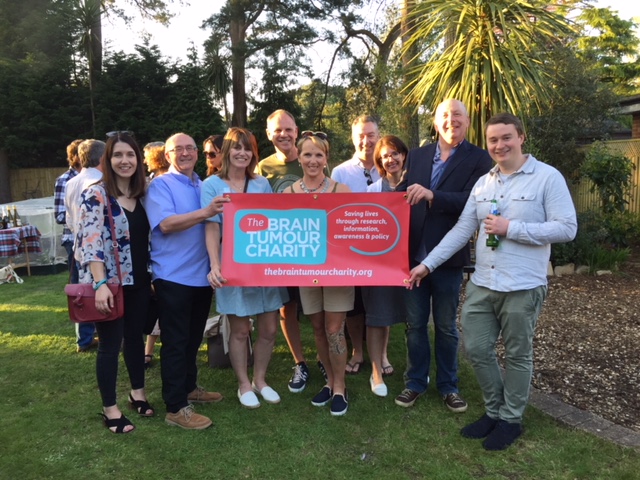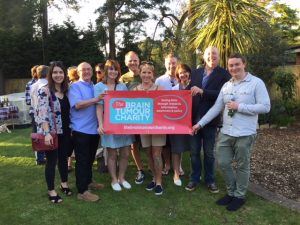 Lesley and I love to entertain but we couldn't have done it without some very special help:
And to all my colleagues here at Relec, especially Mat for honing his sales skills on the raffle and to Jon for taking over on the BBQ as I began to frazzle. I've still to tot up the final sum, but reckon we must be close to raising £2000 on the night.
6 – 13th May  – Time to really start putting the miles in now.  Weekend away with back packs carrying enough for an overnight stop.  Our route took us through the Purbecks, then into the heart of Dorset and finally up into Shaftesbury.  Not the warmest of days!
Stayed the night at the Walled Garden, a fantastic B&B right in the centre of Shaftesbury. Thank you Colin for great stay.  Very entertaining evening watching the Eurovision results come through and thank you for the glass of wine.
The sun was shining at last.  Just one big hill on the way back, Zig Zag out of Shaftesbury, then through the Chalke valley into Salisbury.  Getting out of Salisbury was a bit hairy, especially coming off the A36 into Alderbury – Not one I'd recommend!  Then south through the edge of the new forest. Lunch at Hyde with the ponies and then on to Christchurch and home.  200km for the weekend.  Our G&Ts went down extremely well.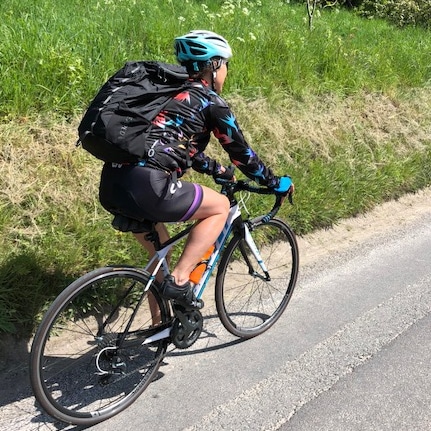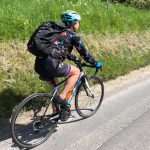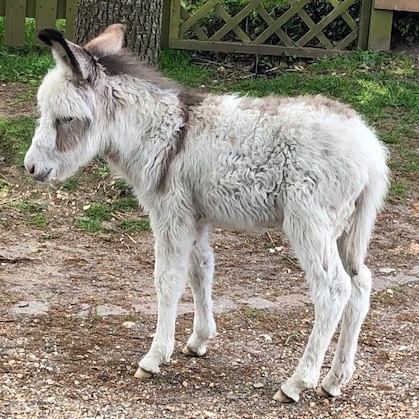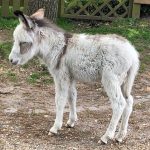 Sponsorship Update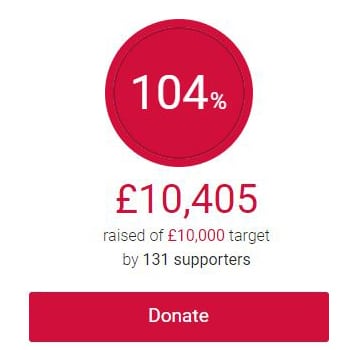 Thank you so much everybody.  We've managed to double the running total since the end of April.  We still have a long way to go (1100 miles) but we really believe we can hit our £10,000 target now.

Money continues to come in from our corporate donors and we now have our water bottles available from stock.  Our sincere thanks go out to Mornsun who funded the cost of the bottles.  They certainly stand out!  We cant wait to get them loaded up on the bikes and they will hopefully complement the Jerseys.
Jerseys – Hopefully if you've been following the blog, you'll have seen the Jersey design.  We have them in stock now, so if you want one, please drop me a mail and we will put one by for you.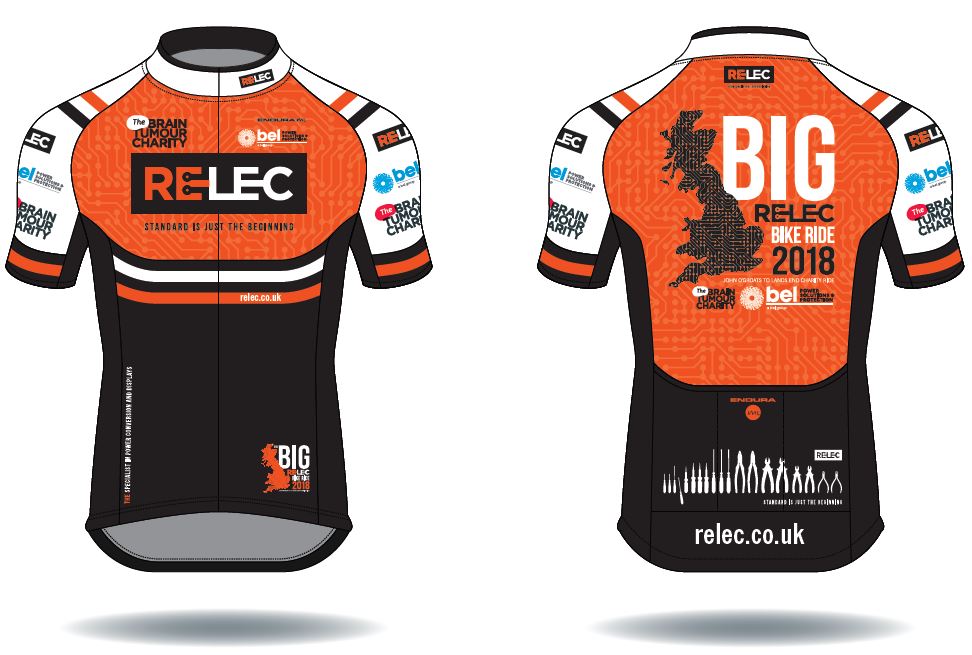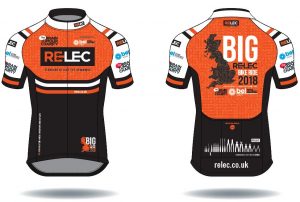 If you would like one they are available for £50.00 with 100% of the proceeds going to the the brain tumour charity.  Just contact me for details.
I've just discovered the Strava Routes app and used this to create our daily schedule.  Click on the daily links and you can see exactly where we plan to go each day and once we're there we'll tell you all about experiences.
15th May – Kings College Lab tour  – Lesley and I were treated to an extremely interesting day to see how the brain tumour charity funding is used.
Professor Al-Jamal's team are focused on drug delivery using both natural and synthetic drug carriers to get the drugs more effectively to their intended destination.  The brain is an especially hard place to get drugs to.  Currently only about 2% of an injected drug reaches its target, and those that don't can have terrible side effects. From an engineer's perspective I found it absolutely fascinating to learn more about what they are doing.  I've just posted a report on our news feed with links to a more in depth report on their incredible research.
14 – 20th May  – Carried on with the commutes and extended rides in the evenings.  It's so nice to have plenty of daylight now.  I just wish it could be 5 degrees warmer.  Thursday evening was a case in point.  Left the office with temperature in the high teens, but by the time I got back at 7.30 my hands were white.  Forecast looks better for the weekend though.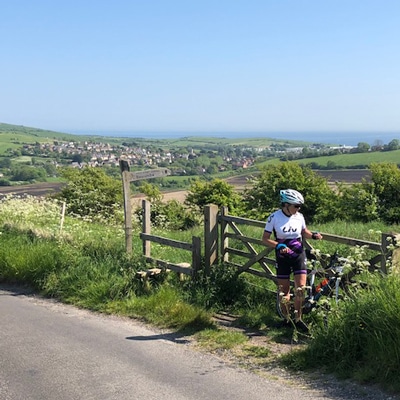 70 mile ride on Saturday across to Dorchester and then down to Sutton Poyntz (looking for a photo of Portland, but couldn't really do it justice) before heading back up to Warmwell, Wool and then back on the old stamping ground of the Purbecks.  We always like a challenge and had to fly off the top of Nine-barrow down to catch the 6.30 ferry.  Made it with 1 minute to spare.
Sunday was a shorter ride but took in Bulbarrow hill for couple climbs which might be representative of our first few days in the highlands (I wish).
21 – 27th May  – Got caught in one almighty storm on the way home on Monday.  Water was flowing down Chequer's hill like a river.  All good training but I did find out my waterproof wasn't quite as watertight as I'd thought. The rain also seems to have got into my Garmin cycle computer.  It seems to think I'm permanently at 20,000m.  I know we're flying but this is ridiculous.  Time for an upgrade.
Had a final push over weekend (40 miles Friday, 50 Saturday and 40 on Sunday), but decided against any real biggies.  We'll leave these until next week.
Anyway, the training is done and  the weather forecast is looking OK (tempting fate maybe).  Thank you for reading so far and especially to those of you have sponsored us.  At the time of writing we'd just hit £7000.  Just £3000 and 1100 miles and we're done.
Don't forget to follow the ride.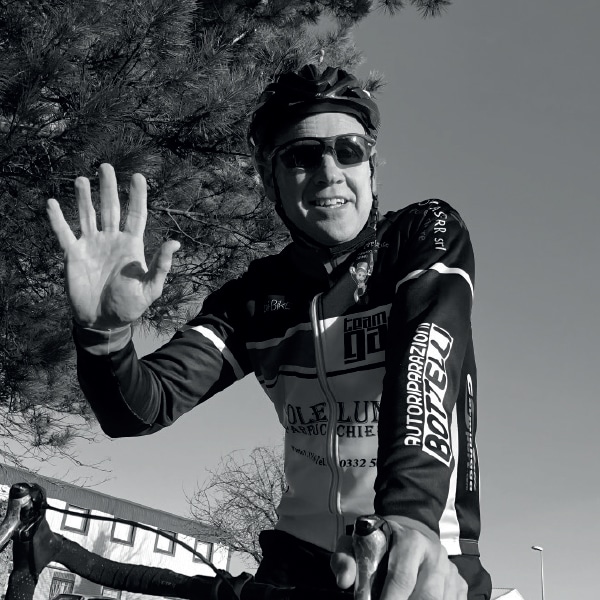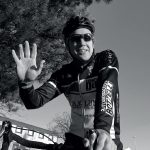 Bye for now – John
related content
The Big Relec Bike Ride 2018

The Big Relec Bike Ride 2018

The Ride

The Big Relec Bike Ride 2018

April Training update
why choose relec?
Faster

Our aim is to get back to you with an initial response within the hour.

Attention to detail

We pride ourselves on getting you the right product, at the right price and on time.

New ideas

We are constantly looking for latest technology and products for your applications.

Beyond standard

It's not just about the product.  Our service goes way beyond the norm.

Easy

We want to make your life as simple as it can be. Call us to find out what we can offer.
sign up for our newsletter
Enter your email address below