AEK 3000 HV Series – 3kW of Flexible High Voltage DC Power
26th October 2020
AEK 3000 HV Series – 3kW of Flexible High Voltage DC Power
Outputs from 150V to 400V with built-in redundancy; the AEK 3000 HV Series offers I2C communication and analogue control.
Adaptability is a great asset to have, and the AEK-3000-HV Series of high voltage DC power supplies, is packed full of features making it suitable for any number of applications including undersea power lines, tethered drones, medical imaging, or charging vehicle batteries.
THE FEATURE LIST


The AEK-3000-HV Oring Diode Series is a suite of 3kW AC-DC power supplies with nominal outputs of 150, 200, 250, 300, and 400Vdc. Each version can have its output voltage and current limit accurately controlled in one of 3 ways;
a) Case mounted potentiometer
b) 0 – 5V control voltage
c) via I2C programming
The true power and flexibility of the AEK-3000 are realized when it used in conjunction with the I2C programming protocol.  The I2C commands for the power supplies can be used to both interrogate and program the power supply in real-time.
The ability to read real-time values such as output voltage & current & internal temperature as well as monitoring alarms for fan failure, over-voltage, and high temperature, make the AEK-3000-HV Series practical for use in live feedback systems.
INDUSTRIES


Relec's technical team are available now to talk you through your application.  The more you can tell us about your requirements and system parameters the better.  Nothing gives us more pleasure than helping our customer's find the right solution for their application.  Call us today.
Cotek's AEK-3000-HV Oring Diode Series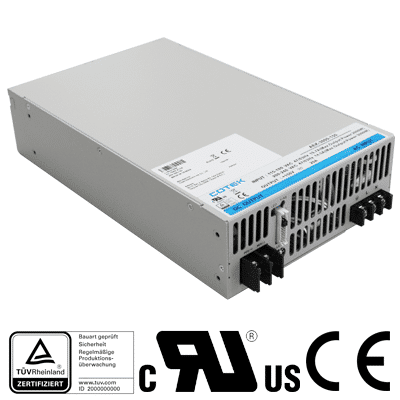 Input: 90 – 264 VAC
Outputs: 150 to 400VDC
Power: 3000 Watt
Tamb: -20 to 60°C
Dims: 280 x 170 x 64mm
EN/UL62368-1 & EN55032 EMC Safety Approved
GET IN TOUCH TODAY – 01929 555700
Here at Relec Electronics, we have worked closely with our key suppliers for over 40 years. We specialise in many industries, including; automotive, industrial, transportation, instrumentation & defence. We have a team of dedicated engineers ready to support you throughout the design process. We also carry stock of all standard modules and accessories for next day delivery.
Let's make this easy and call us today.
Follow us on Facebook, LinkedIn & Twitter for updates on all of the latest Power Conversion products.
Sign up to our monthly newsletter below, and never miss out on our updates of industry news, we release news/blog pages weekly with news from the power and display industries.
Relec Electronics holds the highest standards towards finding you the ideal solution for your application. We truly believe "Standard is Just the Beginning". Get in touch with our technical team today.
sign up for our newsletter
Enter your email address below
why choose relec?
Faster

Our aim is to get back to you with an initial response within the hour.

Attention to detail

We pride ourselves on getting you the right product, at the right price and on time.

New ideas

We are constantly looking for latest technology and products for your applications.

Beyond standard

It's not just about the product.  Our service goes way beyond the norm.

Easy

We want to make your life as simple as it can be. Call us to find out what we can offer.