Ultra-Wide, Universal Input Half Bricks from Cincon
9th October 2020
150W & 200W, 14–160V Input Half Bricks from Cincon
Cincon has always focused on bringing the latest technology to their conduction-cooled DC-DC bricks, and the availability of the 150W & 200W, ultra-wide, 14-160v DC Universal Input CHB150W12 and CHB200W12 modules open new possibilities for products in both railway, and industrial applications.
Ultra-Wide, Universal Input – 14 to 160Vdc
The CHB150W12 & CHB200W12 families have a 12:1 wide input voltage range covering 14 to 160V continuously and offer 150 Watts or 200 Watts of regulated DC output Power.  The CHB150W12 & CHB200W12 have been designed with the railway industry in mind, meeting the requirements of EN62368-1, EN50155 & EN45545-2, but also lend themselves to wider industrial applications, such as robotics, agricultural, medical & broadcast, where the ability to operate from multiple DC supplies is a benefit.
Units are available with 5, 12, 15, 24 or 48V outputs and have 3000Vac reinforced input to output isolation as standard. Units operate with efficiencies up to 91% with case temperatures from -40°C to +100°C. Optional heat sinks are available to extend the full power range of the modules.
One design for all input ranges
Control features include output adjustment from -20% to + 15%, with remote on/off available with either positive or negative logic and a user settable under voltage lock out facility. Hold up time can be managed across the entire input voltage range by connecting capacitance to the "Bus" control pin, allowing the possibility to have a fully complaint system to the requirements of EN50155 with any input supply voltage.

All CHB150W12 & CHB200W12 modules have full protection against output over-current (including short circuit protection), output over-voltage and over-temperature protection.
Full application support is available with recommended PCB layouts, external heatsinks or detailed thermal profiling, as well as support for series or parallel connection, and redundant operation. Larger systems can also be constructed with multiple modules with the ability to synchronize output ripple though the use of an external clock and the modules "Sync" control pin.
Relec Electronics is an industry leader in offering both product and technical support to equipment manufacturers and system builders. With an in-depth knowledge of both the railway and industrial standards, Relec are able to help engineers quickly design in the CHB150W12 and CHB200W12 modules into any system.
150W & 200W 14–160V Input Half Brick Range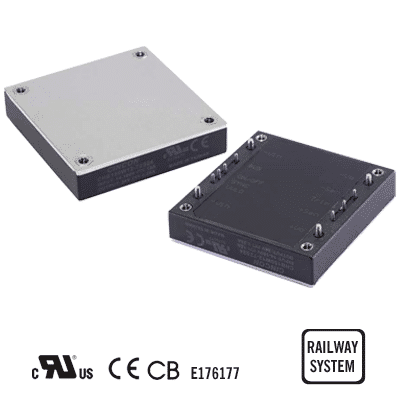 Input: 14 to 160V dc
Outputs: 5V to 48V dc
Power: 150 Watt
Tamb: -40°C to +100°C
Dims: Half Brick
3000Vac Isolation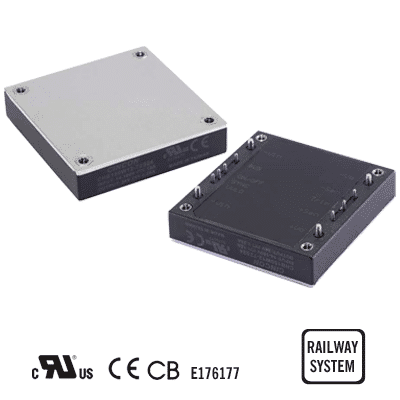 Input: 14 to 160V DC
Outputs: 12V to 48V DC
Power: 200 Watt
Tamb: -40°C to +100°C
Dims: Half Brick
3000Vac Isolation
GET IN TOUCH TODAY – 01929 555700
Here at Relec Electronics, we have worked closely with our key suppliers for over 40 years. We specialise in many industries, including; automotive, industrial, transportation, instrumentation & defence. We have a team of dedicated engineers ready to support you throughout the design process. We also carry stock of all standard modules and accessories for next day delivery.
Let's make this easy and call us today.
Follow us on Facebook, LinkedIn & Twitter for updates on all of the latest Power Conversion products.
Sign up to our monthly newsletter below, and never miss out on our updates of industry news, we release news/blog pages weekly with news from the power and display industries.
Relec Electronics holds the highest standards towards finding you the ideal solution for your application. We truly believe "Standard is Just the Beginning". Get in touch with our technical team today.
sign up for our newsletter
Enter your email address below
why choose relec?
Faster

Our aim is to get back to you with an initial response within the hour.

Attention to detail

We pride ourselves on getting you the right product, at the right price and on time.

New ideas

We are constantly looking for latest technology and products for your applications.

Beyond standard

It's not just about the product.  Our service goes way beyond the norm.

Easy

We want to make your life as simple as it can be. Call us to find out what we can offer.