Relec to join the Gresham Worldwide Group
30th November 2020
Relec to join the Gresham Worldwide Group
Relec's premium power electronics and display technology offerings will augment the Gresham Worldwide manufacturing base while providing more resources to Relec for growth and expanding access to market sectors for both companies in the UK and Europe.
Established in 1978, Relec provides power conversion and display technology solutions in the industrial, rail transportation and emerging electronic market sectors to customers in the UK and Ireland. Gresham Worldwide's UK subsidiary in Salisbury, Gresham Power Electronics Ltd, design, manufacture, and distribute highly reliable power electronics for naval and industrial markets.
"Teaming these operations significantly increases the Gresham Worldwide footprint the UK and Europe while broadening its technology portfolio with high-quality power conversion and display product offerings," said Karen Jay, Managing Director at Gresham Power Electronics Ltd. "The combination of Relec with Gresham Power Electronics provides scale, technical capabilities, and technology solution offerings to drive growth in the UK and Europe as well with Gresham Worldwide operating subsidiaries in the United States and Israel."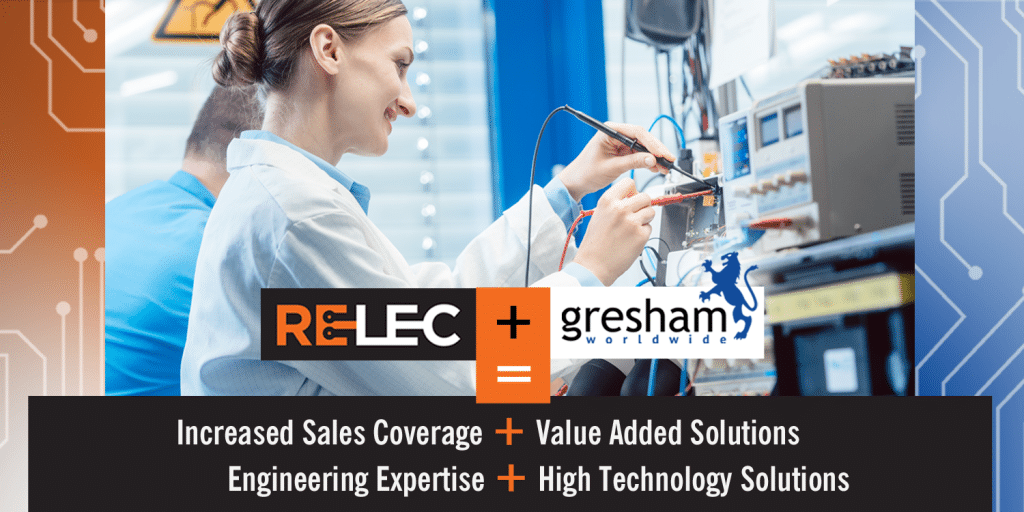 Gresham Power Electronics and Relec will continue operating in the UK as stand-alone businesses, but with a joint management committee comprised of representatives from both operating subsidiaries and the Gresham Worldwide executive team. Under the acquisition agreement, Peter Lappin will continue to lead Relec as Managing Director and the entire Relec management team has committed to remaining with the company.
Peter Lappin said, "Everyone at Relec is looking forward to becoming part of the Gresham Worldwide group. Joining forces will provide Relec with additional resources to offer more value-added services to our blue-chip customer base while increasing sales coverage and market reach for our innovative supply chain partners. Working with other Gresham Worldwide companies will also create opportunities for Relec to increase sales of its innovative power and display technology solutions into defence, marine, aerospace and telecommunications markets."
Jonathan Read, Gresham Worldwide's CEO, stated, "Acquiring Relec delivers a strategic addition immediately accretive from a revenue and earnings basis while also positively expanding technology, engineering, product, sales and management capabilities across the Gresham Worldwide group. It supports our historical customer base, while extending Gresham Power Electronics' reach into rail, industrial and other markets for durable power solutions and design. Peter and his team are a great addition to our already strong Gresham Power Electronics team in Salisbury. This move demonstrates our commitment to growth in the UK and European markets as part of our overall strategic growth plan which contemplate similar expansions in the US, Middle East and Asian markets in the near term."
"Gresham Worldwide welcomes Peter Lappin and the Relec team, who have built a very successful, well-run company around customer focus, technical expertise, quality products and outstanding service. The Relec culture and approach to business fits very well with the other Gresham Worldwide companies, focused on delivering bespoke technology solutions of the highest quality and reliability," states Timothy V. Long, COO of Gresham Worldwide. "We will move immediately to make engineering, sales and facility resources available to enable Relec to capitalise on near term opportunities to drive business growth."
Jonathan Read, Gresham Worldwide's CEO
GET IN TOUCH TODAY – 01929 555700
Here at Relec Electronics, we have worked closely with our key suppliers for over 40 years. We specialise in many industries, including; automotive, industrial, transportation, instrumentation & defence. We have a team of dedicated engineers ready to support you throughout the design process. We also carry stock of all standard modules and accessories for next day delivery.
Let's make this easy and call us today.
Follow us on Facebook, LinkedIn & Twitter for updates on all of the latest Power Conversion products.
Sign up to our monthly newsletter below, and never miss out on our updates of industry news, we release news/blog pages weekly with news from the power and display industries.
Relec Electronics holds the highest standards towards finding you the ideal solution for your application. We truly believe "Standard is Just the Beginning". Get in touch with our technical team today.
sign up for our newsletter
Enter your email address below
why choose relec?
Faster

Our aim is to get back to you with an initial response within the hour.

Attention to detail

We pride ourselves on getting you the right product, at the right price and on time.

New ideas

We are constantly looking for latest technology and products for your applications.

Beyond standard

It's not just about the product.  Our service goes way beyond the norm.

Easy

We want to make your life as simple as it can be. Call us to find out what we can offer.