The Advantages of AC-DC Brick Power Solutions
23rd January 2023
The advantages of AC-DC Brick Power Solutions
When we look at AC-DC power supplies on the market today, the most commonly seen types are open-frame, enclosed fan-cooled, and adapter types (plugtop and desktop). However, there is now a trend towards higher power density solutions, moving away from forced air cooling, which lends itself to the application of brick style power supplies. In this article, we will talk about the concept of AC-DC bricks and look at their advantages when compared to traditional power supplies.
Brick power - Origin and size definition
The standard defining the size of brick type power converters was announced by the Distributed-Power Open Standard Alliance (DOSA) around 2010. The purpose was to standardize the footprint and make it easier for design engineers to source on the market. The original size started as a  Full-Brick, but now includes options down to 1/32-Brick as shown below:
Brick power design - from DC-DC to AC-DC
Most of the early brick power supplies began life as DC-DC converters between 50 & 100 watts. They were used in Distributed Power Architecture (DPA) systems, typically converting from 48V to 12V, and 12V to lower voltages (e.g. 5V or 3.3V). As new component technologies, and advanced planar transformer techniques developed, a higher power rating could be squeezed into a smaller package, with increased power density. Around this time, most power boards were designed with a bridge rectifier, EMI filter, and power factor correction (PFC) discrete circuitry at the front end, with a secondary DC-DC converter connected for the required DC voltage output.
The introduction of AC-DC brick type power supplies has reduced the design complexity by reducing the number of components on the power board. System engineers only need to add key components such as a fuse, EMI filter, electrolytic capacitors etc. The simplicity saves considerable R&D and production time when compared to building the entire front-end circuitry from scratch. 
Fig. 2 is a typical AC-DC block diagram.


Advantages of AC-DC brick power - compact size, lower profile & heat dissipation
When compared to other types of AC-DC power supply, brick power systems have advantages of compact size and lower profile. Additionally, the encapsulated package provides protection for internal electronic components from outside dust or humidity. The thermal compound used inside the bricks helps dissipate heat evenly throughout the module and prevents heat gathering on certain points.
The AC-DC brick type power solution can be mounted on a PCB board and pass-through wave soldering with other SMT components, speeding up installation time.
Fanless solutions are possible if the power brick is attached to an external system cooling plate. The use of baseplate cooling solutions mean the operational temperature of the brick can go up to 100°C if it is able to maintain case temperature under 85°C. This is ideal if system case (or heatsink) is in direct contact with the outside environment which directs the heat out of the power module easily and efficiently. For conventional types of AC-DC power supply, their upper operating temperature would be only around 60°C-70°C and would also require airflow for cooling purposes.
Higher reliability is another advantage of AC-DC brick power solutions. Generally, an AC-DC power bricks do not include electrolytic capacitors internally which extends its lifetime. Fig. 3 and Fig. 4 show the circuit diagram and construction of the PDF700S-CMFC which is the complete solution based on AC DC power bricks, along with external components.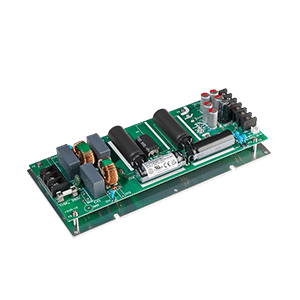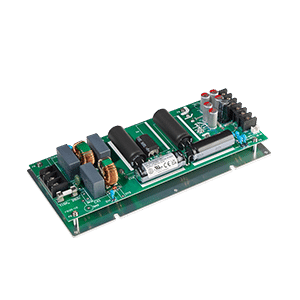 The PDF700S series of AC-DC converters offers 700 watts of output power with output voltages of 12, 24, 28, 48, 56Vdc in a full-brick, baseplate-cooled package. The PDF700S series has a high operating efficiency up to 91.5%, allowing the unit to operate with a baseplate temperature range from –40°C to 100°C.
The new generation of AC/DC brick power with all-in-one solution - CBM series
As the global supply chain material shortage continues, sourcing the materials for PCBA remains a headache. Many engineers are looking for turn-key solutions instead of building their own power boards, which involves sourcing all external components. To overcome this problem, Cincon is providing the CBM series all-in-one solution of AC DC power bricks. All the filtering components (inductors and capacitors) and bulk storage capacitors are included inside the brick module. The CBM series can be used directly without additional filters and is compliant with EN55032 Class B standard. 
Fig. 5 is the block diagram for your reference

Relec also offers a 750W PFC module solution. It is designed to be placed at the AC-DC front-end and provides the power system with a high power factor (PF) bus voltage, compliant with EN61000-3-2. A higher power factor means the system can reduce input current with lower transmission losses. Also, with the output voltage around 390 to 400Vdc, the system hold-up time can be longer than that of the system with simple bridge rectifier front end circuits.


Relec is your brick power solution specialist
Relec has aexperience in power supply design for more than 40 years. We have helped numerous system engineers develop their power systems. We offer various kinds of AC-DC brick power solutions: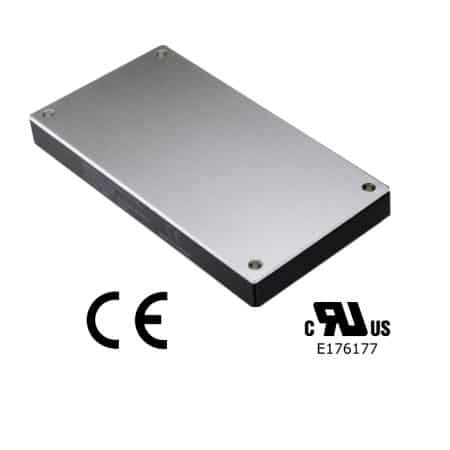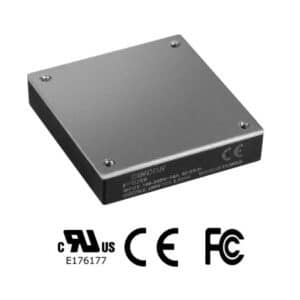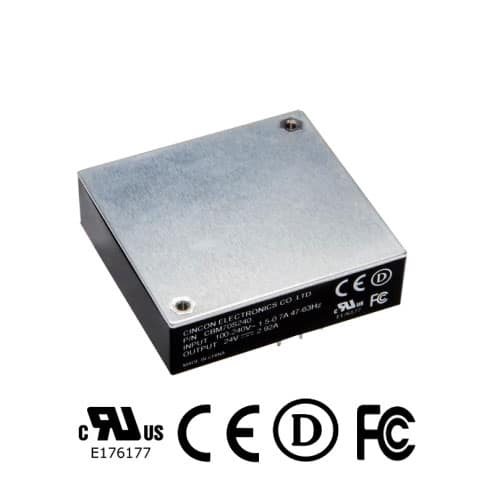 HALF-BRICK ac/dc POWER SUPPLY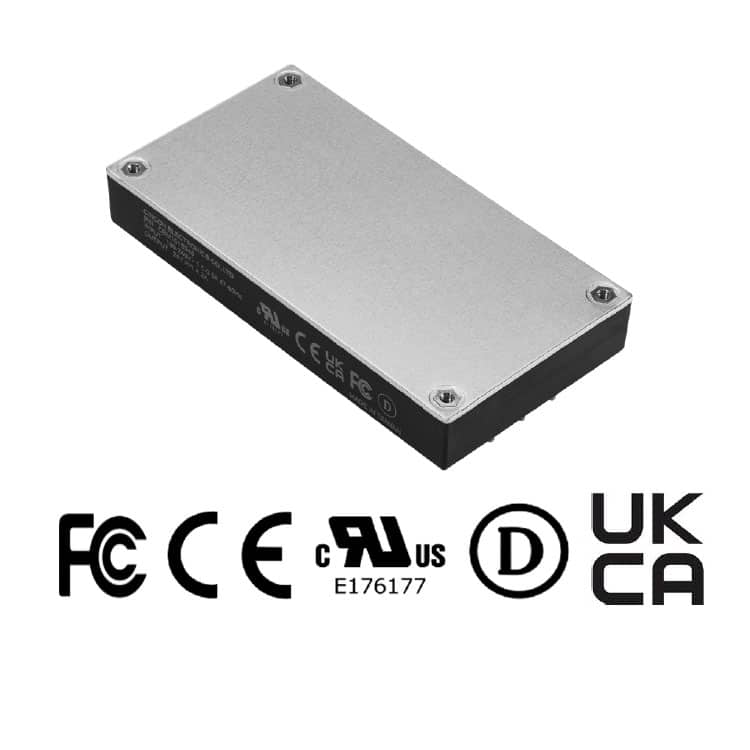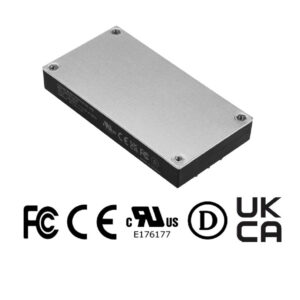 Full-brick ac/dc POWER SUPPLY
sign up for our newsletter
Enter your email address below
why choose relec?
Faster

Our aim is to get back to you with an initial response within the hour.

Attention to detail

We pride ourselves on getting you the right product, at the right price and on time.

New ideas

We are constantly looking for latest technology and products for your applications.

Beyond standard

It's not just about the product.  Our service goes way beyond the norm.

Easy

We want to make your life as simple as it can be. Call us to find out what we can offer.