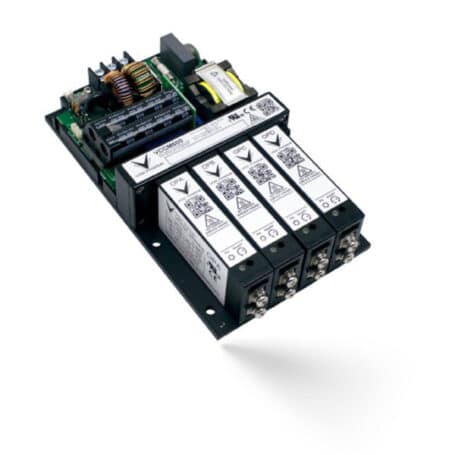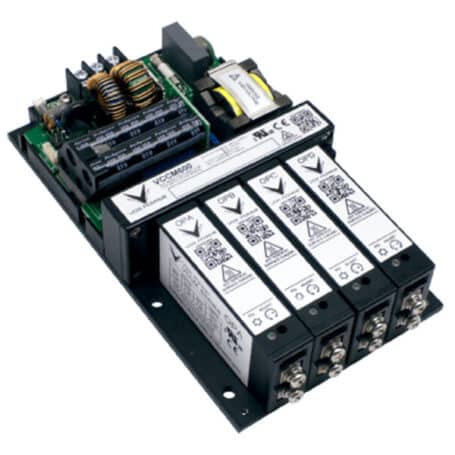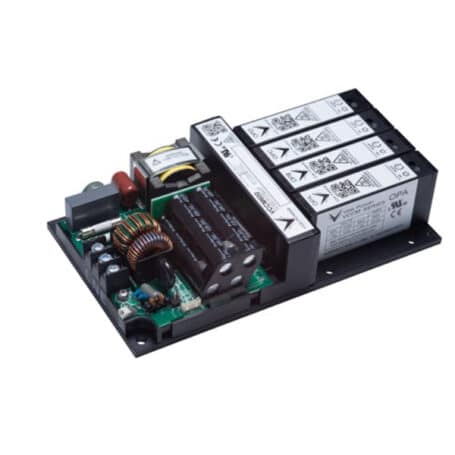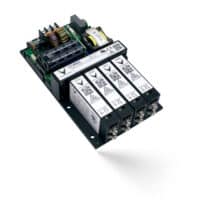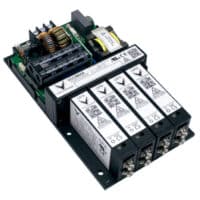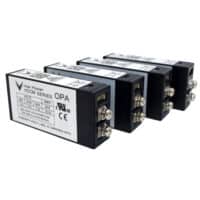 VCCM600S Series
Input: 85-264Vac
Outputs: 1.5 to 58Vdc
Power: 600 Watt
Tamb: -40°C to +70°C
Dims: 177.8 x 101.6 x 41 mm
IEC/UL60950-1 2nd Edition & IEC/UL62368-1 2nd Edition, MIL-STD Approved
5 Year warranty
have a question? Contact us now
APPLICATION
The VCCM600S is a conduction-cooled, configurable power supply that is silent, robust performance. With its compact 4″ x 7″ frame, it delivers a consistent 600 Watts, peaking at 750 Watts for 5-second intervals. It's engineered as the prime power solution in scenarios where both reliability and noise control are paramount.
This innovative product merges the flexibility of modular design with the steadfast reliability of a fan-less architecture. Depending on your specific needs, the VCCM600S can be configured as a conduction, convection, or forced air-cooled solution. Such versatility makes it an ideal choice for standardizing your power platform across various applications.
Designed with the pinnacle of reliability and adaptability in mind, the VCCM600S thrives in everything from the most controlled environments to the harshest conditions. Its standard features encompass a full output voltage adjust range, externally controllable voltage and current, and series & paralleling of outputs.
What sets the VCCM600S apart are its unique design approach and heat dissipation techniques. This allows for mounting in almost any orientation, offering system designers unprecedented flexibility.
Finally, the VCCM600S series adheres to the latest industrial safety standards (IEC/UL60950-1 2nd Edition & IEC/UL62368-1 2nd Edition) and leads the market in specifications and application support. With its top-tier design, it stands as a testament to innovation in power supply technology.
The VCCM600S power supply is adept at serving a diverse range of industries and applications. From precision-driven environments like Test & Measurement and Laboratory & Analysis equipment to creative and technological fields like LED lighting, Robotics, and Display technologies, it offers consistent performance. Its robust design makes it equally suitable for demanding conditions faced in High vibration & shock scenarios, the Oil & Gas sector, and Avionics.
feature list
600 Watts output (Vin >120VRMS)
High efficiency – up to 90%
IEC60601 Ed. 3 (Immunity to Ed. 4)
Peak power capability (750W 5sec)
Additional 5V 1A bias supply
MIL-STD 810G
7" x 4" x 1.61" footprint
Remote voltage & current programming
MIL-STD 461F
Convection/Conduction/Forced-Air cooled
Current output signal
MIL-STD 704F
Modular & user configurable
Accurate current sharing
SEMI F47 compliant
Low power standby mode (<1W)
Programmable start-up state (Laser Apps)
5 Year warranty
MODEL NUMBER
INPUT RANGE
OUTPUT
POWER
VCCM600S
85-264VAC
600W
OPA
5Vdc nom (1.5 - 7.5Vdc adj)
125W
OPB
12Vdc nom (4.5 - 15Vdc adj)
150W
OPC
24Vdc nom (9V - 30Vdc adj)
150W
OPD
48Vdc nom (18 - 58Vdc adj)
150W
Note 1 - Output module, 30˚C base, 100% load, SR332 issue 2 Method I, Case 3, Ground, Fixed, Controlled
Note 2 - A = Remote Sense, B = External Voltage control, C = External constant current control, D = Current output signal, E = Current share, F =Over Voltage protection,
G = Over temperature protection
Downloads
Click on the link below for an instant download.

We would love to know more about the problem you are trying to solve
Our experts are on hand to help you find the best solution!
why choose relec?
Faster

Our aim is to get back to you with an initial response within the hour.

Attention to detail

We pride ourselves on getting you the right product, at the right price and on time.

New ideas

We are constantly looking for latest technology and products for your applications.

Beyond standard

It's not just about the product.  Our service goes way beyond the norm.

Easy

We want to make your life as simple as it can be. Call us to find out what we can offer.
sign up for our newsletter
Enter your email address below