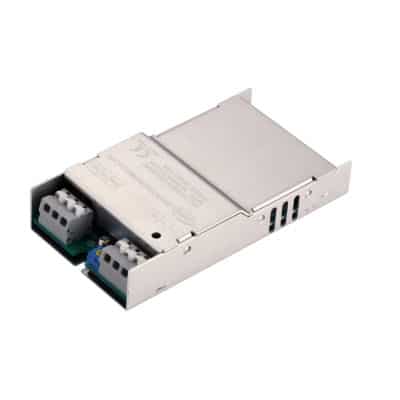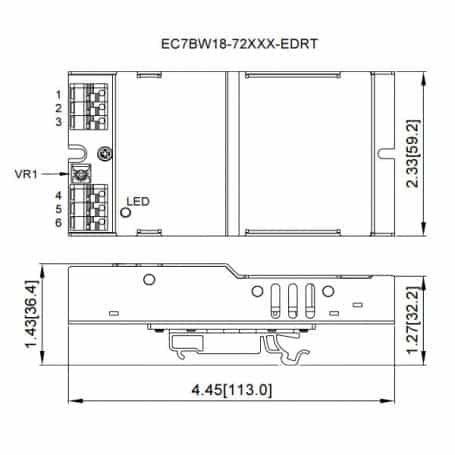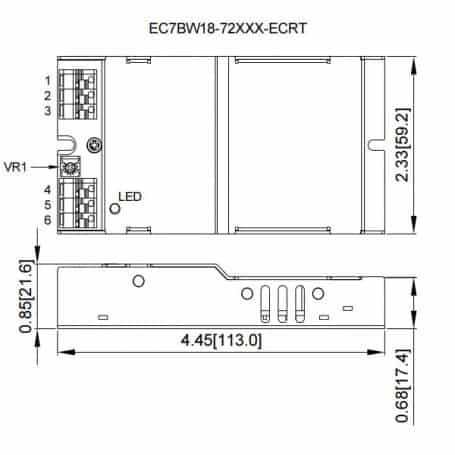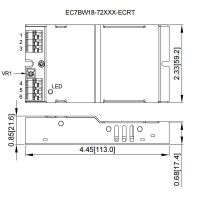 EC7BW18 ECRT/EDRT Series
Input: 10-160V dc- Single range
Outputs: 5V to +/-24V dc
Power: 20 Watt
Tamb: -40°C to +100°C
Dims: 4.45" x 2.33" x 0.68" (113 x 59.2 x 21.6mm)
3000V ac Isolation
have a question? call us now
APPLICATION
The EC7BW18-72 Series of DC-DC converters offer 20 watts of output power with output voltages of 5V, 12V, 15V, ±12V, ±15V, ±24V dc.  The EC7BW18 series comes in a compact chassis or Din rail mount package along with associated filter components. It has an ultra-wide (16:1) input voltage range of 10 to 160VDC (72VDC nominal) and 3000V ac reinforced input to output isolation.
The EC7BW18-72 ECRT/EDRT series is compliant with EN50155, EN45545, EN50121-3-2 without the need for any external components, making it ideal for all railway applications. It also meets RIA12 surge A requirements on 24V and 52V systems.
Units are fully protected against input UVLO (under-voltage lockout), output over-current, output over-voltage, and over-temperature and continuous short circuit conditions.
EC7BW18-72 ECRT/EDRT series is designed primarily for railway applications and covers all standard battery voltages of 24V, 36V, 48V, 72V, 96V, 110V dc. It is also suitable for distributed power architectures, telecommunications, battery-operated equipment, and industrial applications.
feature list
Efficiency Up to 88%
Fixed Switching Frequency
Regulated Outputs
Negative Logic Remote On/Off
Low No Load Power Consumption
Fully protected (OTP/OCP/OVP/UVLO)
3000Vac I/O Isolation
Operating Case Temperature -40 to +100℃
UL62368-1 2nd (Reinforced Insulation) Approval for DC Modules
Compliant with EN50155/ EN50121-3-2/ EN45545-2
Safety Meets IEC/EN/UL 62368-1
Meets RIA12 Surge A for 24V and 52V systems
Chassis Mount or Din Rail options
Low Inrush Current
Input Reverse Polarity Protection
EN50155 Class S3/ Class C2 Criteria A without External Capacitor
Output LED Indicator
MODEL NUMBER
INPUT RANGE
OUTPUT
POWER
EC7BW18-72S05-ECRT
EC7BW18-72S05-EDRT
10V-160V
5V
20W
EC7BW18-72S12-ECRT
EC7BW18-72S12-EDRT
10V-160V
12V
20W
EC7BW18-72S15-ECRT
EC7BW18-72S15-EDRT
10V-160V
15V
20W
EC7BW18-72D12-ECRT
EC7BW18-72D12-EDRT
10V-160V
±12V
20W
EC7BW18-72D15-ECRT
EC7BW18-72D15-EDRT
10V-160V
±15V
20W
EC7BW18-72D24-ECRT
EC7BW18-72D24-EDRT
10V-160V
±24V
20W
ECRT = Enclosed Chassis Mount
EDRT = Enclosed Din Rail Mount
Downloads
Click on the link below for an instant download.
why choose relec?
Faster

Our aim is to get back to you with an initial response within the hour.

Attention to detail

We pride ourselves on getting you the right product, at the right price and on time.

New ideas

We are constantly looking for latest technology and products for your applications.

Beyond standard

It's not just about the product.  Our service goes way beyond the norm.

Easy

We want to make your life as simple as it can be. Call us to find out what we can offer.
sign up for our newsletter
Enter your email address below