Military Grade Surge Filters for Land Based Vehicles
5th April 2023
Military grade surge filters for land-based vehicles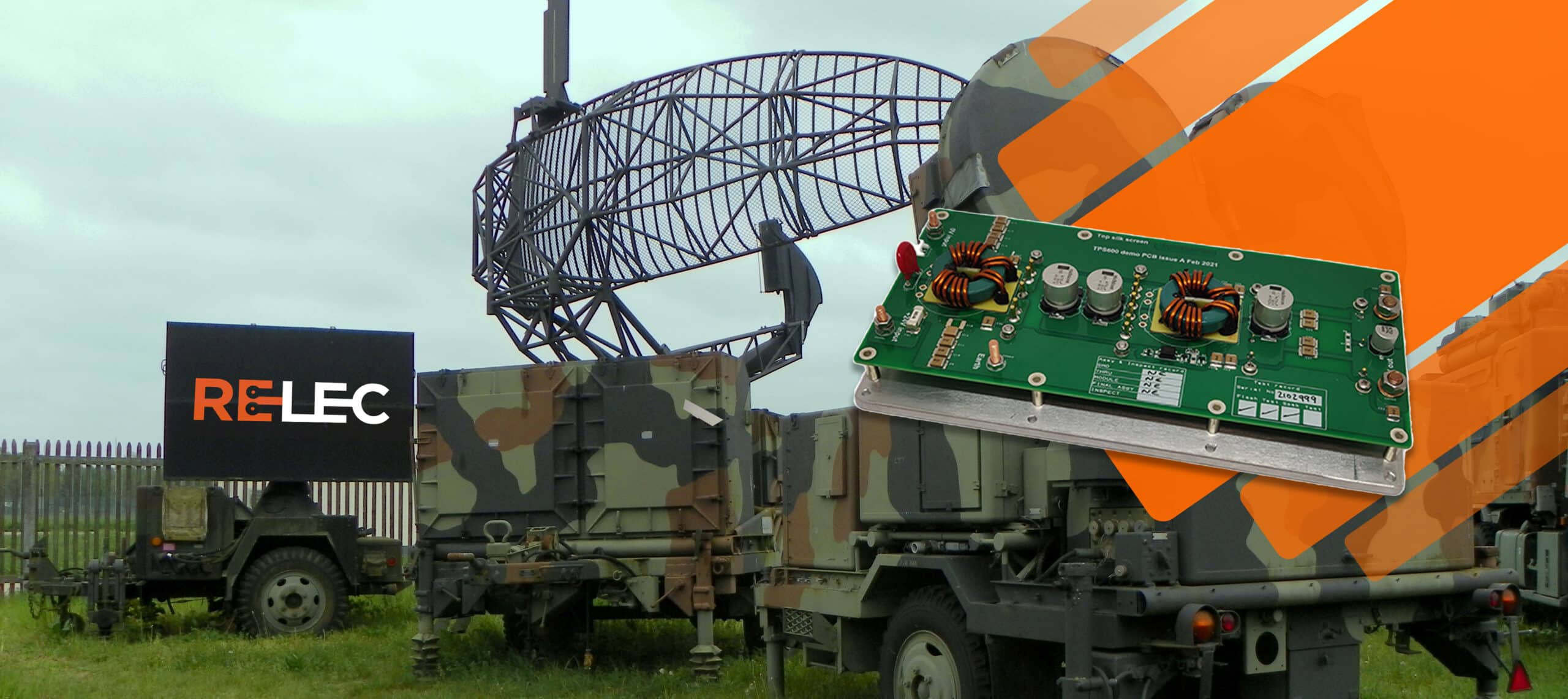 Depending on which side of the pond you are designing for, there are 2 defence standards which define the characteristics of dc power distribution for military vehicle based systems, Def Stan 61-5 part 6 (UK) and Mil Std 1275 (USA).  The scope of these standards covers many aspects, including start up and environmental considerations, but in this article we are going to focus on the high energy surges which have a direct impact on the ability of DC DC converters to function correctly. 
Unlike commercial and industrial specifications, the energy contained in defence standard voltage surges is orders of magnitude larger than that defined in the EN61000 series of immunity standards.  Significant surges can occur when electrical systems with high current loads suddenly get disconnected from their battery supply.  This could be a result of routine maintenance or more likely shock and vibration seen when moving over rough terrain.  The amount of energy in these surges is often far more than can be dissipated in components such as transorbs, varistors or capacitors.
Mil Std 1275 Transient disturbances
The standard defines 3 types of voltage transient that equipment must be designed to withstand:
injected voltage spikes – The typically have an envelope from 250V to 100V (positive and negative) and cover a duration of up to 1mS. The maximum energy content in these spikes is limited to 2J (Joules).

emitted voltage spikes – These have a similar voltage profile but have a maximum energy content limited to 125mJ.

injected voltage surges – These are the hardest to meet. The voltage waveform is a steady state 100V for 50mS and then ramps down to 33V over a further 450mS.  The maximum amount of energy in the surge is limited to 60J in edition 1275E but was unlimited in edition 1275D, making this a serious issue for any vehicle systems engineer.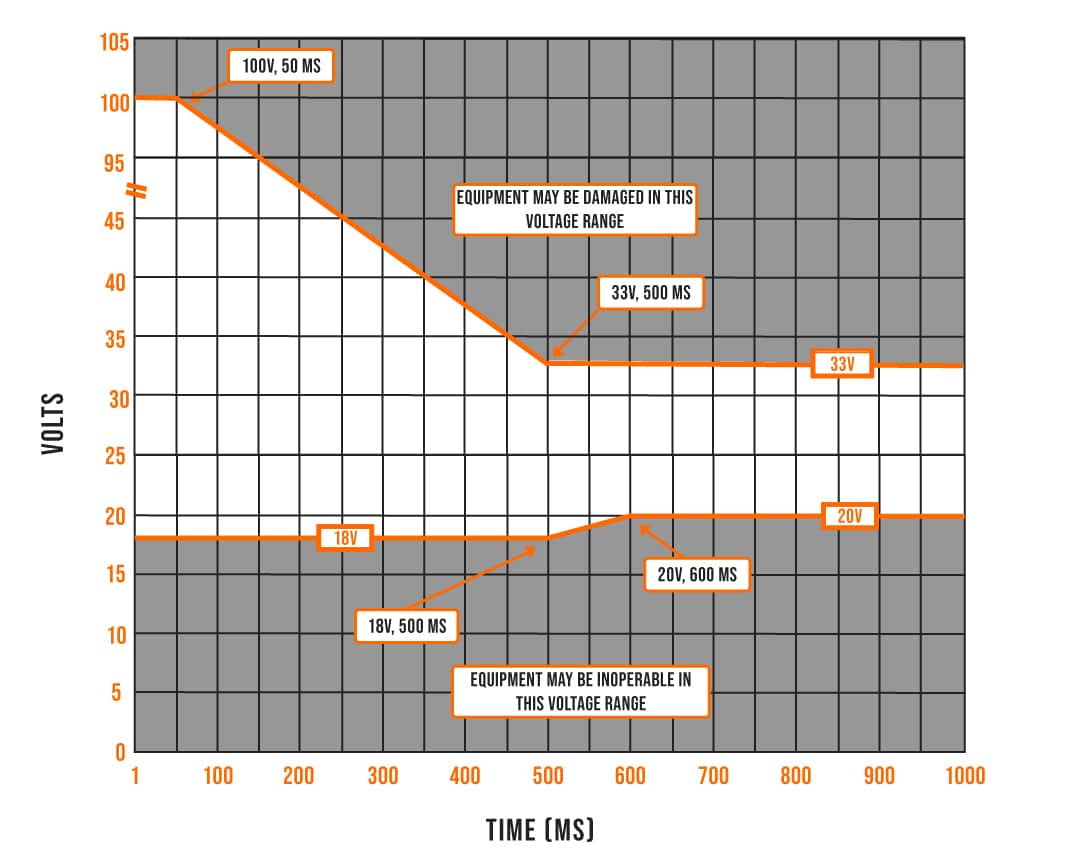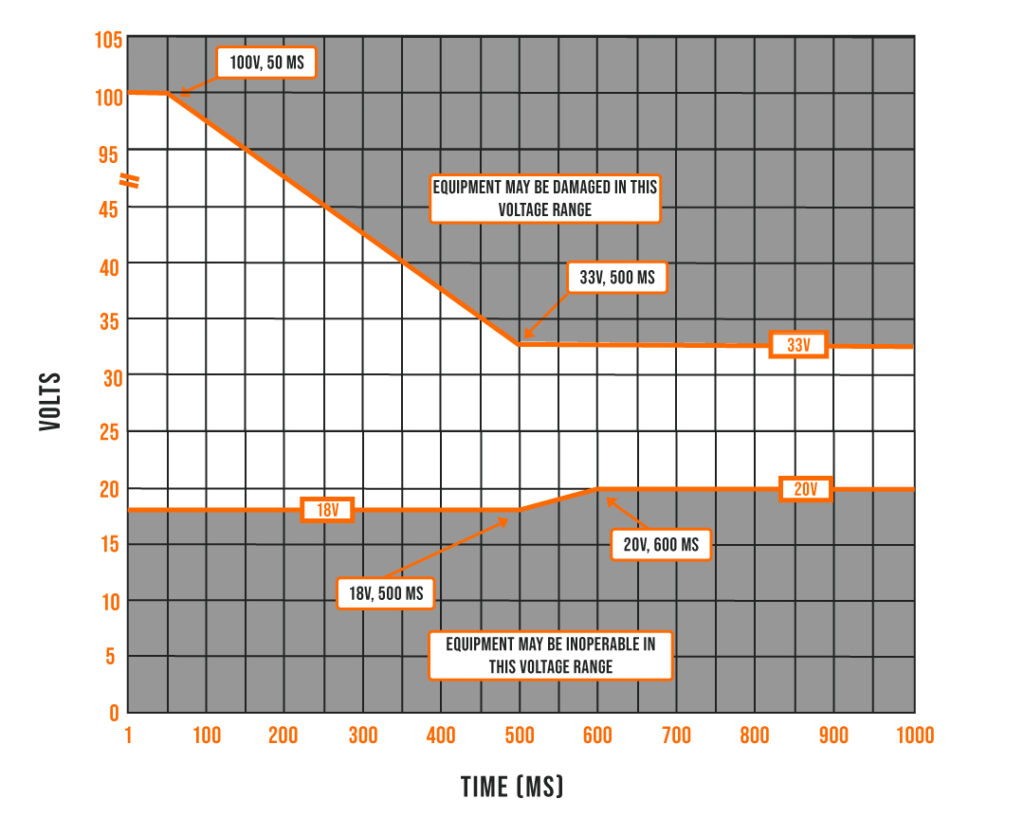 More information on Mil Std 1275 can be found here.
Def Stan 61-5 part 6 Surge requirements
The surge seen here is shorter in duration but has a higher peak voltage and also more energy associated with it: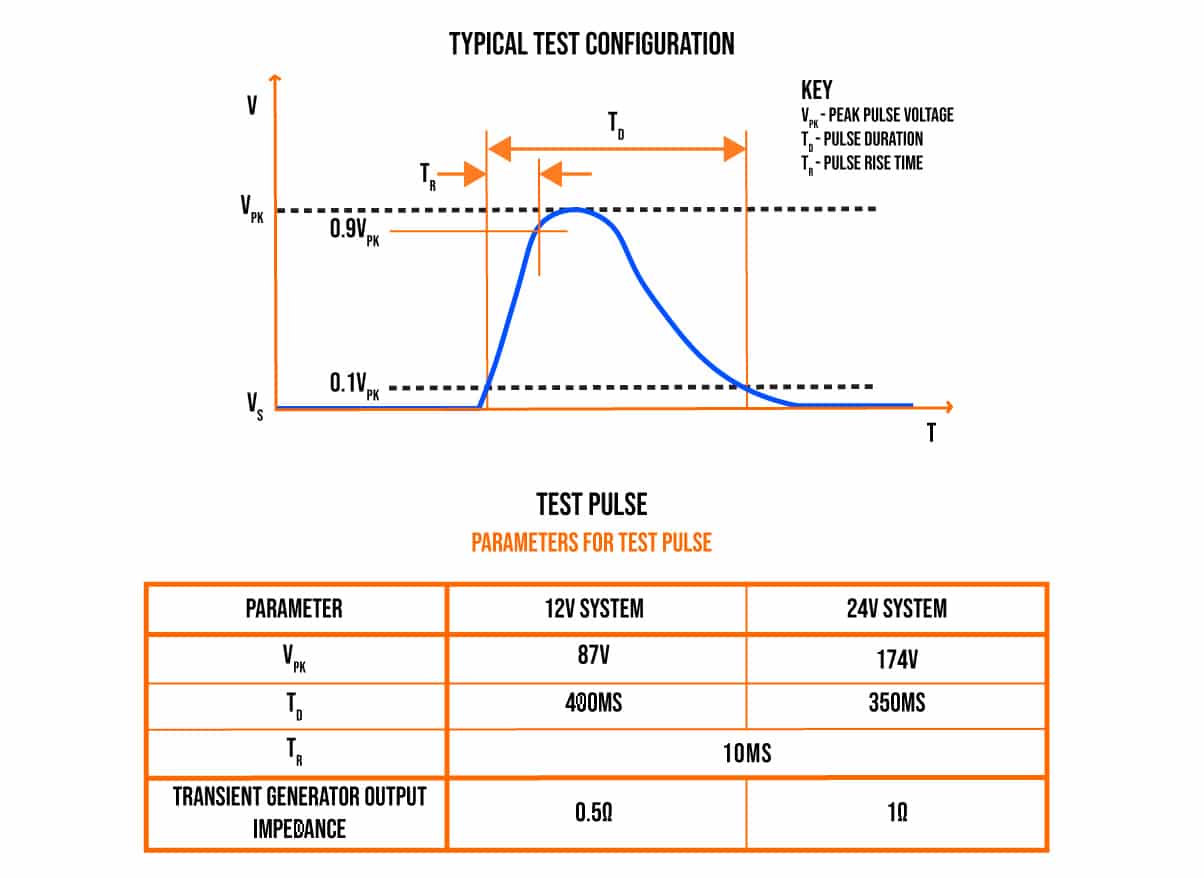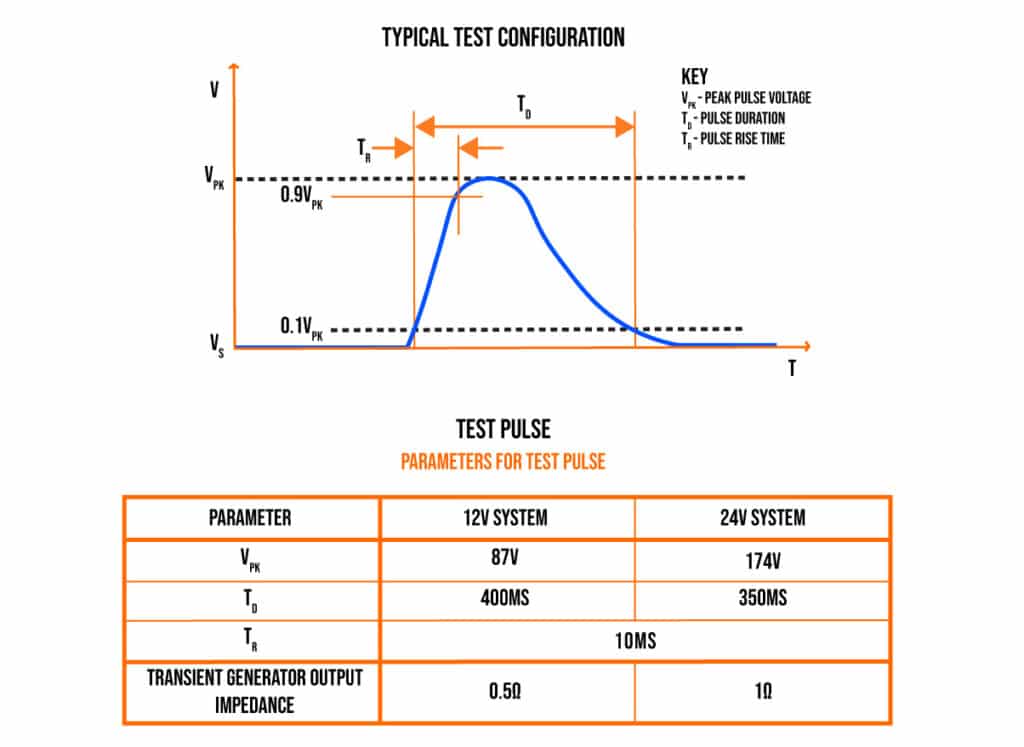 DC DC converters with a 9 to 36V dc input will probably only withstand surges up to about 50V for typically 100mS, so we need to find a front-end filter that will clamp the input to within the safe operating limits of the DC DC converter.
The TPS300 and TPS600 surge suppressor have been designed to do exactly this and act as a front-end surge suppressor for downstream DC DC converters.  The units have a continuous input range of 10 to 40Vdc and will protect devices from surges of up to 200V.  Key features of the units include:
300W or 600W power throughput (TPS300/TPS600)

surge clamped at 40V maximum (safe for most dc dc converters four up to 1 second)

output power continues through surges – "Ride through"
baseplate cooled

footprint compatible with industry standard quarter and half bricks

forward voltage drop <0.36V under standard operating conditions
The TPS series have been designed to the highest standards and meet the following environmental parameters:
-40°C to +85°C baseplate temperatures
MIL-STD-1275D / DO-160 / DEFSTAN 61-5
shock and vibration withstand up to tracked standards
In conclusion, surge filters are essential components for protecting sensitive electronics in military ground vehicles from power surges caused by various factors. Relec Electronics have over 40 years' experience in designing power systems for the harshest of environments.  We can help you source both input filters and DC DC converters to fulfil the demands of your application. Call us today.
GET IN TOUCH TODAY – 01929 555700
Here at Relec Electronics, we have worked closely with our key suppliers for over 40 years. We specialise in many industries, including; automotive, industrial, transportation, instrumentation & defence. We have a team of dedicated engineers ready to support you throughout the design process. We also carry stock of all standard modules and accessories for next day delivery.
Let's make this easy and call us today.
Follow us on Facebook, LinkedIn & Twitter for updates on all of the latest Power Conversion & Display products.
Sign up to our monthly newsletter below, and never miss out on our updates of industry news, we release news/blog pages weekly with news from the power and display industries.
Relec Electronics holds the highest standards towards finding you the ideal solution for your application. We truly believe "Standard is Just the Beginning". Get in touch with our technical team today.
sign up for our newsletter
Enter your email address below
why choose relec?
Faster

Our aim is to get back to you with an initial response within the hour.

Attention to detail

We pride ourselves on getting you the right product, at the right price and on time.

New ideas

We are constantly looking for latest technology and products for your applications.

Beyond standard

It's not just about the product.  Our service goes way beyond the norm.

Easy

We want to make your life as simple as it can be. Call us to find out what we can offer.