CBS-10K Railway compliant DC DC Converter with 10kW peak capability
24th June 2022
CBS-10K Railway compliant DC DC Converter with 10kW peak capability
Relec Electronics proudly announces the availability of CBS-10K series DC-DC Converters from Premium. The CBS-10K is a single output DC/DC converter that provides a peak power of up to 10kW for up to 40 seconds. Units are available with EN50155 compliant inputs of 24V, 36V, 72V or 110Vdc.
The CBS-10K has primarily been designed to assist with the start up of diesel engines in hybrid electric/diesel trains.

What are Hybrid Electric/Diesel trains
Transportation railway infrastructures are constantly being upgraded to make them more environmentally efficient. Electric traction offers the environmental advantage of substantially reducing CO2 emissions, as well as reducing noise in large cities.
Hybrid trains use a combination of electric motors and diesel combustion engines so that trains can be installed on both electrified and non-electrified tracks (or a combination of the two). They can use either the electric supply or diesel generator, depending on what is available. For example, if the batteries run out whilst running on a non-electrified track, the train can switch to running off the diesel generator.
In both cases the electric motor is responsible for powering the train's wheels, whilst the diesel combustion engine powers a set of batteries and the electric motor, essentially acting as a power generator.
The device can be installed inside the train to transform the battery voltage (110Vdc) to a higher voltage direct current (DC) bus (500Vdc). The train in catenary operation supplies power to all systems through the DC/DC converter (1500/500Vdc).
Where catenaries are electrified, energy regeneration during braking may not be allowed, which means not only having to run in diesel mode but also hybrid mode. The use of batteries also allows the catenary voltage to be reduced, as during peak energy demand (accelerations) the battery will take care of the operation.
If there is a catenary failure, the CBS-10K DC/DC converter will use the battery voltage to feed the bidirectional rectifier through the 500Vdc bus, which will act as an inverter, feeding the alternator (engine in this case) so that the diesel generator starts.

Key features of the CBS-10K series are…
Up to 10kW during 40s
6kW average
500Vdc output (up to 700V under request)
High input-output isolation (5000 Vrms)
O-ring output diode up to 2000V
24Vdc, 48Vdc, 72Vdc, 110Vdc input voltage models
Parallelizable
Remote control via RS232
Optional CAN BUS
High power density
Alarm by isolated relay contacts
Up to 95% efficiency
200.000 h MTBF (according to IEC61709, SN29500 @40°C)
CBS-10K Railway compliant DC DC Converter with 10kW peak capability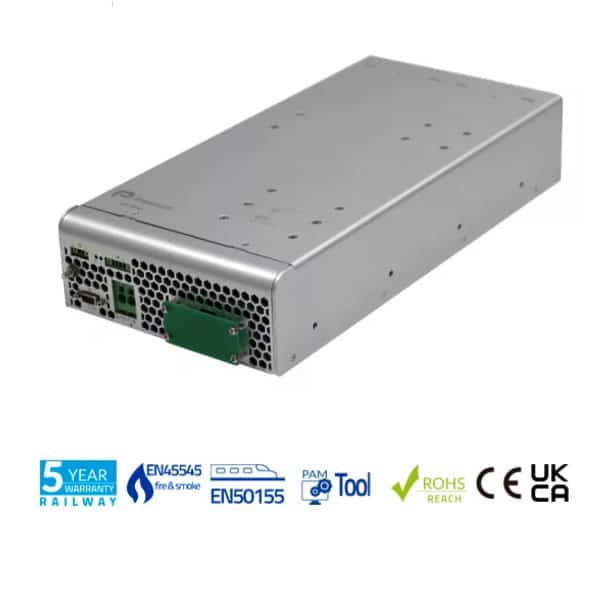 Input: 24/36/72/110Vdc
Outputs: 500Vdc nom
Power: 6000W nom, 10000W pk
Tamb: -40 to 55°C (full load)
Dims: 455 x 217 x 85mm
Conforms to EN62368 / EN50155
GET IN TOUCH TODAY – 01929 555700
Here at Relec Electronics, we have worked closely with our key suppliers for over 40 years. We specialise in many industries, including; automotive, industrial, transportation, instrumentation & defence. We have a team of dedicated engineers ready to support you throughout the design process. We also carry stock of all standard modules and accessories for next day delivery.
Let's make this easy and call us today.
Follow us on Facebook, LinkedIn & Twitter for updates on all of the latest Power Conversion products.
Sign up to our monthly newsletter below, and never miss out on our updates of industry news, we release news/blog pages weekly with news from the power and display industries.
Relec Electronics holds the highest standards towards finding you the ideal solution for your application. We truly believe "Standard is Just the Beginning". Get in touch with our technical team today.
sign up for our newsletter
Enter your email address below
why choose relec?
Faster

Our aim is to get back to you with an initial response within the hour.

Attention to detail

We pride ourselves on getting you the right product, at the right price and on time.

New ideas

We are constantly looking for latest technology and products for your applications.

Beyond standard

It's not just about the product.  Our service goes way beyond the norm.

Easy

We want to make your life as simple as it can be. Call us to find out what we can offer.