CFM Series AC DC Converters with 200% Peak Load Capability
14th June 2022
When you need that little bit extra to power your smart home
Today's homes have more automated devices than ever before. This trend is partly driven by the so-called smart home and while a lot of the attention is on wireless connectivity to transmit data from sensors, the real workhorse that is making this evolution happen are miniature power supplies which serve the countless motors in appliances.
In tandem with the trend for automation in the home, miniaturisation means that these appliances are reducing in size, requiring smaller motors and smaller power supplies to deliver energy efficiently. These devices often need a power supply that can offer higher power levels for short periods of time, such as when the motors first start up.
200% Peak power for motor driven applications
Typical applications are kitchen appliances, such as coffee machines or food blenders, as well as newer applications such as robot vacuums and automatic door, window and curtain systems for security. Healthcare settings will also have electric beds to raise the patient in comfort. All of these require extremely small, efficient power supplies to drive compact motors inside the end product.
Another common feature is that the design is expected to be small, lightweight and inexpensive to buy and run. They are also expected to have a long operating life.
These design constraints require a specialised power supply to drive the motor reliably and efficiently. Principally, it needs to withstand a high transient peak current without entering protection mode. A higher wattage power supply may be able to accommodate the peak current but increases the size (and often the cost) of the end product which is destined for the price-sensitive consumer market. Cincon's CFM series of peak load power supplies have been designed to meet these, as well as new and emerging motor-driven applications. We look at some typical applications below:
Coffee Machines
In a coffee machine, for example, the motors are used to grind coffee beans in seconds as well as powering the pumps to force the water through the coffee. This requires a power supply that can withstand 120W peak load for five seconds and 80W of nominal power.
Robot Vacuums
Robot vacuums are convenient household appliances that have been introduced relatively recently. Here, the motor drives the vacuum's wheels to move it around the floor. The design principle behind the robot vacuum is to be small, neat and agile. When it bumps into walls or furniture, the motor needs higher wattage against the torque to change the direction of travel. An extra 50%-100% of output current is required for two to three seconds when an obstacle is met. In a traditional power supply design, overcurrent protection would 'kick in' and the power supply would fail. The CFM series provides a peak load power feature ensures the robot's wheels receive sufficient current to drive the wheels in another direction.
Automatic Doors / Curtains / Blinds
Automatic doors, windows and curtains are convenient security features in a smart home. By necessity, the motor is integrated into a device which is located in a tight, confined space. Again, peak current requirement can be high during operation, and Cincons CFM series has been developed for use in these smart home applications.
Healthcare Beds
In some homes, particularly for those with limited mobility, as well as in hospitals and care homes, electric beds and chairs are a practical way to help users and prevent injury in carers. The motor is used to elevate the bed, with a person in it. This action must only take a few seconds but can require peak power of up to 132W within one second while operating at less than 60W nominal output power. The Cincon CFM61S is able to achieve peak load to 120W which is double the rated output power. The CFM61S can be modified to marginally above the higher output wattage to meet the needs of a specific application.
CFM Series Peak Laod AC DC Convertrs from Cincon
Input: 90 – 264Vac
Outputs: 5 to 48Vdc
Power: 25W / 50W Peak
Tamb: -30 to +80°C
Dims: 2″ x 1.1″ x 1.0″
UL/EN62368 Approved
EN60335 Approved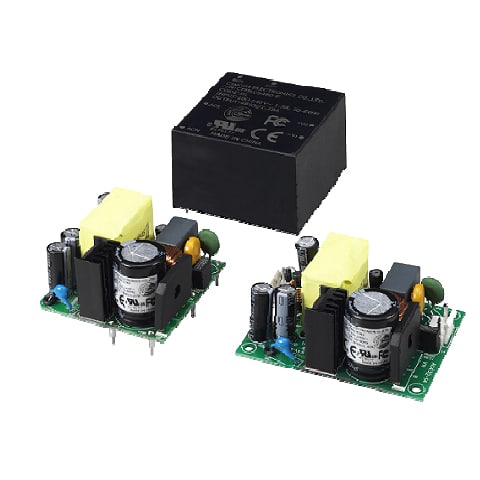 Input: 90 – 264Vac
Outputs: 5 to 48Vdc
Power: 60W / 120W Peak
Tamb: -30 to +70°C
Dims: 2″ x 2″ x 1.5″
UL/EN62368 Approved
EN60335 Approved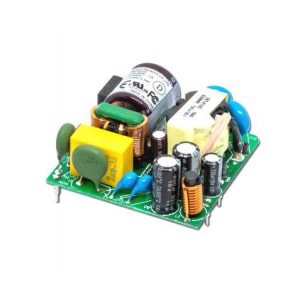 Input: 90 – 264Vac
Outputs: 5 to 48Vdc
Power: 40W / 80W Peak
Tamb: -30 to +80°C
Dims: 2″ x 2″ x 1.0″
UL/EN62368 Approved
EN60335 Approved
Input: 90 – 264Vac
Outputs: 5 to 24Vdc
Power: 80W / 160W Peak
Tamb: -30 to +70°C
Dims: 3″ x 2″ x 1.4″
UL/EN62368 Approved
EN60335 Approved
GET IN TOUCH TODAY – 01929 555700
Here at Relec Electronics, we have worked closely with our key suppliers for over 40 years. We specialise in many industries, including; automotive, industrial, transportation, instrumentation & defence. We have a team of dedicated engineers ready to support you throughout the design process. We also carry stock of all standard modules and accessories for next day delivery.
Let's make this easy and call us today.
Follow us on Facebook, LinkedIn & Twitter for updates on all of the latest Power Conversion products.
Sign up to our monthly newsletter below, and never miss out on our updates of industry news, we release news/blog pages weekly with news from the power and display industries.
Relec Electronics holds the highest standards towards finding you the ideal solution for your application. We truly believe "Standard is Just the Beginning". Get in touch with our technical team today.


sign up for our newsletter
Enter your email address below
why choose relec?
Faster

Our aim is to get back to you with an initial response within the hour.

Attention to detail

We pride ourselves on getting you the right product, at the right price and on time.

New ideas

We are constantly looking for latest technology and products for your applications.

Beyond standard

It's not just about the product.  Our service goes way beyond the norm.

Easy

We want to make your life as simple as it can be. Call us to find out what we can offer.