8:1 Input Range DC-DC Converters from Cincon
15th June 2020
8:1 Input Range DC-DC Converters from Cincon
Relec Electronics and their partners at Cincon, are proud to announce the release of the 8:1 input range CQB75W8 75W Quarter-Brick and CHB150W8 150W Half-Brick DC-DC Converters. The CQB75W8 & CHB150W8 Series both have an input range 9 – 75V dc making them suitable for all common battery and bus voltages including 12V, 24V, 36V and 48V Systems.
The CQB75W8 and CHB150W8 series are suitable for distributed power architectures, telecommunications, battery operated equipment and industrial applications as well as railway applications operating from 24V, 36V, 48V supply voltage.
The CQB75W8 and CHB150W8 series both have an input surge withstand capability of 100V for 100mS making them suitable for use in military systems needing to meet the requirements of RTCA DO-160E, DEF STAN 6-15 part 6, Mil-STD-1275D and Mil-STD-704A*
*Additional filter components will be required to meet all the requirements of these standards.
The CQB75W8 and CHB150W8 has been qualified in accordance with the following regulatory requirements:
High efficiency up to 90%, allows for a case operating temperature range of –40°C to 105°C.
An optional heat sink is available to extend the full power range of the unit. The CQB75W8 also has very low no load power consumption (10mA), making it an ideal solution for energy critical systems.
Standard control functions include remote on/off (positive or negative) and +15%, -20% adjustable output voltage (single output only). Units are fully protected against input UVLO (under voltage lock out), output over-current, output over-voltage and over-temperature and continuous short circuit conditions.
Both the CQB75W8 and CHB150W8 are available to sample now with production lead-times currently 6 – 8 weeks. The technical team at Relec are available now to guide you through the design in process, provide samples, and provide commercial support right through into production.
Let's make this easy and call us today.
8.1 DC-DC Converter Range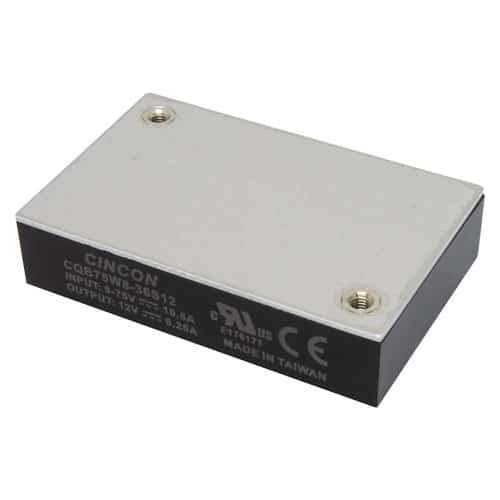 Input: 9V to 75V dc
Outputs: 12V to 48V dc
Power: 75 Watts
Dims: Quarter Brick
3000V AC Isolation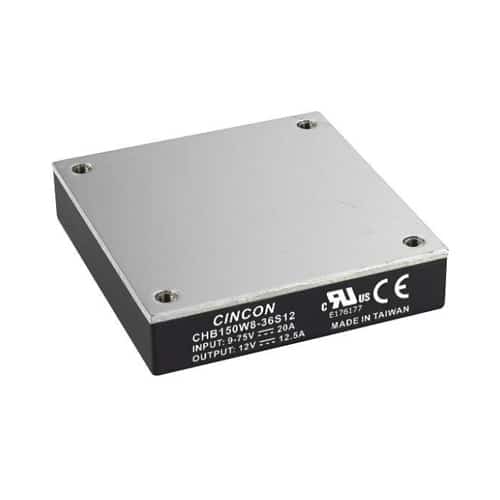 Input: 9V to 75V dc
Outputs: 12V to 48V dc
Power: 150 Watts
Dims: Half Brick
1500V DC Isolation
GET IN TOUCH TODAY – 01929 555700
Here at Relec Electronics, we have worked closely with our key suppliers for over 40 years. We specialise in many industries, including; automotive, industrial, transportation, instrumentation & defence. We have a team of dedicated engineers ready to support you throughout the design process. We also carry stock of all standard modules and accessories for next day delivery.
Let's make this easy and call us today.
Follow us on Facebook, LinkedIn & Twitter for updates on all of the latest Power Conversion products.
Sign up to our monthly newsletter below, and never miss out on our updates of industry news, we release news/blog pages weekly with news from the power and display industries.
Relec Electronics holds the highest standards towards finding you the ideal solution for your application. We truly believe "Standard is Just the Beginning". Get in touch with our technical team today.
sign up for our newsletter
Enter your email address below
why choose relec?
Faster

Our aim is to get back to you with an initial response within the hour.

Attention to detail

We pride ourselves on getting you the right product, at the right price and on time.

New ideas

We are constantly looking for latest technology and products for your applications.

Beyond standard

It's not just about the product.  Our service goes way beyond the norm.

Easy

We want to make your life as simple as it can be. Call us to find out what we can offer.