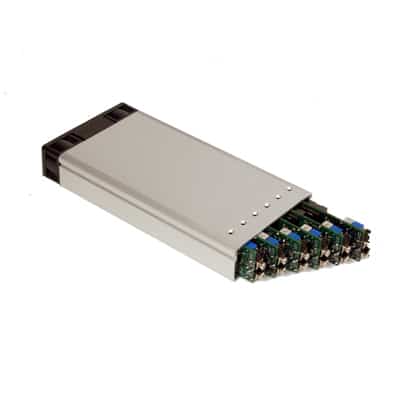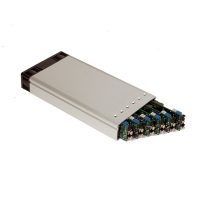 Ultimod Series
Input: 85-264Vac
Outputs 1 to 12 - 1.0 to 58V
Power: 600 / 1200 Watt
Tamb: -40 to +70°C
Dims: 280 x 90/127 x 40.4mm
UL / CE EN60950 EN60601 Approved
have a question? call us now
APPLICATION
The UltiMod range of configurable power supplies provides up to 1200W output power in a slim case that can fit within a 1U profile. The series is designed for high efficiency and consists of two universal input ac (or 120 to 380Vdc) front ends (powerPacs) UX4 and UX6 and 11 dc output powerMods (XgA to XgL).
Both powerPacs carry dual safety certification, EN60950 for industrial applications and EN60601-1 3rd edition for medical applications. The UX4 delivers upt to 600W and can be populated with up to 4 powerMods, the UX6 delivers upt o 1200W and can be populated with up to 6 powerMods.
The powerMods provide up to 12 fully isolated dc outputs ranging from 1.0 to 58Vdc. Users can select the modules most suitable for their application based on power level and/or desired control feature set. The series provides high levels of flexibility and is completely user field configurable. Customers can configure any combination of powerMods in seres/parallel.
Typical industrial applications include: test & measurement equipment; automation equipment; printing machinery; telecommunications;audio equipment.Medical applications include:clinical diagnostic equipment;lasers; dialysis equipment; radiological imaging; clinical chemistry.
feature list
1.0V to 58V standard output voltages
Configurable outputs fully floating
Dual safety approvals: UL/EN60950; UL/EN60601-1
2 x MOPP
Low leakage current <300µA
Isolation: 4kV
Extra low profile: <1U height (40.4mm)
Ultra high efficiency, up to 92%
Low acoustic noise
Ruggedised: shock >60G's
Vibration: MIL STD-810G
No minimum load
Reduced system heat dissipation
Minimal, long life electrolytic capacitors
Visual LED indicators
Series / parallel of multiple outputs
5V isolated standby voltage
Individual output control signals
MODEL NUMBER
INPUT RANGE
OUTPUT
POWER
UX4
85-264VAC
120-380VDC
Standard
Medical
600W
UX6
85-264VAC
120-380VDC
Standard
Medical
1200W
XgA
-
10.8 - 15.6V
150W
XgB
-
19.2 - 26.4V
200W
XgC
-
28.8 - 39.6V
200W
XgD
-
38.5 - 50.4V
200W
XgE/Xg7
-
5.0 - 28.0V
120W
XgF/Xg8
-
5.0 - 28.0V
5.0 - 28.0V
72W
72W
Xg8
-
1.15 - 3.6V
100W
XgH
-
1.5 - 6.0V
180W
XgJ
-
4.0 - 15.0V
220W
XgK
-
8.0 - 30.0V
220W
XgL
-
8.0 - 58.0V
240W
Xg1
-
1.15 - 3.6V
125W
Xg2
-
1.5 - 6.0V
200W
Xg3
-
4.0 - 15.0V
240W
Xg4
-
8.0 - 30.0V
240W
Xg5
-
8.0 - 58.0V
288W
Downloads
Click on the link below for an instant download.
why choose relec?
Faster

Our aim is to get back to you with an initial response within the hour.

Attention to detail

We pride ourselves on getting you the right product, at the right price and on time.

New ideas

We are constantly looking for latest technology and products for your applications.

Beyond standard

It's not just about the product.  Our service goes way beyond the norm.

Easy

We want to make your life as simple as it can be. Call us to find out what we can offer.
sign up for our newsletter
Enter your email address below