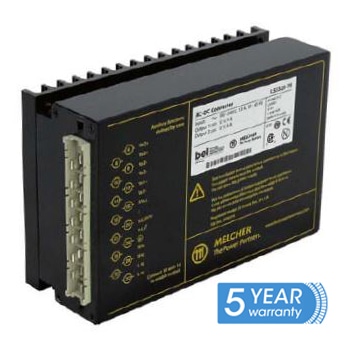 S Series (ac)
Input: 85-264Vac
Outputs: 5 to 48V
Power: 100 Watt
Tamb: -40 to +71°C
Dims: 168 x 111 x 60mm (3U x 12TE)
UL / CE EN60950 Approved
5 year warranty
have a question? Contact us now
APPLICATION
The S 4000/5000 Series of AC-DC converters represents a flexible range of power supplies for use in advanced electronic systems. Features include full power factor correction, good hold-up time, high efficiency and reliability, low output voltage noise, and excellent dynamic response to load/line changes.
The converters are protected against surges and transients occurring at the source lines. An input over- and undervoltage lockout circuitry disables the outputs, when the input voltage is outside of the specified range. Input inrush current limitation is included for preventing circuit breakers and fuses from tripping at switch-on.
All outputs are overload, open- and short-circuit proof and protected by a built-in suppressor diode. The outputs can be inhibited by a logic signal applied to connector pin 18. If the inhibit function is not used, pin 18 must be connected with pin 14 to enable the outputs. LED indicators display the status of the converter and allow visual monitoring of the system at any time.
Full input to output, input to case, output to case and output to output isolation is provided. The converters are designed and built according to the international safety standards IEC/EN 60950. They have been approved by the safety agencies TÌÏV and UL (for USA and Canada).
The case design allows operation at nominal load up to 71 ¡C in a free air ambient temperature. If forced cooling is provided, the ambient temperature may exceed 71 ¡C but the case temperature must remain below 95 ¡C under all conditions
feature list
Universal AC input range 100 - 240 VAC, 50 - 60 Hz
1 or 2 isolated outputs up to 56.5 VDC
Class I equipment
RoHS lead-solder exemption compliant
Power factor >0.93, harmonics IEC/EN 61000-3-2
Immunity to IEC/EN 61000-4-2, -3, -4, -5, -6
Emissions according to EN 55011/55022
High efficiency
Input over- and undervoltage lockout
Adjustable output voltage with remote on/off
Outputs: SELV, no load, overload and short-circuit proof
Rectangular current limiting characteristic
No derating over entire operating temperature range
PCBs protected by lacquer
Very high reliability
5 year warranty on -G versions
MODEL NUMBER
INPUT RANGE
OUTPUT
POWER
LS4001-9ERG
85-264Vac
5.1V
80W
LS4301-9ERG
85-264Vac
12V
100W
LS4501-9ERG
85-264Vac
15V
100W
LS4601-9ERG
85-264Vac
24V
100W
LS5320-9ERG
85-264Vac
12V
12V
100W
LS5540-9ERG
85-264Vac
15V
15V
100W
LS5660-9ERG
85-264Vac
24V
24V
100W
Downloads
Click on the link below for an instant download.

We would love to know more about the problem you are trying to solve
Our experts are on hand to help you find the best solution!
why choose relec?
Faster

Our aim is to get back to you with an initial response within the hour.

Attention to detail

We pride ourselves on getting you the right product, at the right price and on time.

New ideas

We are constantly looking for latest technology and products for your applications.

Beyond standard

It's not just about the product.  Our service goes way beyond the norm.

Easy

We want to make your life as simple as it can be. Call us to find out what we can offer.
sign up for our newsletter
Enter your email address below