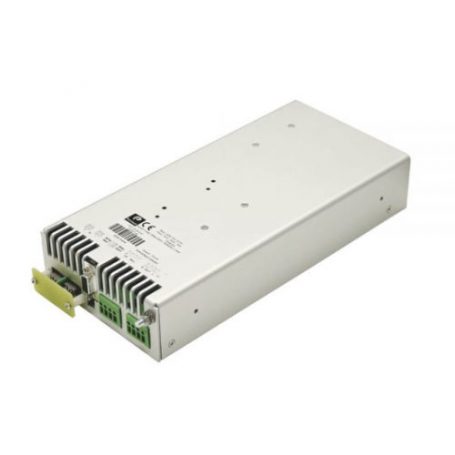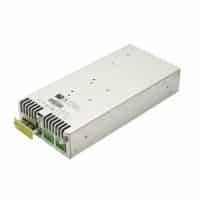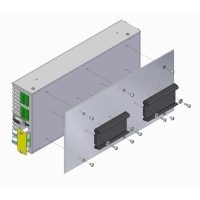 ODS-750 Series
Input: 12/24/36/48/72/110Vdc
Outputs: 120 or 230Vrms ac
Power: 750 VA
Tamb: -25 to 70°C
Dims: 292 x 130 x 49.6mm
EN62368 / EN50155 Approved
have a question? call us now
APPLICATION
The Premium ODS-750 inverter is a 120Vac or 230Vac output dc ac converter. The frequency can be set to 50Hz or 60Hz via a DIP switch, the input and output are galvanically isolated.
The ODS-750 consists of two cascaded converters, one dc dc generating an intermediate output volatage from the input voltage. The intermediate voltage is then inverted to supply the output voltage and frequency by means of a dc ac converter.
The topology for the first converter is a fixed frequency push-pull type that provides the isolation between input and output. The second converter consists of a bridge inverter also at fixed frequencyand fully PWM controlled by means of a microcontroller that is equiped with an LC output filter that removes the switching frequency components and delivers a sine-wave output.
The ODS-750 inverter is equipped with input polarity protection by means of fuse. It also featues maximum average power protection as well as maximum output peak current protection. This protects the semiconductors even when an output short-circuit occurs. it also features a disable function for input undervoltage, which protects the batteries from harmful discharges.
Ten M3 threaded holes holes are provided for chassis mounting in different positions, with the optional base and 2 x DIN rail clips it can be mounted on a standard DIN rail.
The ODS-750-72xx-T version is designed for railway applications to EN50155; EN50121-3-2; EN50121-4.
feature list
Sine wave output (THD < 2%)
Selectable output frquency: 50/60Hz
Adjustable output voltage
High efficiency > 85%
High input/output isolation: 3kVrms
Output overload protection
Input overcurrent fuse (12 & 24V versions require external fusing)
Internal over temperature protection
Battery undervoltage protection
Input & output alarm
Remote inhibit
Three-phase syncronization
Cooling by internal variable speed fan
Approvals: EN62368; EN50155; EN61000; Railway version to EN50155; EN50121-3-2; EN50121-4; Option for RIA12
MTBF: 160,000h
Operating temperature* range: -20 to +70°C (50% load); -20 to 55°C (full load)
* Operation down to -40oC provided that it is not actuated over the connectors below -25oC
3 year warranty for standard products
5 year warranty for the railway versions
| MODEL NUMBER | INPUT RANGE | OUTPUT | POWER |
| --- | --- | --- | --- |
| ODS-750-7271 | 9.5-15VDC | 230Vac | 750VA |
| ODS-750-7273 | 16.8-30VDC | 230Vac | 750VA |
| ODS-750-7274 | 25.2-45VDC | 230Vac | 750VA |
| ODS-750-7275 | 33.6-60VDC | 230Vac | 750VA |
| ODS-750-7276 | 50.4-90VDC | 230Vac | 750VA |
| ODS-750-7277 | 77-138VDC | 230Vac | 750VA |
why choose relec?
Faster

Our aim is to get back to you with an initial response within the hour.

Attention to detail

We pride ourselves on getting you the right product, at the right price and on time.

New ideas

We are constantly looking for latest technology and products for your applications.

Beyond standard

It's not just about the product.  Our service goes way beyond the norm.

Easy

We want to make your life as simple as it can be. Call us to find out what we can offer.
sign up for our newsletter
Enter your email address below