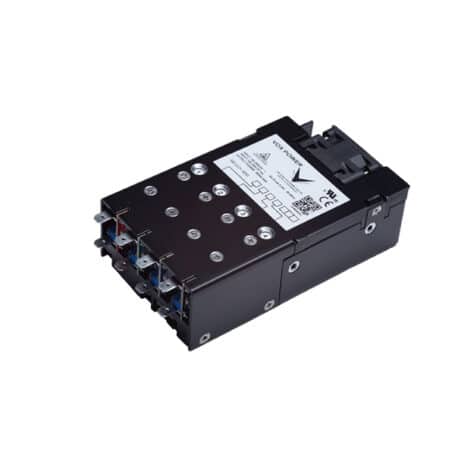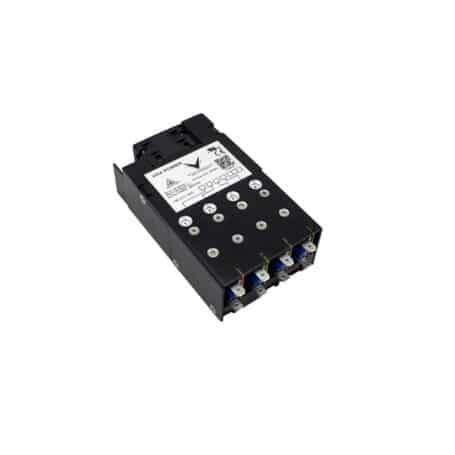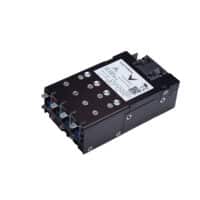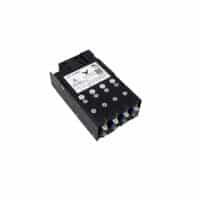 NEVO+600S Series
Input: 85-264Vac
Outputs: 5 to 48Vdc
Power: 600 Watt
Tamb: -20°C to +70°C
Dims: 133.7 x 77.7 x 41 mm
IEC60950 Ed. 2 & IEC62368-1 Ed. 2 Approved
3 Year warranty
have a question? Contact us now
APPLICATION
The NEVO+600S, the groundbreaking modular configurable power supply, sets the standard for compact efficiency, standing as the smallest in its class.
Tailored for demanding industrial applications where size, power density, and weight are paramount, it's a dynamic solution that embodies the best of modern technology. Despite its lightweight frame of only 600 grams and compact dimensions of 5″ x 3″ x 1.61″, it delivers an impressive 600 Watts, translating to an extraordinary power density of 25 Watts per cubic inch.
Intelligent fan control, wide output voltage adjustment, and options for parallel and series connection of modules combine to offer optimal versatility. Moreover, an isolated 5V 1A bias supply is included as a standard feature. For applications requiring the utmost in noise control, a low-noise fan option ensures that the NEVO+600S operates seamlessly, even in the most noise-sensitive environments.
The NEVO+600S modular configurable power supply is meticulously engineered for a broad spectrum of applications where precision, performance, and adaptability are key. In the domain of Test & Measurement and Laboratory & Analysis, it offers unparalleled accuracy and efficiency. Its fine-tuned control and robust design make it a preferred choice for LED lighting, Robotics, and various Display technologies.
feature list
600 Watts output power
Constant current or voltage operation
User and field configurable
Power density of (25W/in³)
Parallel & series connection of modules
Low noise option (SL version)
Smallest modular footprint
Series Tracker and I2C options
3 Year warranty
MODEL NUMBER
INPUT RANGE
OUTPUT
POWER
NEVO+600S
85-264VAC
600W
OP1
5Vdc nom (1.5 - 7.5Vdc adj)
125W
OP2
12Vdc nom (4.5 - 15Vdc adj)
150W
OP3
24Vdc nom (9 - 30Vdc adj)
150W
OP4
48Vdc nom(18 - 58Vdc adj)
150W
OP5
2 x 12Vdc nom (3.3 - 15Vdc adj)
2 x 75W
OP8
2 x 24Vdc nom (23.2 - 24.7Vdc adj)
2 x 75W
OPA2*
12Vdc nom (4.5 - 15Vdc adj)
300W
OPA3*
24Vdc nom (9 - 30Vdc adj)
300W
*Can only be used with NEVO+600 chassis with date codes from 2048 onwards.
Downloads
Click on the link below for an instant download.

We would love to know more about the problem you are trying to solve
Our experts are on hand to help you find the best solution!
why choose relec?
Faster

Our aim is to get back to you with an initial response within the hour.

Attention to detail

We pride ourselves on getting you the right product, at the right price and on time.

New ideas

We are constantly looking for latest technology and products for your applications.

Beyond standard

It's not just about the product.  Our service goes way beyond the norm.

Easy

We want to make your life as simple as it can be. Call us to find out what we can offer.
sign up for our newsletter
Enter your email address below