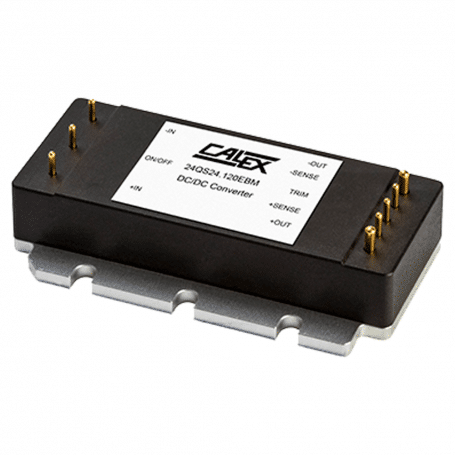 EBM Series
Input: 9 - 36V dc
Outputs: 5 - 24V dc
Power: 120 Watt
Tamb: -40°C to +85°C
Dims: 1/8th Brick
High Efficiency up to 92%
have a question? call us now
APPLICATION
The EBM Series of isolated DC-DC converters feature a single 120W isolated output, from an input voltage range of 9V – 36Vdc in an industry standard eighth-brick package.
Two baseplate options are available including "flanged with slots" for mechanical fixing to a heatsink surface and "without flange" for minimal board space consumption. Positive and Negative on/off logic variants are also available.
The EBM Series is designed for applications in the Industrial/Transportation area, and ideally suited to accept the input from a 12V or 24V battery. The output voltage can be trimmed +/-10% via external resistor. The EBM series deliver fast settling to transient step loads and demonstrate no adverse effects from higher capacitive loads. The EBM also incorporates a full set of self-protection features including under-voltage lockout, over-temperature shutdown, current limit and short circuit protection.
feature list
Ideal for Industrial, Railway & Transportation Applications
Input voltage 9 - 36V dc with 5V, 12V or 24V dc out
High efficiency up to 92%
2000VAC I/O Isolation, Basic Insulation
Standard 1/8 brick package, DOSA footprint
Overload Protection
Over-temperature Protection
Under Voltage Shutdown
Remote On/Off, Voltage sense compensation
Two baseplate options, with or w/o flange
-40 to 85°C Operating temperature range
RoHS Compliant
MODEL NUMBER
INPUT RANGE
OUTPUT
POWER
24QS5.120EBM
24QS5.120EBM-N
24QS5.120EBM-B
24QS5.120EBM-NB
9 - 36V dc
5V dc
120W
24QS12.120EBM
24QS12.120EBM-N
24QS12.120EBM-B
24QS12.120EBM-NB
9 - 36V dc
12V dc
120W
24QS24.120EBM
24QS24.120EBM-N
24QS24.120EBM-B
24QS24.120EBM-NB
9 - 36V dc
24V dc
120W
On/Off Logic
N = Negative
Blank = Positive

Cooling
Blank = Flanged Baseplate
B = No Baseplate

why choose relec?
Faster

Our aim is to get back to you with an initial response within the hour.

Attention to detail

We pride ourselves on getting you the right product, at the right price and on time.

New ideas

We are constantly looking for latest technology and products for your applications.

Beyond standard

It's not just about the product.  Our service goes way beyond the norm.

Easy

We want to make your life as simple as it can be. Call us to find out what we can offer.
sign up for our newsletter
Enter your email address below