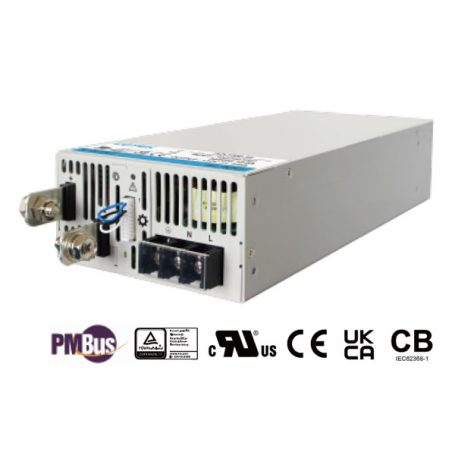 AD 1500 Series
Input: 90-264VAC
Outputs: 12 to 60VDC - Digital Control
Power: 1500 Watt
Tamb: -20 to 60°C
Dims: 280 x 127 x 64mm
Supports PMBus, MODBUS, RS485, and I2C protocol
have a question? call us now
APPLICATION
The AD 1500 Series of Switching Power Supplies are fully digital single output AC-DC Converters. Fully enclosed cases with integrated cooling fans, compact size, and high reliability make the AD 1500 Series an excellent choice when a Chassis Mountable AC-DC Converter in space-critical applications is required. Safety Approvals and EMC fully comply with worldwide requirements.
Full digital control through RS-485, CANBus, MODBus, PMBus or I2C provides the ultimate levels of control and monitoring, with an option for Ethernet control likely to be available soon.  An inbuilt EEProm memorises PSU settings, even after the power supply has been shut down.  Built in ORing FETS allow units to be wired in parallel with the need fo any external components.
Key applications include Factory Automation, Off-Site test, and Measurement/Battery Charging. The AD-1500 series meets EN/UL62368-1 & EN55032/55035 Safety & EMC standards.
Contact Relec's Technical Sales Team today for expert advice, and a quote on any of our Cotek products.
feature list
Universal AC Mains Input
Regulated, Single Outputs: 12V, 15V, 24V 30V, 36V 48V & 60VDC
+5V 1.0A auxiliary output
1500W AC-DC Chassis Mount Converters
Programmable output voltage and current limit
Current sharing with parallel operation
Constant current, current limit
Built-in OR'ing FETs for redundancy
Supports Parallel operation via CANBUS
Programmable output voltage & current 0~105%
Power OK signal (built-in isolation circuit)
Remote on/off & sense
Intelligent GUI to set and monitor parameters - (Coming Soon!)
Supports PMBus, MODBUS, RS232/485, and I2C protocol
Built-in EEPROM to memorize power supply settings
Protection: OVP, OLP, OTP, UTP, AC Failure, Power and Fan Failures
Optional Changeable interface cards: A23, A24, C11 & Ethernet (coming soon!)
MODEL NUMBER
INPUT RANGE
OUTPUT
POWER
AD-1500-12-A23
AD-1500-12-A24
AD-1500-12-C11
90-264VAC
250-370VDC
12V
1500W
AD-1500-15-A23
AD-1500-15-A24
AD-1500-15-C11
90-264VAC
250-370VDC

15V
1500W
AD-1500-24-A23
AD-1500-24-A24
AD-1500-24-C11
90-264VAC
250-370VDC
24V
1500W
AD-1500-30-A23
AD-1500-30-A24
AD-1500-30-C11
90-264VAC
250-370VDC
30V
1500W
AD-1500-36-A23
AD-1500-36-A24
AD-1500-36-C11
90-264VAC
250-370VDC
36V
1500W
AD-1500-48-A23
AD-1500-48-A24
AD-1500-48-C11
90-264VAC
250-370VDC
48V
1500W
AD-1500-60-A23
AD-1500-60-A24
AD-1500-60-C11
90-264VAC
250-370VDC
60V
1500W
Hardware (Interface changeable):
A23 / A24 : Support Parallel connection
C11 : Single unit only
Ethernet version : Coming soon
Communication protocol :
A23 : UART (RS-485), and PMBus
A24: UART (RS-485 and I2C)
C11 : UART (RS-485), and Analogue Pots
why choose relec?
Faster

Our aim is to get back to you with an initial response within the hour.

Attention to detail

We pride ourselves on getting you the right product, at the right price and on time.

New ideas

We are constantly looking for latest technology and products for your applications.

Beyond standard

It's not just about the product.  Our service goes way beyond the norm.

Easy

We want to make your life as simple as it can be. Call us to find out what we can offer.
sign up for our newsletter
Enter your email address below