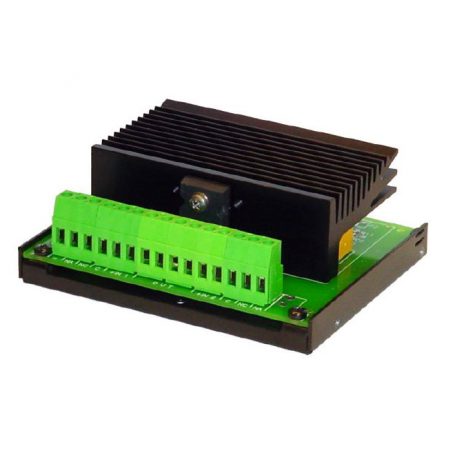 ACD15 Series
Input: 12V, 24V, 48V or 110V dc
Outputs Vin -0.8V @ Imax
Power: Imax 16A to 30A
Tamb: -25 to 60°C
Dims: 100 x 80 x 29.9mm
Redundancy module with failure alarms
Request a sample
have a question? Contact us now
APPLICATION
When the power of a application requires a very high reliability is advisable to accomplish a redundant assembly of the two power supplies or converters. An optimum way of making this is to use two power supplies of the required power connected to the load through diodes. If one of the two supplies falls, the other maintains the application in operation and the diode of the one which has failed blocks the current step toward it.
feature list
DIN rail or chassis mount redundant modules
Diode ORing
Low forward voltage drops
Failure alarm independent for each input
Output failure alarm by isolated contacts relay
Different standard mounting options
| MODEL NUMBER | INPUT RANGE | OUTPUT | Current |
| --- | --- | --- | --- |
| ACD-15-9223 | 0 to 15V dc (12V nom) | Vin - 0.3V | 30A |
| ACD-15-9157 | 0 to 31V dc (24V nom) | Vin - 0.6V | 25A |
| ACD-15-9158 | 0 to 60V dc (48V nom) | Vin - 0.8V | 16A |
| ACD-15-9160 | 0 to 138V dc (110V nom) | Vin - 0.8V | 16A |
Downloads
Click on the link below for an instant download.

We would love to know more about the problem you are trying to solve
Our experts are on hand to help you find the best solution!
why choose relec?
Faster

Our aim is to get back to you with an initial response within the hour.

Attention to detail

We pride ourselves on getting you the right product, at the right price and on time.

New ideas

We are constantly looking for latest technology and products for your applications.

Beyond standard

It's not just about the product.  Our service goes way beyond the norm.

Easy

We want to make your life as simple as it can be. Call us to find out what we can offer.
sign up for our newsletter
Enter your email address below