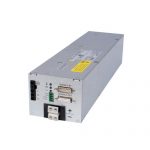 High Power PSUs for Industrial applications
Relec Electronics is pleased to introduce Bel Power Solutions high-power portfolio of rack mount and chassis mount power supplies.  The TCP3500 and TXP3500 family includes the fanless TCP3500 modules and fan cooled TXP3500, both of which deliver a maximum of 3500 Watts.
The TCP3500 and TXP3500 series are suitable for industrial, laser, plasma generators, as well as process and control applications. The TCP3500 and TXP3500 Series of industrial converters employ a PFC stage and an isolated DC-DC stage to convert worldwide 3-phase input voltage (180 – 528 VAC) to an adjustable low voltage rail, suitable for  fast dynamic and pulsed loads (up to 100 kHz).
RS485 bus communication is available to command, monitor and provide diagnostic information that can be used to interface with a system controller. These converters supply a maximum of 3500 W using conduction cooling/cold plate (TCP3500) or fan cooling (TXP3500) with an adjustable output from 10- 50 VDC and fast output voltage set response time (5 ms), with active or passive current sharing.
Dimensions are 410 x 85 x 103 mm and up to 16 units can be connected in parallel (~50 kW). The TCR-4-48G is a liquid-cooled 19″ rack system that can combine up to four TCP3500 modules in a system that can supply a maximum of 14 kW in each rack, and four racks can be combined for 50.4 kW of output power.
Contact our technical team for more information.
READ MORE
READ LESS
why choose relec?
Faster

Our aim is to get back to you with an initial response within the hour.

Attention to detail

We pride ourselves on getting you the right product, at the right price and on time.

New ideas

We are constantly looking for latest technology and products for your applications.

Beyond standard

It's not just about the product.  Our service goes way beyond the norm.

Easy

We want to make your life as simple as it can be. Call us to find out what we can offer.
sign up for our newsletter
Enter your email address below