IPS TFT Displays from Relec Electronics
2nd July 2017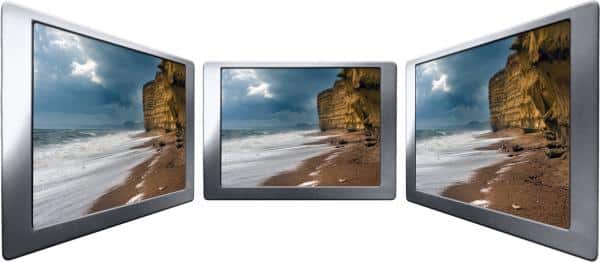 IPS (In-Plane Switching) technology was designed to solve the main limitation of conventional TN (Twisted Nematic) TFTs, i.e. restricted viewing angles and grey scale inversion when viewed away from the preferred viewing direction. Instead it offers a complete viewing angle from any direction. IPS involves arranging and switching the alignment of the crystal molecules between the glass substrates, this change reduces the amount of light scatter in the matrix.  The benefits of wide viewing angles is not just having the perfect colour balance from every viewing point, but also allowing the LCD to be mounted in either landscape or portrait orientation.
The newest offering in Relec's displays portfolio comes from our partner, DigiWise.  This is a range of 7" TFTs that incorporate IPS technology and a very high resolution of 1024×600, built to the higher standards required for industrial applications as achieved by our other LCDs.  Further features & optical performance of this range are:
7" 1024 x 600 (WSVGA) resolution
Active area dimension of 154.21 x 85.92mm
6-bit LVDS interface
Wide operating temperature range: -20°C to +70°C
800:1 contrast ratio
IPS technology for complete viewing angles
Brightness level options: 600 cd/m² or 1500 cd/m²
Anti-glare surface treatment
Long life LED backlight: up to 70k hours
There are two different options available in the 13-070XILB0G, both units offer all the above features, with the only difference being the level of brightness. The 13-070XILB0GH1-S has a brightness level of 600 cd/m² suited to most indoor and ambient light environments; whereas the 13-070XILB0GH6-S has an extremely high brightness of 1500 cd/m² aimed at outdoor applications and direct sunlight environments, such as marine, drone surveillance and portable instrumentation.
Both of these new modules are available with various options that can further enhance the displays performance depending on your application. Options such as:
Touch panels, either resistive or projective capacitive
Optical Bonding for improved ruggedness & daylight viewing
Surface treatments for: Anti-fingerprint; Anti-bacterial; Anti-glare
Conductive mesh to enhance EMC immunity
Custom interface cards for connecting directly to a PC, with all cables
Thick cover glass for additional protection & the option of custom printing the glass
For further information or to discuss your application with one of our experienced team members please contact our technical sales team: e-mail sales@relec.co.uk or telephone 01929 555800.
John Stone
Sales Director
sign up for our newsletter
Enter your email address below
why choose relec?
Faster

Our aim is to get back to you with an initial response within the hour.

Attention to detail

We pride ourselves on getting you the right product, at the right price and on time.

New ideas

We are constantly looking for latest technology and products for your applications.

Beyond standard

It's not just about the product.  Our service goes way beyond the norm.

Easy

We want to make your life as simple as it can be. Call us to find out what we can offer.