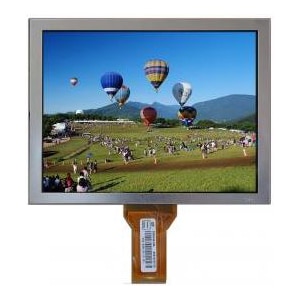 5.7" QVGA TFT LCD Display
Screen size: 5.7″
Aspect Ratio: 4:3
Active area: 115.2(W) x 86.4(H) mm
Resolution: 320 x 240 
Interface: TTL 18-bit RGB
Brightness: 480cd/m2 – 1500cd/m2
Touch Panel Options: PCAP & Resistive
Operating Temperature -20°C to +70°C
have a question? Contact us now
APPLICATION
The 5.7″ QVGA TFT LCD Display has been historically a popular size in industrial and automation applications. RELEC's range covers all options to maintain equipment that utilises this size screen. Exceptionally high brightness of 1500 cd/m2 make it even suitable for outdoor and even under direct sunlight applications.
Further modifications are available on these 5.7″ TFT LCD Display, to enhance the performance. Options include; Optical Bonding, Custom Cover Lens Design, Screen Enhancements, Mounting Frames, Adaptor Boards, Custom Cables and Enhancement Films.
For the Custom Cover Lens Design, this has a variety of options, including custom size, shape and design, apertures for other connections, thick and strengthened glass and custom printing.
Options – customise your display
feature list
Brightness options from 480 to 1500cd/m2
Resolution of 320 x 240
Low Power Consumption
262K colours
TTL 18-bit RGB Interface
Operating temperature range -20°C to +70°C
Storage temperature range -30°C to +80°C
Module Supply Voltage: 3.3 Vdc
Contrast Ratio: 500
Viewing Direction: 6 o'clock & 12 o'clock
LED Life time: 50,000 hours
MODEL NUMBER
INTERFACE
BRIGHTNESS
(CD/M2)
OPERATING TEMP (°C)
TOUCH
13-057QMTB4GF0-S
TTL 18-bit RGB
480
-20 to +70
Resistive
13-057QMTB0GF0-S
TTL 18-bit RGB
600
-20 to +70
None
13-057QMTB4RG0-S
TTL 18-bit RGB
640
-20 to +70
Resistive
13-057QMTBEAG0-S
TTL 18-bit RGB
750
-20 to +70
PCAP
13-057QMTB00G0-S
TTL 18-bit RGB
800
-20 to +70
None
13-057QMTB4RG1-S
TTL 18-bit RGB
1200
-20 to +70
Resistive
13-057QMTB00G1-S
TTL 18-bit RGB
1500
-20 to +70
None
why choose relec?
Faster

Our aim is to get back to you with an initial response within the hour.

Attention to detail

We pride ourselves on getting you the right product, at the right price and on time.

New ideas

We are constantly looking for latest technology and products for your applications.

Beyond standard

It's not just about the product.  Our service goes way beyond the norm.

Easy

We want to make your life as simple as it can be. Call us to find out what we can offer.
sign up for our newsletter
Enter your email address below