Antibacterial Touchscreen Treatments
21st April 2020
Antibacterial Touchscreen Treatments
The spread of bacterial infections from hand contact is the clear message in our Covid-19 dominated world, and the increasing use of public touch screens, puts their use from a public hygiene perspective at the forefront of the agenda. Antibacterial touchscreen treatments can significantly reduce the spread of infections.
Applying an anti-bacterial surface treatment on PCAP touch panels or displays, reduces bacterial reproduction by up to 99.99%. This treatment is becoming increasingly popular not just in medical devices, but also POS (point-of-sale), kiosks, ATMs & ticket machines.
Relec's partners at Rocktouch, have developed an antibacterial touchscreen treatment which meets the requirements of the JIS Z 2801 standard for testing the ability of plastics, metals, ceramics and other antimicrobial surfaces to inhibit the growth of microorganisms or kill them.
In accordance with the test standards of JIS Z 2801, both treated and non-treated glass are covered with the same number of bacteria (Staphylococcus aurous, Escherichia coli), and after 24 hours, a comparison is made of their ability to reproduce. Tests show that the reproduction rate is reduced by more than 99.99%
The Rocktouch antibacterial treatment can be applied to any top glass cover lens (standard or custom) over the entire PCAP and TFT portfolio. We also offer a range of other surface treatments including Anti-fingerprint and Anti-glare coatings. Our engineers here at Relec are available today to talk you thorough your display application and find the best solution for your project.
New 10.4" IPS TFT Display
Relec Electronics are pleased to announce the availability of a new 10.4" IPS display with 4:3 aspect ratio with an XGA 1024×768 resolution. The 13-104GIEB0GB1-S offers brightness levels of up to 1000 cd/m2, and excellent contrast ratios. It features an 8-bit LVDS interface and wide operating temperature range from -30°C to +70°C. This display also comes with frame mounting holes, which have been designed to be compatible the CPT CLAA104XA02CW, as well as having the same active area and overall dimensions.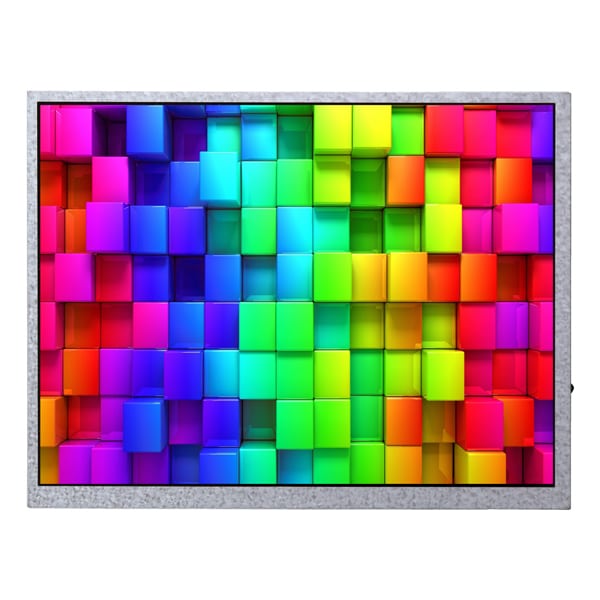 High Brightness & contrast ratio
Wide viewing angle
Resolution 1024×768 pixels
Built in LED Driver
16.7M colours
Operating temperature range -30°C to +70°C
Typical contrast ratio 900:1
Viewing direction: free direction
Module supply voltage: 3.3 Vdc
LED Backlight supply voltage: 12 Vdc, 750mA, 9 W
In addition to offering standard displays we can also offer customize the display with PCAP touchscreens together with optical bonding, surface treatments and/or custom cover lenses.
GET IN TOUCH TODAY – 01929 555700
Here at Relec Electronics, we have worked closely with our key suppliers for over 40 years. We specialise in many industries, including; automotive, industrial, transportation, instrumentation & defence. We have a team of dedicated engineers ready to support you throughout the design process. We also carry stock of all standard modules and accessories for next day delivery.
Let's make this easy and call us today.
Follow us on Facebook, LinkedIn & Twitter for updates on all of the latest Power Conversion products.
Sign up to our monthly newsletter below, and never miss out on our updates of industry news, we release news/blog pages weekly with news from the power and display industries.
Relec Electronics holds the highest standards towards finding you the ideal solution for your application. We truly believe "Standard is Just the Beginning". Get in touch with our technical team today.
sign up for our newsletter
Enter your email address below
why choose relec?
Faster

Our aim is to get back to you with an initial response within the hour.

Attention to detail

We pride ourselves on getting you the right product, at the right price and on time.

New ideas

We are constantly looking for latest technology and products for your applications.

Beyond standard

It's not just about the product.  Our service goes way beyond the norm.

Easy

We want to make your life as simple as it can be. Call us to find out what we can offer.