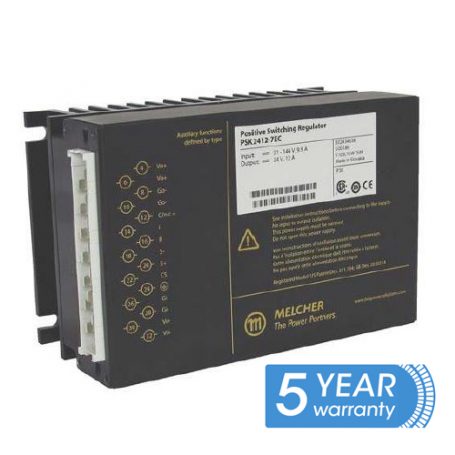 PSK Series
Input: Wide input to 144V
Outputs: 5 to 48Vdc
Power: up to 576 Watt
Tamb: -40 to 70°C
Dims: 168 x 111x 80mm (3U x 16TE)
UL / CE EN60950 Approved
5 year warranty
Request a sample
have a question? call us now
APPLICATION
The Melcher PSK series switching regulators by Bel Power are ideal converters for harsh environments, or applications where high reliability and efficiency are essential. Typical applications include railways, military, industrial, telecoms as well as more general transportation applications.
Conformal coating on all PCBs make the PSKseries converters suitable for applications all over the world, from extreme cold to very high humidities, the PSK series will offer long term reliable solutions.
PSKseries converters are suitable for EN50155 and EN50121 railway applications where input to output isolation is not required, such as lighting, wiper control and door interlocks. Further information is available on request.
feature list
PSKseries positive switching regulators utilize a robust, non-isolated topology that provides high power-conversion efficiency across a wide range of operating conditions. These products feature conformally-coated PCB assemblies and are ideal power sources for a broad array of rugged and industrial environment applications.

Additional features include:

High levels of power-conversion efficiency remain virtually constant over the entire input-voltage range.

Wide output adjustment ranges, high reliability, low output ripple, no minimum load operation, and excellent dynamic response.

PSKs can be optimized for specific applications through wide-range output voltage adjustments and a variety of readily available options and accessories.

Products with input voltages up to 144V are specially designed for secondary switched and battery-driven mobile applications.

No power derating over the entire operating temperature range; -40 to 71°C extended-temperature-range options.

5 year warranty
| MODEL NUMBER | INPUT RANGE | OUTPUT | POWER |
| --- | --- | --- | --- |
| PSK5A20-9ECKG | 8-80VDC | 5.1V | 100W |
| PSK1212-9 | 18-144VDC | 12V | 144W |
| PSK1216-9 | 15-80VDC | 12V | 192W |
| PSK1220-9 | 15-80VDC | 12V | 240W |
| PSK2412-9 | 31-144VDC | 24V | 288W |
| PSK2416-9 | 29-80VDC | 24V | 384W |
| PSK2420-9 | 29-80VDC | 24V | 480W |
| PSK3612-9 | 44-144VDC | 36V | 432W |
| PSK3616-9 | 42-80VDC | 36V | 576W |
| PSK3620-9 | 42-80VDC | 36V | 720W |
| PSK4812-9 | 58-144VDC | 48V | 576W |
why choose relec?
Faster

Our aim is to get back to you with an initial response within the hour.

Attention to detail

We pride ourselves on getting you the right product, at the right price and on time.

New ideas

We are constantly looking for latest technology and products for your applications.

Beyond standard

It's not just about the product.  Our service goes way beyond the norm.

Easy

We want to make your life as simple as it can be. Call us to find out what we can offer.
sign up for our newsletter
Enter your email address below