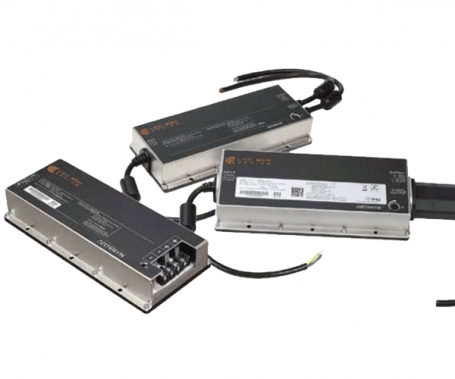 LCC600 Series
Input: 90 - 264/90-305Vac
Outputs: 12 to 54Vdc
Power: 600 Watt
Tamb: -40 to 85˚C
Dims: 101 x 228 x 40mm
UL / CE Approved
have a question? Contact us now
APPLICATION
The LCC600 Series of fully enclosed conduction cooled AC-DC power supplies comprises four models, offering main output voltages of 12 V, 28 V, 36 V or 48 V. Each model also provides a 5 Vdc standby output that can supply up to 1.5 amps.
Rated at 600 watts, these power supplies incorporate a thermal baseplate and are capable of delivering full output power over a wide operating temperature range of -40 to 85˚C. For maximum applications flexibility, the main output is adjustable. The 48 V model, for example, can be adjusted from 44 to 54 V and has a maximum current rating of 12.5 amps.
These power supplies feature a universal 90–264 Vac input and are optionally available with a 180–305 Vac input for use in three-phase mains input applications with a 277 Vac Line-to-Neutral configuration.
LCC600 Series power supplies have a compact 4 x 9 inch (101 x 228 mm) footprint and a height of just 1.57 inches (40 mm), and are suitable for the harshest of enviroments.
All LCC600 series power supplies feature a PMBus™-compliant I2C communication interface to facilitate remote set-up and monitoring. A built-in EEPROM is provided for storing manufacturing and customer data.
feature list
600W full power at elevated temperatures
Wide operating temperature range
(-40 °C to 85 °C baseplate)
Adjustable output
Remote output On/Off
AC_OK; DC_OK signals
5 V standby voltage
Active current share
Conduction-cooled/fanless
I2C / PMBus
Medical and ITE Safety3
Suited for BF-type applications
Active power factor correction
Optional IP65 variant
Optional 277 Vac input variant
MODEL NUMBER
INPUT RANGE
OUTPUT
POWER
LCC600-12H-9P
180-305VAC
254-420VDC
12V
600W
LCC600-12U-9P
90-264VAC
127-374VDC

12V
600W
LCC600-28H-9P
180-305VAC
254-420VDC
28V
600W
LCC600-28U-9P
90-264VAC
127-374VDC
28V
600W
LCC600-28U-9P24
90-264VAC
127-374VDC
24V
600W
LCC600-36H-9P
180-305VAC
254-420VDC
36V
600W
LCC600-36U-9P
90-264VAC
127-374VDC
36V
600W
LCC600-48H-9P
180-305VAC
254-420VDC
48V
600W
LCC600-48U-9P
90-264VAC
127-374VDC
48V
600W
LCC600-48U-4PD
90-264VAC
127-374VDC
54V
600W
Downloads
Click on the link below for an instant download.

We would love to know more about the problem you are trying to solve
Our experts are on hand to help you find the best solution!
why choose relec?
Faster

Our aim is to get back to you with an initial response within the hour.

Attention to detail

We pride ourselves on getting you the right product, at the right price and on time.

New ideas

We are constantly looking for latest technology and products for your applications.

Beyond standard

It's not just about the product.  Our service goes way beyond the norm.

Easy

We want to make your life as simple as it can be. Call us to find out what we can offer.
sign up for our newsletter
Enter your email address below