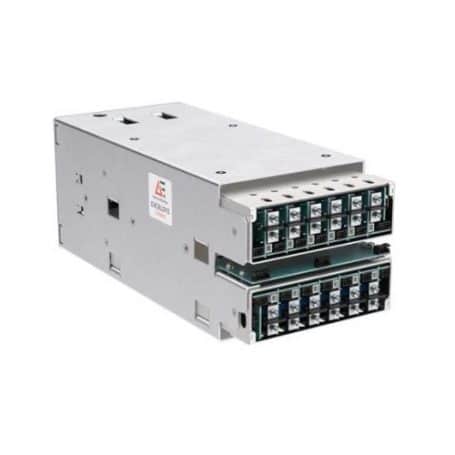 CoolX3000 Series
Input: 85-264Vac
Outputs: 1 to 24, 2.5 to 58V dc
Power: 3000 Watt
Tamb: -40°C to +60°C
Dims: 300 x 131 x 120 mm
UL / EN62368-1 EN60601 (2xMOPP)
have a question? call us now
APPLICATION
The CoolX3000 is the latest modular power supply from Advanced Energy and offers system designers the most comprehensive feature set and specifications while delivering best in class performance and unrivalled reliability.
The CoolX3000 is available as either an IEC 63268-1 certified power supply unit for ITE and Audio-Visual applications or as an IEC60601-1 3rd edition & IEC60601-1-2 4th edition (EMC) certified unit for medical applications. The Cs3 is the standard unit which covers ITE and AV while the C3M features medical certification. The CoolX3000 is completely user and field configurable. Outputs can be adjusted to the required set point voltages using onboard potentiometers or digitally via PMBus and can be configured in parallel or series for higher current and/or higher voltages.
A complete power supply is configured by selecting and inserting up to 12 DC output modules into the CoolX3000 unit to build a user defined power supply. This offers the advantages of a custom supply but is assembled from standard and modular building blocks. If output requirements change modules can be reconfigured.
feature list
Up to 3000W
Up to 24 outputs
All outputs isolated (1850VAC)
Variable Fan Speed Control
MTBF >150000 hrs
91% Efficiency
23.5W Auxiliary Power
Safety Approved to 5000m Altitude
5 Year Warranty
Analog and Digital Management
- PMBus™ monitoring and control capability
Field Configurable
- Plug and Play Power
Series and Parallel Outputs
- Higher voltages/currents
Mounting Options
- Base/Side
Certification
- IEC60601-1 3rd Edition certified
- IEC60601-1-2 4th Edition EMC certified
- 2 MOPP
- Dual Fused

Industrial
- IEC62368-1 certified

MODEL NUMBER
INPUT RANGE
OUTPUT
POWER
C30S
85-264VAC
120-300VDC
Standard
12 Slots
3000W
C30M
85-264VAC
120-300VDC
Medical
12 Slots
3000W
CmA
-
2.5 - 6.0V
150W
CmB
-
6.0 -15.0V
280W
CmC
-
15.0 - 28.0V
300W
CmD
-
28.0 - 58.0V
300W
CmE
22.8 - 25.2V
900W
CmF
45.6 - 50.4V
900W
CmG (Dual)
3.0 - 30.0V
3.0 - 30.0V
120W
120W
CmH (Dual)
3.0 - 6.0V
3.0 - 30.0V
60W
120W
CmA-W01
-
1.0 - 6.0V
30A max

150W
CmB-W01
-
1.0 - 15.0V
23.3A max

280W
CmC-W01
-
1.0 - 28.0V
12.5A max
300W
CmD-W01
-
3.0 - 58.0V
6.25A max
300W
Downloads
Click on the link below for an instant download.
why choose relec?
Faster

Our aim is to get back to you with an initial response within the hour.

Attention to detail

We pride ourselves on getting you the right product, at the right price and on time.

New ideas

We are constantly looking for latest technology and products for your applications.

Beyond standard

It's not just about the product.  Our service goes way beyond the norm.

Easy

We want to make your life as simple as it can be. Call us to find out what we can offer.
sign up for our newsletter
Enter your email address below