The CFM500 Series, Taking the Heat Out of Development
26th October 2021
The CFM500 Series,
Compact, High-Power Density, Single Output AC-DC Power Modules
The CFM500 Series, compact, high-power density, single output AC/DC power modules from Cincon, optimise heat dissipation technology to reduce development time.
The CFM500 500W Power Modules are available from Relec Electronics. The compact, highly reliable AC-DC Power Modules are constructed with baseplate cooling which makes them suitable for a wide range of applications where fan cooling is not practical, for example, medical equipment or audio-visual applications such as mixing desks and live performance consoles.
Baseplate Cooling & Heat Dissipation Technology
Cincon's heat dissipation technology, using a baseplate cooling design, directs heat to the bottom of the power supply, where it can be dissipated into an external cold all or heatsink. The ability to develop thermally efficient power supplies can significantly shorten the development cycle and reduce time to market for products displaying minimal power loss and high efficiency.

The CFM500 series of power modules operate at up to 410W without fans at 70°C and have a universal input range of 90 ~ 264Vac.
Compact & Highly Reliable AC-DC Power Modules
Versions are available with different outputs from 12V to 48V and +5V standby output and 12V fan output as standard. All units meet regulatory approvals for various applications, namely EN62368-1 (industrial), EN60335-1 (household) and EN/UL60601 (medical) certified models.
The CFM500 power modules are available in cased and open frame versions and have active power factor correction (PFC)meeting EN61000-3-2 Class D. They also have high efficiency – up to 94.5% and high power density up to 20.9W/inch3.
Safety features include over-temperature protection, continuous short circuit protection, as well as Power Good and Power Fail signals.


The compact CFM500 power modules measure just 5" x 3" x 1.55" (127mm x 76mm x 39mm) and operate at a wide ambient temperature range of -40°C to +80°C.
Engineered to Meet Worldwide Safety Standards
Cincon Electronics Power Supplies are engineered to meet worldwide safety standards. All AC-DC Products and a variety of DC-DC Products are UL listed or recognised; TUV Approved and carry the CE Mark. Cincon also certifies to other international safety standards, including PSE and CCC, on request. Products are also designed to meet the various international EMI standards.
CFM500S/M Series from Cincon Power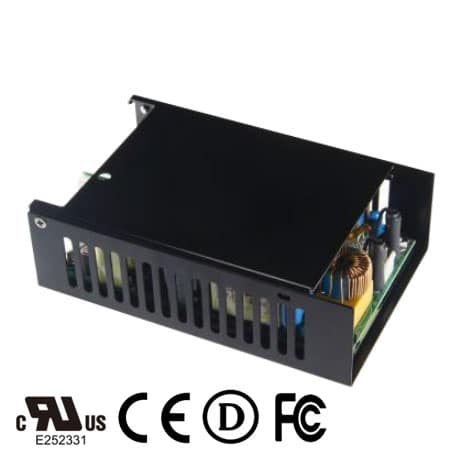 Input: 80 – 264V ac
Outputs: 12V to 48V
Power: 500 Watt
Tamb: -40°C to +80°C
Dims: 5″ x 3″ x 1.55″
IEC/EN/UL 62368-1 Approved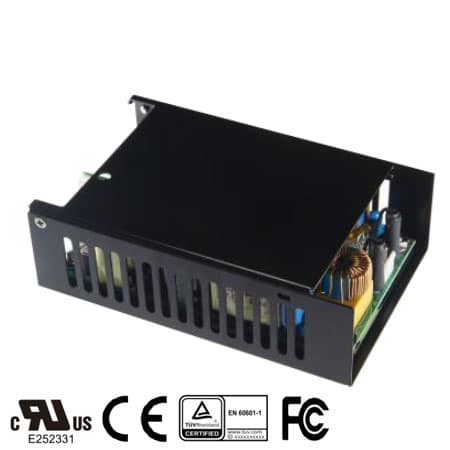 Input: 80 – 264V ac
Outputs: 12V to 48V
Power: 500 Watt
Tamb: -40°C to +85°C
Dims: 5″ x 3″ x 1.55″
IEC/EN/UL 60601-1 2 x MOPP Approved
GET IN TOUCH TODAY – 01929 555700
Here at Relec Electronics, we have worked closely with our key suppliers for over 40 years. We specialise in many industries, including; automotive, industrial, transportation, instrumentation & defence. We have a team of dedicated engineers ready to support you throughout the design process. We also carry stock of all standard modules and accessories for next day delivery.
Let's make this easy and call us today.
Follow us on Facebook, LinkedIn & Twitter for updates on all of the latest Power Conversion products.
Sign up to our monthly newsletter below, and never miss out on our updates of industry news, we release news/blog pages weekly with news from the power and display industries.
Relec Electronics holds the highest standards towards finding you the ideal solution for your application. We truly believe "Standard is Just the Beginning". Get in touch with our technical team today.


sign up for our newsletter
Enter your email address below
why choose relec?
Faster

Our aim is to get back to you with an initial response within the hour.

Attention to detail

We pride ourselves on getting you the right product, at the right price and on time.

New ideas

We are constantly looking for latest technology and products for your applications.

Beyond standard

It's not just about the product.  Our service goes way beyond the norm.

Easy

We want to make your life as simple as it can be. Call us to find out what we can offer.