Relec August 2018 Newsletter
16th August 2018
Our August newsletter looks at the recent introduction by Mornsun of the new and improved LDE & LHE series ac dc converters. The LDE and LHE series meet the new EN62368 safety standards, have improved thermal and EMC performance and also offer a step reduction in price. We also report on our presentation of a cheque for £10,450 to the Brain Tumour Charity as a result of funds raised on the Big Relec Bike Ride back in June.
Mornsun's new and improved LHE / LDE PCB mount ac dc converters
Relec Electronics is pleased to announce the release of Mornsun's upgraded LDE & LHE series PCB mount ac dc converters. The new product families are improvements to the already successful LD and LH series with the following additional benefits:
Wide operating temperature range – The LDE series has an operational temperature range of -40 to +70°C and the LHE series -40 to +85°C
High isolation – All LDE & LHE series products are designed and tested with 4000Vac isolation
EMC emissions– All LDE & LHE series products meet EN55032 class B for emissions without the need for additional components.
EMC immunity – The LDE series offer EFT immunity to 4kV and surge protection to 2kV without the need for external components.
Price – Typically 30% cheaper than the older series
The Mornsun LDE and LHE series converters are suitable for use in a wide variety of applications including street lighting, process control, grid power, instrumentation, communication and medical applications.  The units are footprint compatible with many other brands are generally available on a 4 – 5 week  lead-time.
We are confident that we will not be beaten on price against similar specification products.  Please give us a call today with details of your application and we will arrange to send you a couple of free of charge samples.
https://www.relec.co.uk/power-campaign/lhe_lhe_product-release_2018/
The Big Relec Bike Ride cheque presentation
We were delighted to welcome Katie Mosses and Sarah Lindsell from the Brain Tumour charity down to Wareham recently.  We were pleased to present them with a cheque for £10,450 which was made possible through your extremely generous donations supporting us on the Big Relec Bike ride from John O'Groats to Land's End back in June.
The ride was all about raising funds and awareness for the Brain Tumour Charity.  Every penny we raised does help in the fight against this terrible disease.  We were lucky enough to visit the research facilities at King's college and Edinburgh Royal infirmary to see first-hand just where the money you raised gets spent.
Our just giving page is still open, so if you've just found us please feel free to keep on donating.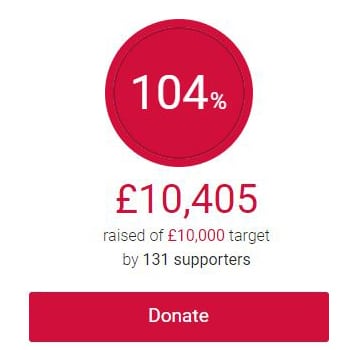 Thanks again for reading and see you next month where we will have some news on new fully isolated RS232/RS485 & CAN bus transceivers from Mornsun.
John Stone
Sales Director
sign up for our newsletter
Enter your email address below
why choose relec?
Faster

Our aim is to get back to you with an initial response within the hour.

Attention to detail

We pride ourselves on getting you the right product, at the right price and on time.

New ideas

We are constantly looking for latest technology and products for your applications.

Beyond standard

It's not just about the product.  Our service goes way beyond the norm.

Easy

We want to make your life as simple as it can be. Call us to find out what we can offer.