Mornsun R4 Series Miniature DFN DC-DC Converters
22nd May 2020
Mornsun R4 Series miniature DFN DC-DC Converters
Relec Electronics is pleased to announce the general availability of Mornsun's 4th Generation R4 Series DC-DC Converters now available in ultra miniature DFN (Dual-flat-no-lead) packages measuring just 9 x 7 x 3.1mm.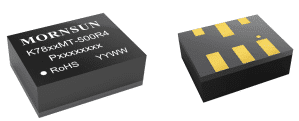 The R4 series DFN converters are currently available as non isolated switching regulators or unregulated DC DC converters with 3kV isolation.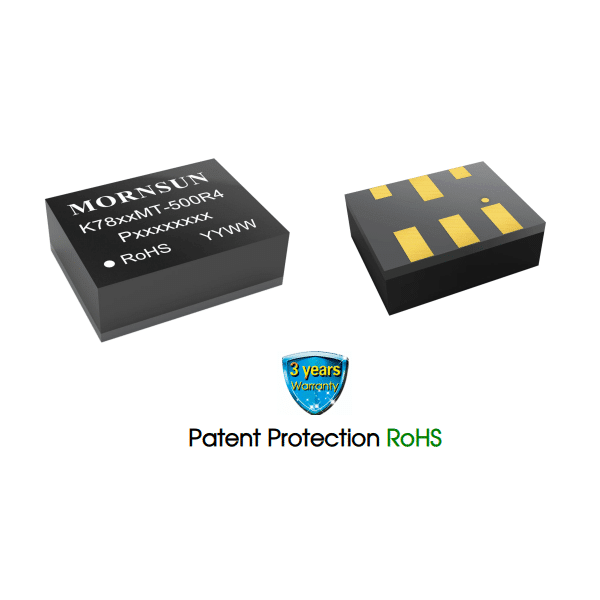 Input: 4.5 – 36Vdc
Outputs: 3 – 15V dc
Power: 1.65-7.5 Watt
Dims: 9.3 x 7.3mm DFN Package
Non-Isolated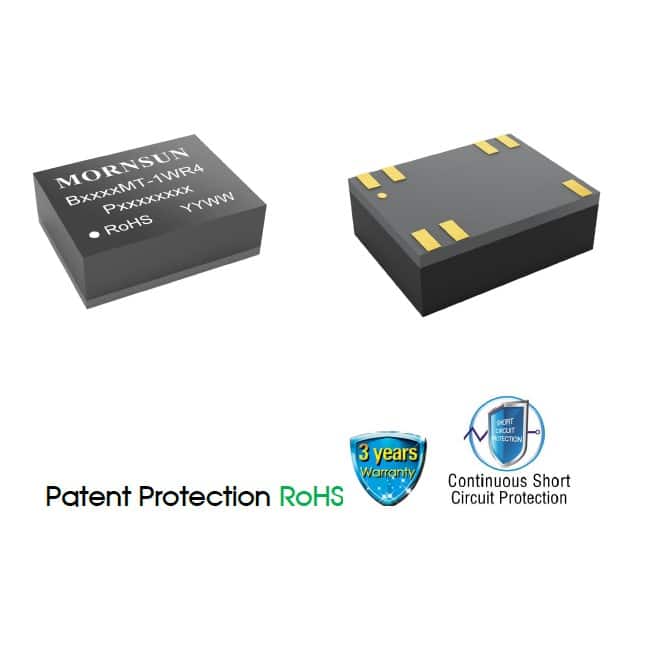 Input: 5V dc
Outputs: 5V dc
Power: 1 Watt
Dims: 9 x 7 x 1.3mm SMD DFN Package
Tamb: -40°C to +125°C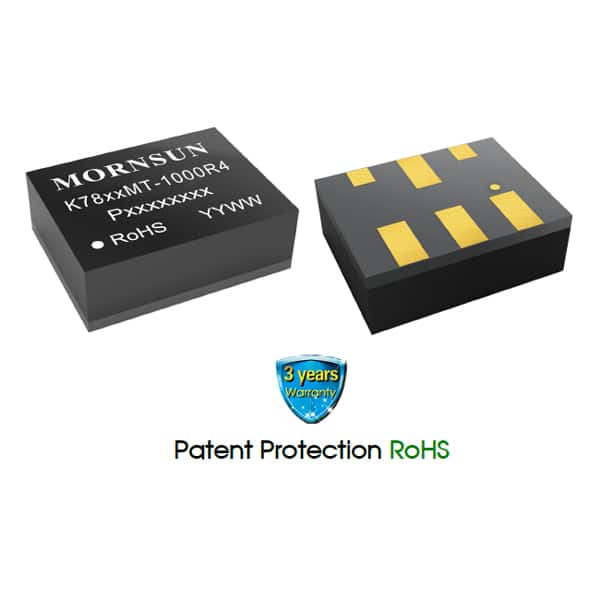 Input: 4.75 – 36Vdc
Outputs: 3 – 15V dc
Power: 3.30 – 15 Watt
Dims: 9 x 7 x 1.3mm SMD DFN Package
Non-Isolated
Mornsun's R4 series offer considerable advantages to both design and production engineers:
Reduced Footprint / Volume
Low cost / Short Delivery times
Very high efficiency
Best in class technical specifications
Reduced Footprint

The R4 products come in a 9mm x 7mm x 3.1 SMD, DFN package, offering a step change improvement in the board area required for similar surface mount devices. The B0505MT-1WR4 occupies just 63mm2 compared to the 155mm2 of a traditional SMD8 footprint DC DC converter like the B0505T-1WR3, offering a real estate saving of nearly 60%.
Low Cost / Short Delivery Times
Mornsun products are designed and tested to the highest standards, and are also the benchmark for other manufacturers when it comes to price and delivery. Standard manufacturing lead-time for all R4 products is 4 weeks. Relec Electronics carry sample stocks to facilitate your design and are happy to work with call off orders to meet any production requirements.


When it comes to pricing, we don't think you'll find cheaper solutions built to the same specifications, and we even think that we can compete with linear solutions when you add in the cost of heatsinking and external components.
High Efficiency
The K78xxMT-500R4 switching regulators feature efficiencies of up to 92% allowing systems to run cooler without the need for external heatsinks, not only reducing cost, saving board space but also increasing reliability by running at reduced temperatures.
Best in Class Technical Specifications
All R4 products are designed to operate down to -40°C as standard with the K78xxMT-500R4 series offering operating up to 105°C and the B0505XMT-1WR4 up to 125°C.
The B0505MT-1WR4 achieves 3000V dc isolation, an amazing feat in such a small package
Both products have also been designed in accordance with AEC-Q100 standards making them suitable for automotive applications where high reliability is a must.
Relec Electronics are committed to providing the very best technical service to out customers. Our technical team are on hand to talk you though your design and support you with samples and all you need commercially whether you are building locally or offshore. Call us today to find out more.
GET IN TOUCH TODAY FOR MORE MORNSUN INFORMATION – 01929 555700
Here at Relec Electronics, we have worked closely with our key suppliers for over 40 years. We specialise in many industries, including; automotive, industrial, transportation, instrumentation & defence. We have a team of dedicated engineers ready to support you throughout the design process. We also carry stock of all standard modules and accessories for next day delivery.
Let's make this easy and call us today.
Follow us on Facebook, LinkedIn & Twitter for updates on all of the latest Power Conversion products.
Sign up to our monthly newsletter below, and never miss out on our updates of industry news, we release news/blog pages weekly with news from the power and display industries.
Relec Electronics holds the highest standards towards finding you the ideal solution for your application. We truly believe "Standard is Just the Beginning". Get in touch with our technical team today.
sign up for our newsletter
Enter your email address below
why choose relec?
Faster

Our aim is to get back to you with an initial response within the hour.

Attention to detail

We pride ourselves on getting you the right product, at the right price and on time.

New ideas

We are constantly looking for latest technology and products for your applications.

Beyond standard

It's not just about the product.  Our service goes way beyond the norm.

Easy

We want to make your life as simple as it can be. Call us to find out what we can offer.