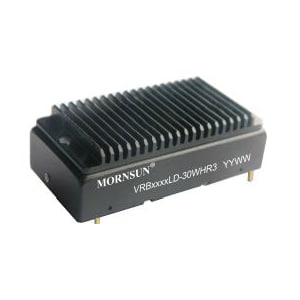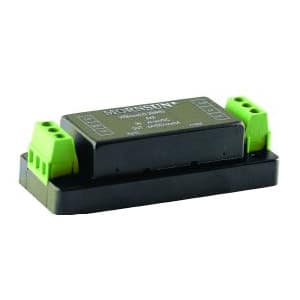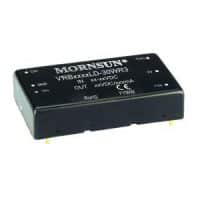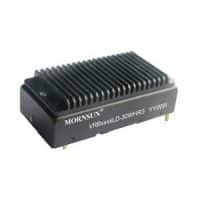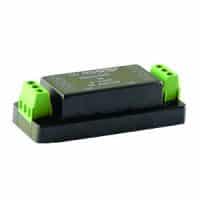 VRB_LD-30WR3 Series
Input: 18-36V or 36-75V dc
Outputs: 3V to 24V dc
Power: 30 Watt
Tamb: -40 to +80°C
Dims: 2" x 1" x 0.465"
1500V Isolation
Request a sample
have a question? call us now
APPLICATION
The single output Mornsun VRB_LD-30WR3 series are isolated 30W dc dcproducts with 2:1 input voltage. They feature efficiency up to 89%, 1500Vdc isolation, operating temperature of -40°C to +80°C, input under-voltage protection, output over-voltage, over-current, short circuit protection and EMI meets CISPR22/EN55022 Class A, making them suitable for applications in medical, industrial control, electric power, instrumentation and communication fields. Chassis mount version A2S and the DIN rail mount version A4S also provide input reverse polarity protection, LED power ON and screw terminals.
feature list
30W isolated, regulated single output, 2:1 input range
Efficiency up to 89%
Input voltage range: 18 to 36Vdc; 36 to 75Vdc
No-load power: 0.14W
Remote on/off
Input under voltage/short circuit/over temp/
output over voltage/over current protection
Isolation: 1.5kVdc
Weight: 26g; A2S: 48g; A4S: 68g; H: 34g; HA2S: 56g; HA4S: 76g
MTBF: 1000k hrs
Operating temperature range: -40°C to +80°C
Standard version: PCB mount with industry standard pinout
Chassis mount version: A2S suffix
DIN rail mount version: A4S suffix
| MODEL NUMBER | INPUT RANGE | OUTPUT | POWER |
| --- | --- | --- | --- |
| VRB2403LD-30WR3 | 18V-36V | 3V3 | 30W |
| VRB2405LD-30WR3 | 18V-36V | 5V | 30W |
| VRB2412LD-30WR3 | 18V-36V | 12V | 30W |
| VRB2415LD-30WR3 | 18V-36V | 15V | 30W |
| VRB2424LD-30WR3 | 18V-36V | 24V | 30W |
| VRB4803LD-30WR3 | 36V-75V | 3V3 | 30W |
| VRB4805LD-30WR3 | 36V-75V | 5V | 30W |
| VRB4812LD-30WR3 | 36V-75V | 12V | 30W |
| VRB4815LD-30WR3 | 36V-75V | 15V | 30W |
| VRB4824LD-30WR3 | 36V-75V | 24V | 30W |
why choose relec?
Faster

Our aim is to get back to you with an initial response within the hour.

Attention to detail

We pride ourselves on getting you the right product, at the right price and on time.

New ideas

We are constantly looking for latest technology and products for your applications.

Beyond standard

It's not just about the product.  Our service goes way beyond the norm.

Easy

We want to make your life as simple as it can be. Call us to find out what we can offer.
sign up for our newsletter
Enter your email address below