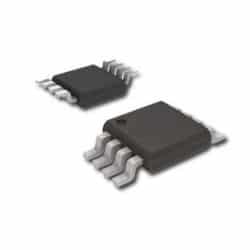 SCM1101 Series
Input: 0 to 23V dc
Outputs: Any (Transformer dependent)
Power: 5 to 40 Watt
Tamb: -40°C to +125°C
Dims: MSOP-8
Highly integrated PWM controller

Request a sample
have a question? call us now
APPLICATION
This highly integrated SCM1101A current mode PWM controller is ideal for Isolate DC DC converter applications. The PWM switching frequency is internally adjusted within a tight range. The chip's maximum working frequency can be changed by means of external resistors. To conserve energy under light load conditions, the green mode function continuously decreases the switching frequency, thus enabling the converter to maintain high efficiency over the entire load range. For optimized standby power consumption, the power supply enters into a burst mode under no load conditions.
The SCM1101A design also integrates a series of protection features that will enhance the power system's reliability. These functions include Vin Under-Voltage Protection, VDD Under-Voltage Lock Out (UVLO), VDD Over-Voltage Protection, Soft-Start pin SS Suspended Protection, Feedback Open-Loop Protection / Short-Circuit and Overload Protection and CS pin Suspended Protection.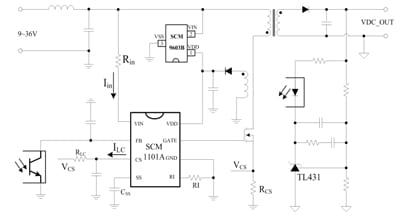 feature list
Soft-Start Function, Externally Programmable
Extremely Low Start-up current of 1uA typical
Frequency Reduction at Light Load and Burst Mode Control under no load
Programmable Maximum Switching Frequency
Built-in Slope Compensation.
Cycle-by-Cycle Current Limiting
RI Pin Short-to-GND Protection
VDD Over-Voltage Protection (OVP)
VDD Under-Voltage Lockout (UVLO)
Built-in OCP time
Feedback Open-loop Protection/Short-circuit Protection
Vin Under-Voltage Protection
Built-in Feed-forward Compensation Circuit
why choose relec?
Faster

Our aim is to get back to you with an initial response within the hour.

Attention to detail

We pride ourselves on getting you the right product, at the right price and on time.

New ideas

We are constantly looking for latest technology and products for your applications.

Beyond standard

It's not just about the product.  Our service goes way beyond the norm.

Easy

We want to make your life as simple as it can be. Call us to find out what we can offer.
sign up for our newsletter
Enter your email address below