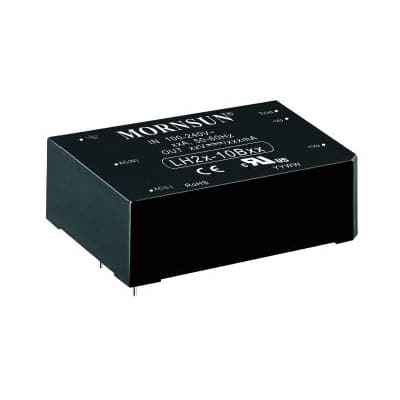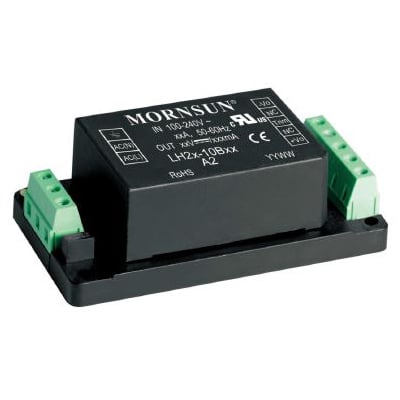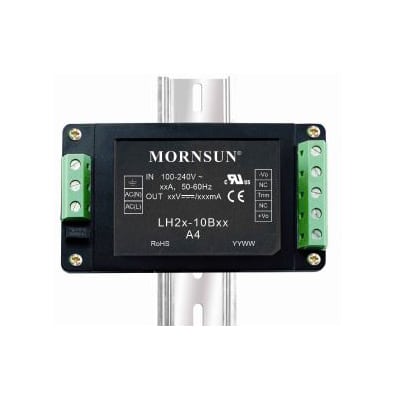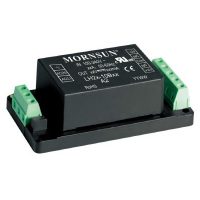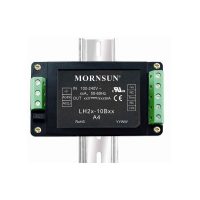 LH25 Series
Input: 85-264Vac
Outputs 3V3 to 24V
Power: 25 Watt
Tamb: -40 to 70°C
Dims: 70 x 48 x 23.5mm
UL / CE EN60950/60601 Approved
have a question? Contact us now
APPLICATION
LH25-10BXX and LH25-20BXXMU are high efficiency 25W power modules from Mornsun. They are widely used in industrial, office and civil equipment. The LH25-20BxxMU series meet IEC60601-1, EN60601-1, ANSI/AAMI ES60601-1, CAN/CSA-C22.2 No. 60601-1 medical standards (2xMOPP) making them suitable for a wide variety of medical applications.
The LH25 series meet all international EMC and safety standards UL60950 and IEC/EN60950 with options available for EN60601 2 XMOPP.  Contact our technical sales team today for more information.
feature list
Universal mains input: 85 to 264Vac, 50/60Hz
DC input: 100 to 370Vdc
EN60601 2XMOPP versions
Low ripple and noise
Output over voltage, short circuit and over currentprotection
High efficiency, high power density
Isolation voltage: 3kVac
Operating temperature: -40 to +70°C
3 years warranty
*Standard package mounting is PCB
A2 option is chassis mount with screw terminals
A4 option is DIN rail mount with screw terminals
MODEL NUMBER
INPUT RANGE
OUTPUT
POWER
LH25-10B03
85-264VAC
100-370VDC
3V
25W
LH25-10B05
85-264VAC
100-370VDC
5V
25W
LH25-10B05MU
85-264VAC
100-370VDC
5V
25W
LH25-10B09
85-264VAC
100-370VDC
9V
25W
LH25-10B12
85-264VAC
100-370VDC
12V
25W
LH25-10B12MU
85-264VAC
100-370VDC
12V
25W
LH25-10B15
85-264VAC
100-370VDC
15V
25W
LH25-10B15MU
85-264VAC
100-370VDC
15V
25W
LH25-10B24
85-264VAC
100-370VDC
24V
25W
LH25-10B24MU
85-264VAC
100-370VDC
24V
25W
Downloads
Click on the link below for an instant download.

We would love to know more about the problem you are trying to solve
Our experts are on hand to help you find the best solution!
why choose relec?
Faster

Our aim is to get back to you with an initial response within the hour.

Attention to detail

We pride ourselves on getting you the right product, at the right price and on time.

New ideas

We are constantly looking for latest technology and products for your applications.

Beyond standard

It's not just about the product.  Our service goes way beyond the norm.

Easy

We want to make your life as simple as it can be. Call us to find out what we can offer.
sign up for our newsletter
Enter your email address below